Young voters participated in midterm elections at near record rate
https://twitter.com/davidmeyers?lang=en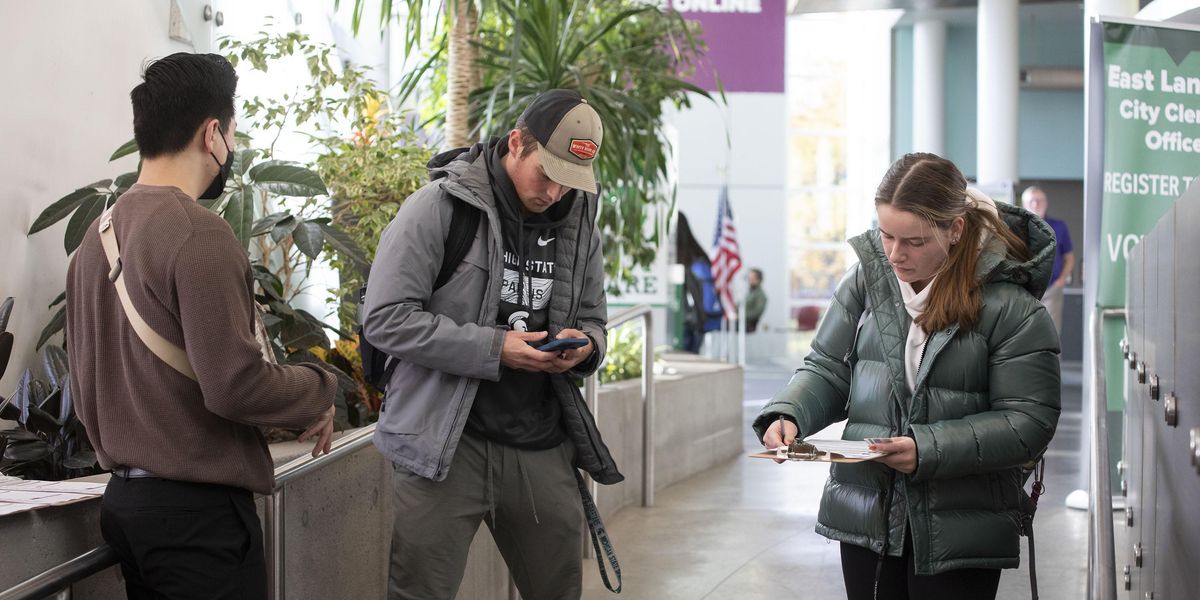 Bill Pugliano/Getty Images
Initial estimates of turnout data show more than one-quarter of young adults voted in the 2022 elections, the second highest midterm turnout rate in the past 30 years.

While votes are still being counted and the data will be refined, the Center for Information & Research on Civic Learning and Engagement projects 27 percent of people ages 18-29 voted in the midterms, trailing just 2018's 31 percent.
"We're seeing that the 2022 election .. is part of a continuing engagement among Generation Z and millennials," said Abby Kiesa, deputy director of CIRCLE, which is housed within Tufts University's Tisch College of Civic Life.
---
Young voters went heavily for Democrats (63 percent of them voted for Democratic House candidates), possibly serving as the difference-makers in a number of key battleground elections.
In those states – Florida, Georgia, Michigan, North Carolina, New Hampshire, Nevada, Ohio, Pennsylvania and Wisconsin – the youth turnout was higher, reaching an aggregate of 31 percent. (Arizona was excluded from this subset because not enough data was available.)
"Young people's strength in numbers led to powerful influences in key races around the country," Kiesa said.
For example, 70 percent of young voters cast ballots for Democrat John Fetterman, who narrowly defeated Republican Mehmet Oz in Pennsylvania's Senate race. Voters a little older (ages 30-44) gave Fetterman 55 percent of their ballots, while voters older than 45 mostly preferred Oz.
Sign up for The Fulcrum newsletter
Earlier in the cycle, CIRCLE had determined which races youth voters could most heavily influence. Topping that list was the contest for governor of Wisconsin, where Democrat Tony Evers was seeking reelection. Evers defeated Republican Tim Michels by less than 4 percentage points. Again, older voters preferred Michael, but Evers won 70 percent of the 18-29 vote.
In North Carolina, where Republican Ted Budd won a narrow Senate victory over Democrat Cheri Beasley, the youth vote was more evenly distributed (52 percent for Beasley and 44 percent for Budd, accounting for 14 percent of all voters).
According to Kiesa, 8.3 million people turned 18 and became eligible to vote between the 2020 and 2022 elections, and 46 percent of them were people of color.
"They are trying to figure out this election system with less experience in systems of power," Kiesa said.
CIRCLE also found that the partisan split among young voters (63 percent for Democrats, 35 percent for Republicans) was about the same as in 2020, when comparing votes for House candidates but the gap was slightly narrower than the last midterm elections (67/32 in 2018). Those midterms, following the election of Donald Trump, saw a big jump in the partisan divide compared to most prior elections of the past three decades. For example, in 2016 youth voters were split 55/40.
While young people supported Democrats regardless of the voters' race, that support was strong among people of color: 89 percent of young Black voters supported Democratic House candidates, compared to 68 percent of young Hispanic voters and 58 percent of young white voters.

This is a change from 1998-2014, when young white people mostly voted for Republicans, according to CIRCLE Director Kei Kawashima-Ginsberg.
"We think that's partially related to the issues," she said, pointing to gun violence in 2018 following the Parkland, Fla., school shooting and abortion rights this year. "Issues always drag young people to the polls."
Young people are increasing their political activism beyond voting at a higher rate, according to CIRCLE. Researchers have seen increases in members of Gen Z and millennials encouraging others to vote, donating money to political campaigns, attending demonstrations, convincing others to register to vote and volunteering on campaigns.
"There is a continuation of a trend of engagement extending beyond the ballot box," said CIRCLE's election coordinator Ruby Belle Booth.
CIRCLE calculated the "day after" voter estimates by analyzing vote totals, the National Election Pool Survey's data on youth voters and Census Bureau data.