Young voters could have big impact on key 2022 races
https://twitter.com/davidmeyers?lang=en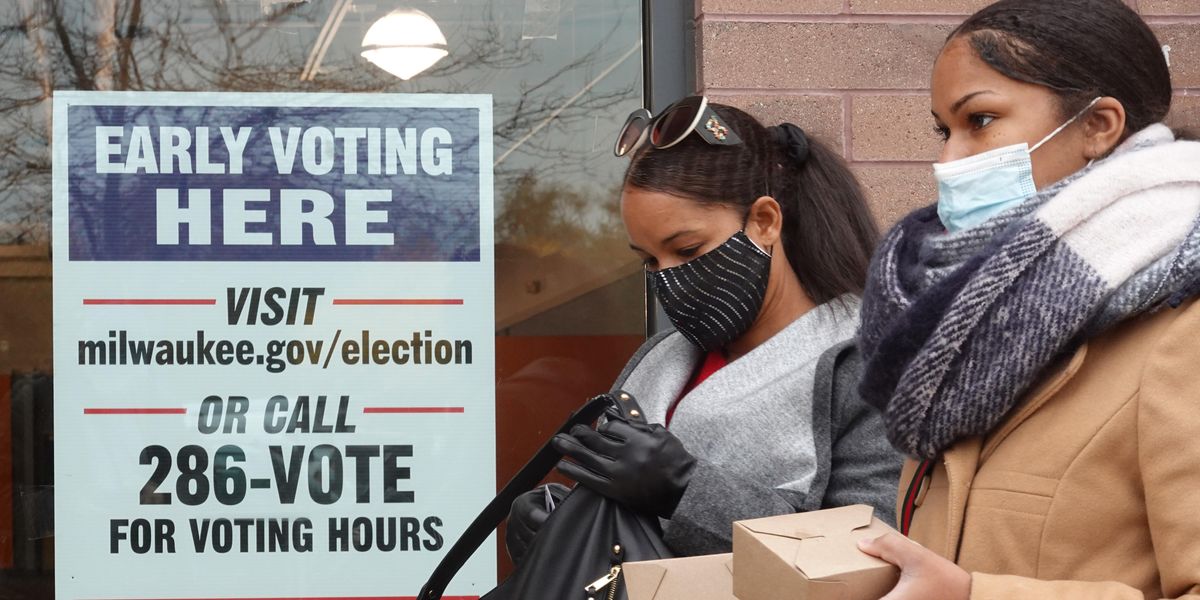 Scott Olson/Getty Images
Since hitting a low point in 2014, the voting rate among young adults has been on the rise. After setting a turnout record in 2020, voters aged 18-29 are poised to impact some of the most hard-fought elections of 2022, according to new research from Tufts University.

The Youth Electoral Significance Index shows where campaigns should invest in targeting young voters, who may be a key to determining the outcome of races of governor, the Senate and the House of Representatives.
This is the third iteration of YESI, and past rankings have held up to post-election analysis.
---
Pennsylvania is the only state to make the top 10 in each category, ranking first in both statewide contests. Seven of the 10 Senate races are considered "tossup" elections that can realistically be won by either party. The Ohio and Florida races lean toward the Republicans while the Democrats are slightly favored to win in Colorado.
The math is the same in the 10 gubernatorial races that top the index: Seven are tossups, with Florida and Kansas leaning Republican and Maryland favored for the Democrats.
The index is compiled by the Center for Information & Research on Civic Learning and Engagement, housed within the university's Jonathan M. Tisch College of Civic Life. CIRCLE created YESI in advance of the 2018 elections. Rankings are based on demographics, voting trends and competitiveness of current races.

Sign up for The Fulcrum newsletter
"Our projections of where youth can have an impact have largely been validated by results," said CIRCLE Associate Director Abby Kiesa. "After elections — when we look at the margin of victory in a race compared to the number of votes cast by young people —we consistently find that in states and districts we ranked highly, young voters undeniably had a major impact on the result."
She pointed to CIRCLE's ranking of Wisconsin as the state where young voters could have the biggest impact on the 2020 presidential race.
"That race was decided by 20,000 votes in Wisconsin, and young people cast more than 200,000 votes in the state — 10 times the margin of victory," she said.
In Pennsylvania, both of the Senate and gubernatorial races are competitive open seats. According to YESI, young people make up 16 percent of the state population but have an above-average voter registration rate of 69 percent and had above-average turnout in 2018 and 2020.
Young people almost make up 16% of the population in Wisconsin (No. 2 in Senate races and No. 4 in governor's races), which is average for the country, but out-performed other demographics in voter registration and participation. Republican Sen. Ron Johnson and Democratic Gov. Tony Evers are both seeking re-election.
Arizona and Georgia also made the top five in both rankings of statewide races. Races in all four of those states are considered highly competitive.
Colorado's Senate race held the top spot in 2020, but this year's contest just squeaked into the top 10 because the election outlook is very different, according to Kiesa.
"In 2022, the Colorado Senate race is rated by many analysts as a likely Democratic victory — one of the few races in our rankings that isn't expected to be as highly competitive," she said. "But Colorado has such strong facilitative election policies and a history of very high youth voter turnout (#3 in the country in both 2018 and 2020) that it still cracks our top 10, even if it doesn't rank as highly as a race that's expected to be closer. "
Kiesa noted, however, that even though the race isn't a tossup, Colorado's youth are still influential.
"The fact that the race may not be as competitive as some others could be seen as proof of the impact they've historically had and that we expect them to have again," she said.
Data used for House races is not as exact as in the other contests because census data is not yet available following redistricting.
The top ranked House election is the race for Washington's 8th district, where Democratic Rep. Kim Schrier is running for a third term. Youth turnout in her part of the state was "exceptionally high" in 2020, according to the CIRCLE research, although young voters slightly underperformed against the overall turnout rate (71 percent versus 75 percent.). Washington, where elections are primarily conducted by mail, had one of the highest participation rates in the country in 2020.
California has two House races in the top 10 (the newly drawn 27th and 45th districts), and both areas have a history of higher voter turnout. People of color may also have a big impact on those races: They make up two-thirds of the population in the 27th and three-quarters the population in the 45th.
But the index isn't just a predictive tool. It's also designed as a way to engage more young people.
"The YESI is a valuable tool for stakeholders trying to engage youth in democracy, from Senate campaigns, to major nonpartisan voter engagement organizations, to student groups on college campuses," said Kiesa. "While we believe that youth outreach needs to increase everywhere, we know that resources are often limited, and we frequently hear that these and other organizations incorporate the YESI findings into their planning and strategies to focus those resources."