Senate Democrats revive push for long-shot voting rights legislation
https://twitter.com/saramswann?lang=en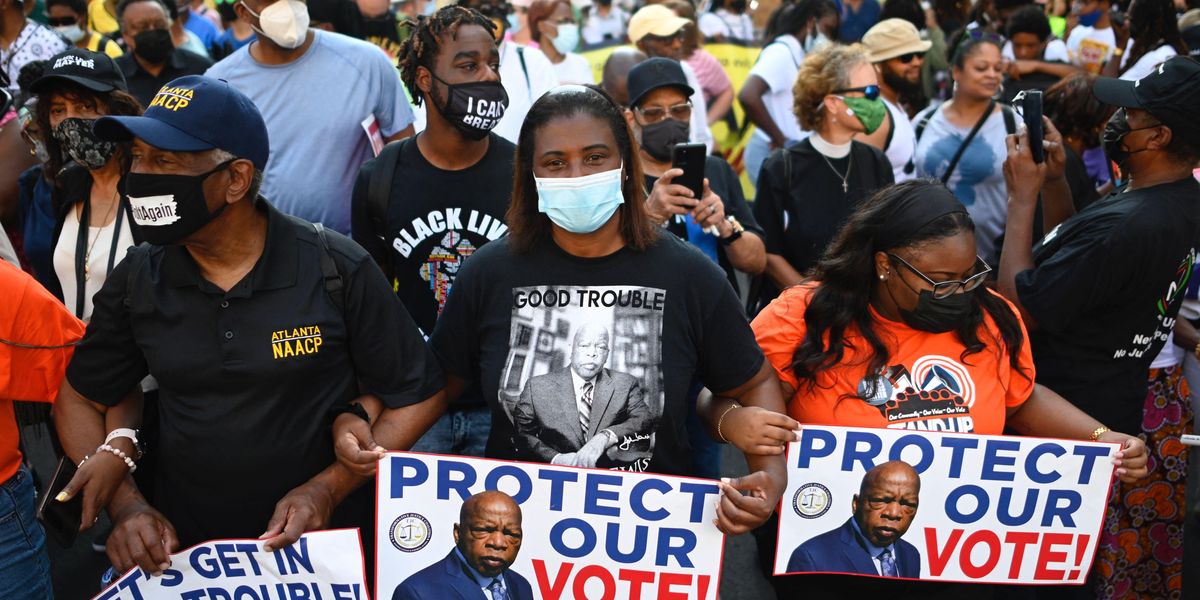 Andrew Caballero-Reynolds/Getty Images
Democrats are making a fresh push for voting rights legislation in the Senate, despite the filibuster all but guaranteeing it will go nowhere.

Sen. Patrick Leahy of Vermont introduced the John Lewis Voting Rights Advancement Act on Tuesday, calling the bill a "bedrock voting rights law." The Judiciary Committee convened a hearing on the legislation Wednesday afternoon.
The House passed a version of the bill in August, but the Senate waited to take up the legislation. So far no Republicans have indicated they are willing to support the VRAA, which means it will likely fall short of the 60 votes needed to overcome a filibuster.
---
Every Senate Democrat has signed on to the VRAA except Joe Manchin of West Virginia. He similarly held out on co-sponsoring the For the People Act, a broad electoral reform bill, before ultimately supporting it and helping to craft a paired-down version known as the Freedom to Vote Act. Both bills remain in legislative limbo while the Senate resolves how to deal with debt ceiling, infrastructure bill and an additional spending package.
If the VRAA were to become law, it would restore voting protections struck down by the Supreme Court. In 2013, the court's decision in Shelby County v. Holder eliminated the preclearance requirement, which mandated certain states with histories of racial discrimination receive advanced approval from the Justice Department before enacting new voting laws. The court's decision this summer in Brnovich v. Democratic National Committee made it harder to challenge potentially discriminatory laws in court.
Sign up for The Fulcrum newsletter
Voting rights advocates say the VRAA is especially important now as 19 states have passed 33 laws that make it harder to vote, according to the latest tally by the Brennan Center for Justice.
"The John Lewis Voting Rights Advancement Act would help identify barriers that could silence Black, Latino, Indigenous, young and new Americans and ensure we all have an equal say in the decisions that impact our lives," said Wade Henderson, interim president and CEO of the Leadership Conference on Civil and Human Rights.
The Voting Rights Act has been reauthorized in a bipartisan manner five times since its original passing in 1965. However, Senate Republicans are likely to filibuster any attempt to pass the VRAA. Voting rights advocates are putting the pressure on Democrats to choose between the landmark legislation and modifying Senate procedure.
"Voting rights should never be a partisan issue, and for decades it wasn't," said Karen Hobert Flynn, president of Common Cause. "If 10 Senate Republicans will not support this bill, then Senate Democrats must reform the filibuster."