'Structural disinformation' poses threat to communities of color, according to new report
https://twitter.com/davidmeyers?lang=en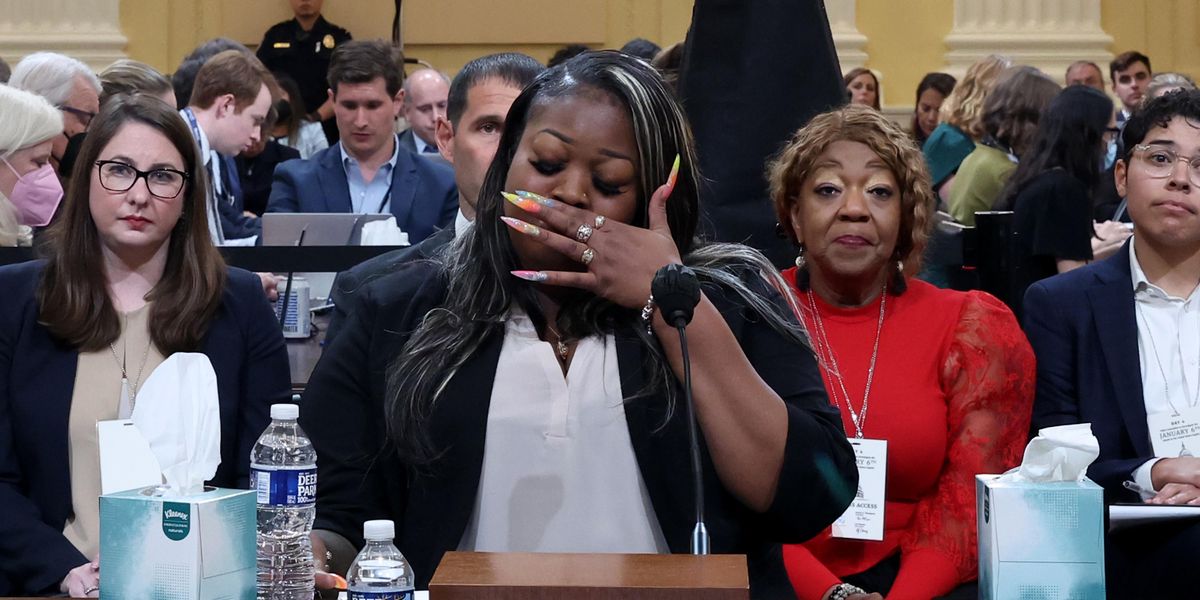 Michael Reynolds-Pool/Getty Images
On Tuesday, two Black women testified before Congress about the hateful, racist threats they received after Donald Trump's attorney Rudy Giuliani accused them of committing election fraud in 2020.

Shaye Moss and Ruby Freeman had been election workers in Fulton County, Ga., until a disinformation campaign upended their lives. While their story is now public and broadcast around the country, it is far from the only example of election disinformation impacting communities of color.
A new report from Protect Democracy, a nonpartisan advocacy group that fights authoritarianism, found that structural, or systemic, disinformation has created "a generalized atmosphere of distrust and disengagement" in such communities.
---
The study, titled "Electoral Confusion: Contending with Structural Disinformation in Communities of Color," is a qualitative analysis based on interviews with state- and local-level community leaders, journalists, researchers and activists who service those communities in Arizona, Georgia and Wisconsin.
The study found that structural disinformation (which Protect Democracy defines as "the deceptive or misinformation-generating effects of laws, policies, institutional practices, and political norms") has a far greater impact than specific disinformation campaigns.
"Structural disinformation creates information gaps that harm these groups directly and, further, are filled by false narratives. When those narratives are spread by community members who believe them to be true, structural disinformation can generate a vicious cycle of distrust and demoralization," the report states. "Structural disinformation is a phenomenon of systemic neglect, where inequalities in access to resources such as civic education and local news lead directly to a disinformation-poisoned information ecosystem."
Sign up for The Fulcrum newsletter
The people interviewed cited a half-dozen concerns about the 2022 and future elections, related to structural disinformation:
Information such as voter registration requirements and where to vote is often unavailable or deliberately false.
Voting information is often not available in languages other than English.
Those who spread disinformation use both online and traditional media.
Voters are turned off from voting by concerns about the system and barriers to participating.
Voters, poll workers and other people of color face severe harassment spawned by disinformation.
"I'm not sure the broader apparatus was prepared for the number of death threats that would be sent to election workers, to campaign staff, to poll workers, the number of doxing incidents that we saw," one person who specializes in disinformation research told Protect Democracy.
The researchers, in their interviews, found four themes around fighting structural disinformation:
Outreach campaigns focus on voting information.
Making those campaigns multiplatform.
Tailored outreach to communities that speak languages other than English.
Messaging that fends off "friendly fire" from people who have accepted and pass along disinformation.
"There's discouraging information about feelings around democracy and elections, particularly among younger people in the United States — a sort of sense that democracy doesn't work, so why bother," one Atlanta-based interviewee told the researchers.
Protect Democracy chose to conduct its research in three states that are targets for disinformation but have also taken steps to fight it.
"We chose to focus on the states of Arizona, Georgia, and Wisconsin because, as electoral battleground states, they are attractive targets for manipulation by propagandists; however, communities and organizations in these states have also developed countermeasures to these threats," they wrote.
Each of the states offers a different demographic profile that provided some diversity to the report. For example, Hispanic people make up 42 percent of the population in Arizona (but only a quarter of registered voters). And the state has a significant Native American population. In Georgia, the most populous of the three states, Black people account for one-third of the population – and growing. Wisconsin doesn't have as large a share of a minority population, but is home to large cloisters, like the Hmong community.