First woman to run Common Cause, back when political reform was bipartisan, has died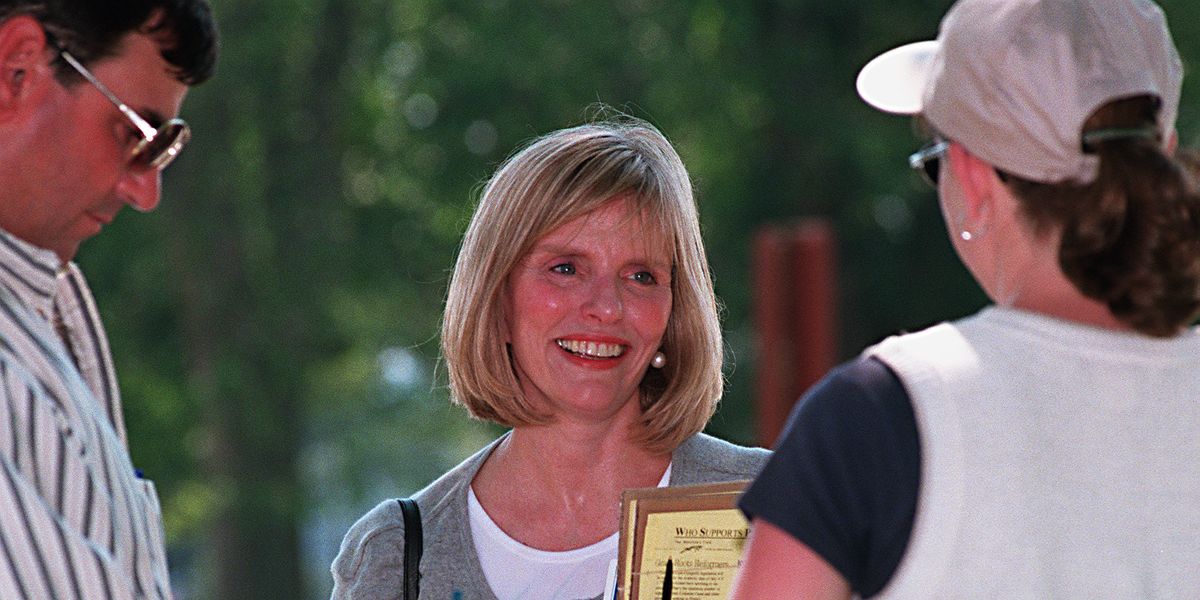 Douglas Graham/Getty Images
Ann McBride Norton, who was among the earliest Republican volunteers and later the first female president of Common Cause, one of the nation's original and most influential democracy reform groups, has died.

Her death, at her home in Washington on Wednesday at age 75, was caused by complications from Alzheimer's disease, according to a daughter, the pop rock musician Mary McBride.
She was known as Ann McBride during her 27-run at Common Cause, which ended in 1999 after four years in the top job as successor to the organization's longtime third president, the legendary good governance impresario Fred Wertheimer.
---
"Ann was one of a kind who used her keen intellect, public interest commitment and Southern charm to help the cause of good government," said Meredith McGehee, a protege who's now top lobbyist for the cross-partisan political reform group Issue One (which is incubating, but journalistically insulated from, The Fulcrum).
When McBride started volunteering part-time in 1972, Common Cause was shifting from its original purpose of opposing the Vietnam War — positioning itself to instead become one of the only advocacy groups in Washington focused on fixing democracy's ills.
Even during Watergate, those challenges seemed far less dramatic than the deep-pocketed partisan polarization paralyzing the system now. And, unlike today, such causes as bolstering government ethics, easing access to the ballot box, combating gerrymandering and curbing money's sway over politicians and their policies drew plenty of support from GOP officials and philanthropists along with Democrats.
Sign up for The Fulcrum newsletter
After helping engineer ratification of the 26th Amendment, with the hope of spurring a surge in civic engagement by giving 18-year-olds the right to vote, Common Cause turned its focus mainly toward the issue that's been its premier calling card since — revamping the campaign finance system.
But after an initial burst of success in the 1970s, when it won expanded powers for the Federal Election Commission and the creation of voluntary taxpayer subsidies of presidential campaigns, the group's efforts remained only marginally successful for two decades. Its long quest for another overhaul of campaign finance laws was three years from fruition when McBride stepped down.
By that point, the rolls of Common Cause's dues-paying members had swelled to more than 250,000 and its reputation as a nonpareil grassroots lobbying force was set — although, thanks to the hardened partisan split over campaign finance rules, the group became known and remains viewed as reliably left-leaning.
As chief chief lobbyist on Capitol Hill and then president, McBride said her guide for steering Common Cause was a version of the mantra of the famous community organizer Saul Alinsky. His version — "No permanent enemies, no permanent allies, only permanent interests" — was rendered by her as "A key opponent in one case may become your prime supporter in another."
To that end, she recruited John McCain to be the Republican face of campaign finance reform in the early 1990s — right after the Arizona senator said he had emerged chastened from the "Keating Five" scandal, when he was found to have improperly intervened with federal banking regulators on behalf of a big donor.
The bill McCain shepherded finally became law in 2002. But by that time, McBride and her second husband, the environmental activist Edward M. Norton, had moved to southwestern China, where for many years they worked to preserve indigenous cultures in the most remote corners of Asia. (Survivors include a stepson, the actor and director Ed Norton.)
It was a radically different second career for a woman who had grown up the Cajun country of southwestern Louisiana, where her father was in the oil leasing business and chairman of the state Republican Party.
Ann deGravelles dropped out of college and married her college sweetheart, Charles McBride, following him to Washington where he worked for two of the state's Democratic senators, Russell Long and Bennett Johnston.
Soon after she started working full time for Common Cause, he became top staffer for the party committee that recruits and raises money for Senate candidates — an early example of one of Washington's rarest species, the power couple working on opposite sides of the same issue.
McBride had a quip at the ready when asked how they reconciled their situation: "It's easy. Charlie shakes them down, and I shake them up."