Crusade begins for ballot initiative overhauling Arizona's democracy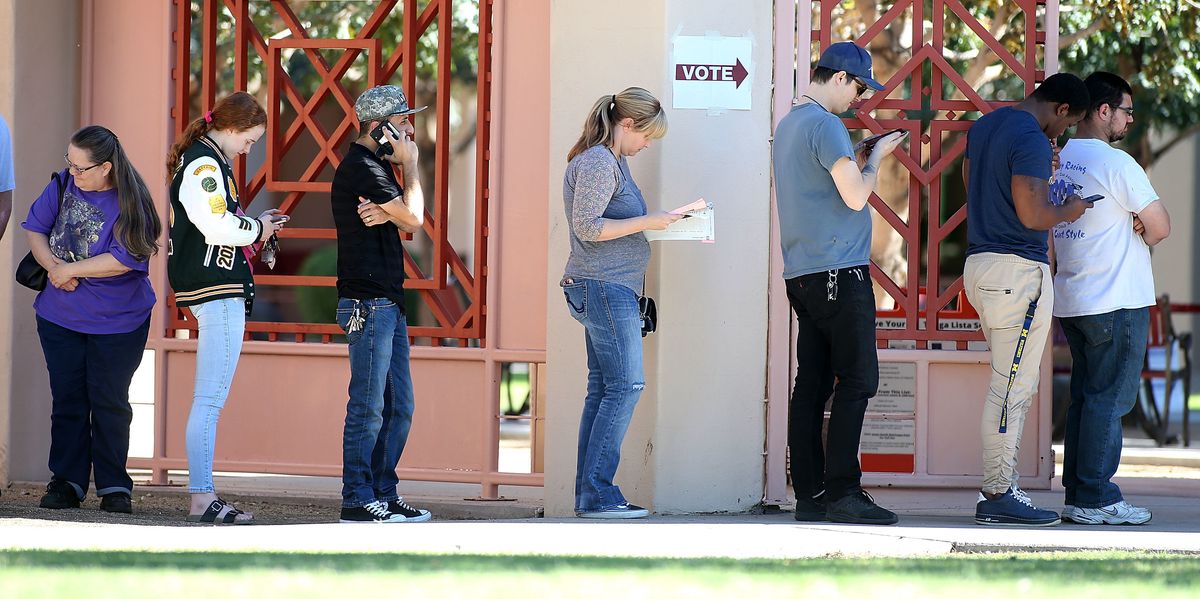 Ralph Freso/Getty Images
A prominent progressive group in Arizona has launched an effort to put a total overhaul of the state's election system before the voters next fall.

If the initiative is ultimately adopted, it would transform campaign financing and ease access to the ballot box in one of the nation's fastest growing and most politically competitive states. In many ways, the proposal would create in Arizona a system similar to what the congressional Democrats would nationalize under HR 1.
But the business community and Republican elected leaders in Phoenix are already signaling they're intense opposition to the package, suggesting that just getting it on to the ballot could require an expensive and polarizing campaign.
---
Proponents, led by Arizonans for Fair Elections, have until July to gather 238,000 signatures on petitions (15 percent of the most recent statewide turnout) in order to put their proposals on the ballot next November. Turnout for Election Days 2020 seems destined to be significant. Not only will Arizona's 11 electoral votes be hotly contested by both parties. but the state will feature what's shaping up to be one the closest and most expensive Senate races in the country, between GOP incumbent Martha McSally and Democratic gun control advocate and retired astronaut Mark Kelly.

Sign up for The Fulcrum newsletter
A centerpiece of the sprawling, 21,000-word package, unveiled Wednesday and dubbed the Fair Elections Act, would be the 2022 launch of the nation's first statewide system of taxpayer-funded campaign donation vouchers — a pair worth $25 each for every voter to give to candidates willing to abide by spending limits and collect most other donations in small amounts.
The first such voucher system debuted in Seattle two years ago and another is on the ballot next week in Albuquerque, the goal being to boost civic engagement and reduce the impact of political giving from big businesses and advocacy groups.
The proposal would increase corporate income taxes to pay for the campaign donation vouchers and an expansion of the existing public financing system, where campaigns for statewide, legislative and local offices can get limited taxpayer subsidies.
At the same time, the package would set new donation limits of $1,000 for legislative and local races and $2,500 for statewide contests — a plunge from the current $6,250 for both individuals and political action committees.
The package also includes language making Arizona the 19th state where qualified residents are automatically registered by obtaining a driver's license, the 16th state where people can both register and cast a ballot on Election Day and the 15th state where in-person early voting extends until the day before the election. Mail-in ballots could be postmarked on Election Day instead of having to arrive by then.
Finally, the package includes an array of new ethics proposals. Lobbyists would be prohibited from paying for travel by elected officials or hosting them for meals worth more than $20. The cooling-off period before former state legislators could spin through the revolving door and become lobbyists would double, to two years. And conflict-of interest restrictions for all people in Arizona government would become much more explicit.
Both its authors and its detractors say the comprehensiveness of the referendum, and getting it before the voters in a presidential year, should work in their favor.
"You got to address a whole lot of problems at once," Joel Edman, whose liberal Arizona Advocacy Network is backing the measure, told the Arizona Republican. "It's not just about curtailing the influence of big money. It's about bringing people into the political system and making it easier to register and vote whether by mail, early or in person on Election Day."
At the same time, conservative groups across the country see many of the proposals as anathema and will likely be willing to spend money on their defeat in order to hold momentum for these idea at bay.
"But whenever we've tried to limit these things in the past, we see that there's some unintended consequence," Republican Gov. Doug Ducey said. "I'm on the side of freedom. I think that people should be able to invest in ideas and principles that they believe in."
A member of the GOP majority leadership in the state House, T.J. Shope, was more succinct. He took to Twitter to label the proposal "pretty much a 30 page heap of flaming poo."