False victory claim rattles norms once more as Trump sues to stop democracy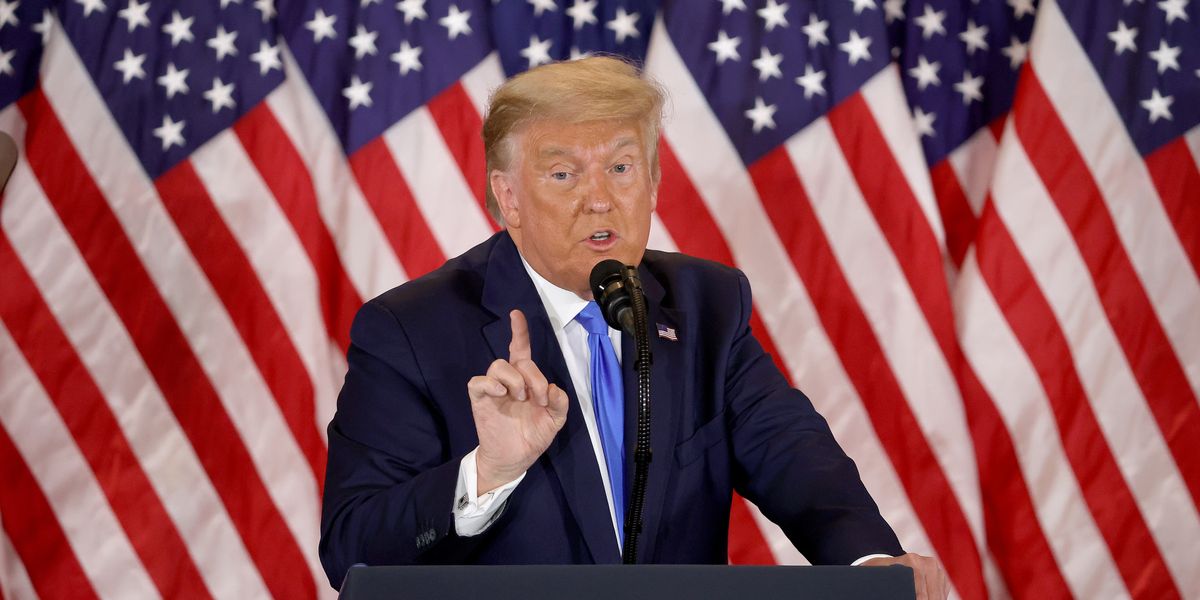 Chip Somodevilla/Getty Images
This is what democracy looks like — except for the behavior of democracy's single most powerful influencer.

Thousands of election officials returned to their largely thankless but essential labors Wednesday, processing the returns of an extraordinarily close presidential election to assure the bedrock principle of American democracy gets met: The person with the most valid votes wins.
They have known for months that the complexities of tabulating tens of millions of votes returned by mail because of the pandemic may take days, especially in the battleground states. And it appears they have largely unified an otherwise harshly divided country around the concept that the wait for a clean and complete count will be worth it.
But President Trump, whose office is supposed to be the principal steward of democratic principles, doubled-down Wednesday in his total repudiation of that idea.
---
With millions of ballots yet to be tallied and no winner close to being credibly declared, Trump appeared in the White House's grandest room at 2:20 a.m. and brazenly asserted he had been re-elected. As a result there is no further need to count ballots, he said, adding without a shred of evidence that the tallying that started hours later was cheating and delegitimizes the outcome — and he plans to persuade the Supreme Court to declare him the victor, come what may.

Sign up for The Fulcrum newsletter
"This is a fraud on the American public. This is an embarrassment to our country. We were getting ready to win this election. Frankly, we did win this election," he said. "So our goal now is to ensure the integrity for the good of this nation. This is a very big moment. This is a major fraud in our nation. We want the law to be used in a proper manner. So we'll be going to the U.S. Supreme Court. We want all voting to stop. We don't want them to find any ballots at 4 o'clock in the morning and add them to the list. Okay?"
By the end of the afternoon, his campaign had followed up on the president's demands with a three-pronged legal blitz. It announced a lawsuit to halt the counting of votes in Pennsylvania and asked the Supreme Court to disallow the counting of votes mailed before the polls closed but arriving by Friday. It said it was suing to stop the count in Michigan on the grounds that GOP observers had not been allowed to witness the tabulating. And it demanded a recount in Wisconsin after virtually complete returns put Biden ahead by 21,000 votes out of 3.3. million cast
Trump's defiance and anger had essentially no effect on his followers, though. There were no reports of throngs of demonstrators taking to the streets or surrounding county election offices on his behalf. And his shameless claim was largely ignored by news organizations that kept their coverage on the ever-shifting count, and on explaining as never before why the delays were legitimate and in many cases enshrined in law.
The president's baseless claims nonetheless received rare, if still veiled criticism from some of his most loyal Republican surrogates. Voting rights groups convened a press call in which they urged the GOP to be even more forceful. "It's incumbent on everyone to be condemning misinformation that attacks our democracy," said Vanita Gupta, who heads the Leadership Conference on Civil and Human Rights.
While it is "not unusual for people to claim they've won the election," Senate Majority Leader Mitch McConnell told reporters curtly, "claiming you've won the election is different from finishing the counting."
"There's just no basis to make that argument," former Gov. Chris Christie of New Jersey said on ABC after Trump spoke. "It's a bad political decision, and it's not the kind of decision you would expect someone to make tonight who holds the position he holds."
Former Sen. Sen. Rick Santorum of Pennsylvania described himself as "very distressed by what I heard" because "that there's fraud being committed by the people counting votes, I think, is wrong."
For his part, former Vice President Joe Biden declined to predict eventual victory Wednesday, even as his path to 270 electoral votes got clearer, although he underscored a commitment to govern as a unifier "once this election is finalized."
"Now every vote must be counted. No one is going to take our democracy away from us. Not now, not ever," the Democratic challenger said, adding "We the people will not be silenced. We the people will not be bullied. We the people will not surrender."
Plainly, no president has the power to order votes to stop being counted in any state. And his talk of doing so is only the latest of his efforts to disparage democratic norms in an effort to perpetuate his power, without precedent in the nation's history.
"There's no legal theory under which the Trump forces can do what the president is suggesting they're going to do, which is shut down the count," declared Paul Smith of the Campaign Legal Center, a nonprofit election law firm. "I don't see any court becoming a part and party to that kind of effort to shut down the counting."
Former senior Arizona elections official Tammy Patrick, who now advises the Democracy Fund, which funds good government efforts, noted that the necessary delays in finalizing the numbers in the crucial battlegrounds of Michigan, Wisconsin and Pennsylvania were all the result of the same political dynamic: Republican-run legislatures refusing to enact changes to election law that would have speeded the count. Opening envelopes and processing millions of valid mailed ballots, which have been piling up for weeks in all three states, could not even begin until this week, most notably.
"When elections administration should be a practical question, in this moment, it has been weaponized," she lamented. "It has been a partisan battering ram."
At the same time, the prominent bipartisan advocacy group No Labels unveiled a 60-second TV ad underscoring the national need for calm during the count no matter how long it lasts — and pledging to respect the ultimate result, a hallmark of uninterrupted peaceful transfers of power since 1797.

"If we lose that, we lose everything," Democratic Sen. Joe Manchin of West Virginia says in the spot, filmed with GOP Gov. Larry Hogan of Maryland. No Labels did not announce how much it was spending to air the aid, or where it would be shown.
Jeff Plungis contributed reporting.