The Fahey Q&A with Sonia Riley and David Valente, bridging distance and differences in a pandemic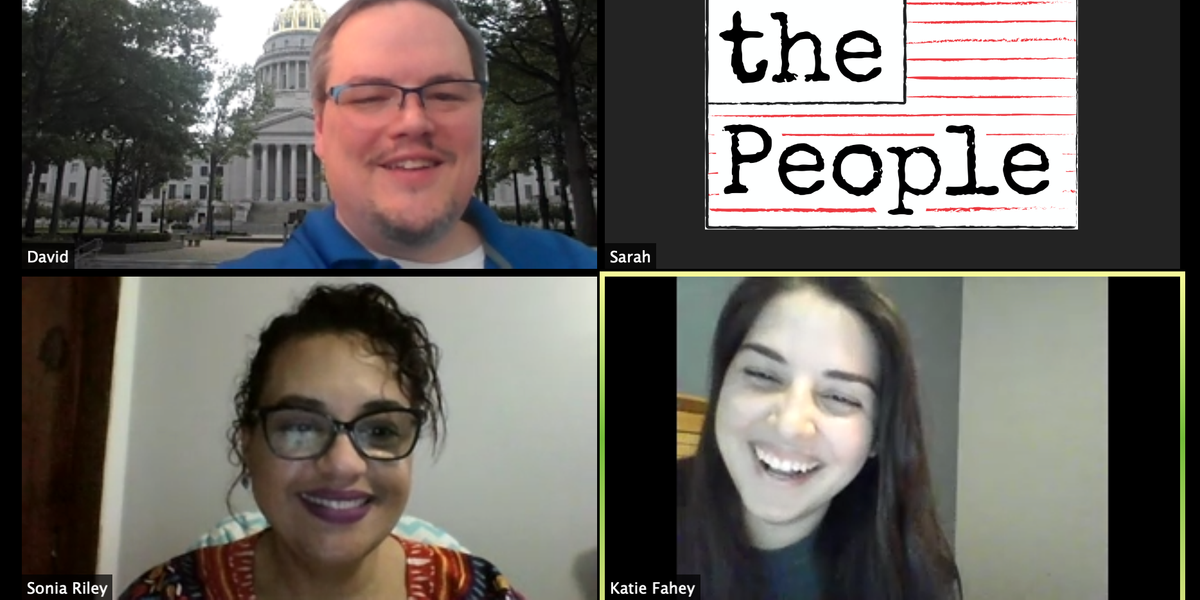 The People
After organizing the Voters Not Politicians 2018 ballot initiative that put citizens in charge of drawing Michigan's legislative maps, Fahey became founding executive director of The People, which is forming statewide networks to promote government accountability. She interviews colleagues in the world of democracy reform each month for our Opinion section.
---
David Valente got involved in politics helping with a state Senate race in New Mexico when he was a teenager. He has since become discouraged by both major parties' spending and is currently chairman of the West Virginia Libertarian Party. He supports criminal justice reform, protecting civil liberties and ending the "war on drugs."
Sonia Riley served as field director for Cathy Albro, the unsuccessful 2018 Democratic candidate in Michigan's heavily gerrymandered 3rd congressional district, where she observed the effect of a lack of public resources on both urban and rural communities. Now she's running for city council in Wyoming, a suburb of Grand Rapids, advocating for increased voting access and improved health care.
Our recent conversation has been edited for clarity and brevity.
Fahey: It seems you both reached a certain point where you decided to get actively involved in making change. Talk about the moment or motivation that led you to take action?
Valente: I got involved in my first campaign at 16 and built a community with the people on the campaign. It was fun and felt like we were doing something good. In my experience, you can't get anything done if you don't work together, because then you're just a debate club. If you're willing to work together, you're able to influence policy and move the ball forward.
Sign up for The Fulcrum newsletter
Riley: When I was on the congressional campaign two years ago, it was so significant how black and brown people were often not invited to be part of the conversation. My "Aha!" moment came during the choosing of a location for a watch party. I told the room I was not comfortable going there, and that was an educational moment for a lot of others. If there's no inclusivity at the table, neither party represents my people. If we're not involved and we're not vocal, it hinders the growth of all people. So I fight those injustices, and joining The People has made it even more profound.
Fahey: How have your lives been altered by the coronavirus crisis?
Valente: There are ballot access issues across the country. There are states like Oklahoma where we would have to get 100,000 signatures to get someone on the ballot, and you can't get signatures in this environment. We're finding innovative ways to get the message out, like Facebook and Zoom. We have a gubernatorial candidate who is hosting Zoom meetings every Sunday and interviewing a local policymaker, or highlighting people who are not Libertarian but are still supporting her.
Riley: To run for city council I needed 25 signatures and I collected 50 — but 27 were thrown out. I was supposed to be able to pay a $100 filing fee instead, but the city refused. It was an injustice for them to make an immunocompromised person like me go and get signatures, and for people to have to risk their lives to sign so their voices could be heard. I got a call from my party saying they were going to help me fight this. Because of my situation, they've changed the process.
Fahey: At The People, you've created Community Hour, video chats where people can touch base and maybe talk a little about democracy reform. What made you want to start this?
Riley: It's human nature to want to feel connected, and right now every system of connection we have has changed — how we're connected with our families, our work, our communities. It's important to have a platform where we can maintain a human connection, and Community Hour creates a way to come together and check in.
Valente: We've talked a lot about how to stay connected when forced to stay apart. I was taking part in "Skype-togethers" with people in my community, and afterwards I felt so much better. I connected in a personal way with people I hadn't seen in ages. So when we were talking about ideas on how to stay connected, that model popped into my head. No agenda, just finding out how others are doing.
Fahey: Have any moments during the calls stood out to you?
Valente: For me, it has been just having great conversations with people I hadn't met before — as well as seeing a niece for the first time. No matter what's going on, I think there's a lot of value in these calls.
Riley: I had a profound conversation about grief and loss. People aren't talking about these emotions and acknowledging these feelings. These conversations give space to be authentic and unafraid of judgment.
Fahey: Who is invited to the calls and how can they join?
Riley: All are welcome to join every Wednesday evening — 8 Eastern, 7 Central, 5 Pacific. We use Zoom so you can join through video or call in by phone. Details can be found on our Facebook event page.
Fahey: If you were speaking to a high school student or a new immigrant to this country, how would you describe what being an American means to you?
Riley: We as people in brown communities still have to fight to be fully viewed as citizens. For a new person, know the fight will be hard but worth winning in the end. Channel your frustration toward something positive to make a difference. We have a privilege to be in a country saturated in resources. It's a blessing, but it doesn't come without a fight, and it's definitely not for the faint of heart. We have shown resilience as a country, even if our leaders aren't leading to the extent we would like.
Valente: I don't approach this from a nationalistic standpoint. We're all human beings. There's a whole lot of work that needs to be done in this country, and we have to be vigilant in maintaining our freedoms and working to extend them. We're not perfect and we need to make sure we continuously improve and work as best we can toward an ideal society.