Dear presidential candidates: Use your manners
Jun 26 2019
The National Institute for Civil Discourse has a message for the 20 Democratic presidential candidates who will participate in debates on Wednesday and Thursday nights: Remember first grade.
In other words, don't poke your neighbor, wait your turn, and if you can't say something nice, don't say anything.
---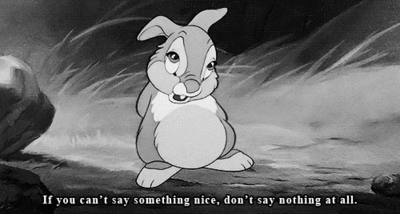 Giphy
Seriously, the institute, which studies and promotes civility in political debate is reminding candidates of standards it developed in 2015 in advance of the last presidential election season.

They say that politicians living up to basic standards of civility, especially when they're on national television, is essential if the angry tribal nature of America discourse is ever going to ease. "Zingers and insults might get headlines, but it's leading to a culture of candidates who stand out by throwing punches and amplifying the polarization of our politics," said Keith Allred, the institute's executive director.
The guidelines for the candidates are:
Be respectful of others in speech and behavior.

Giphy

Answer the question being asked by the moderator.
Make ideas and feelings known without disrespecting others.
Take responsibility for past and present behavior, speech and actions.

Giphy

Stand against incivility when faced with it.
The institute also developed guidelines for the moderators of the debates. (NBC and MSNBC are providing the ones for these debates.) They are:
Address uncivil behavior by naming it and moderating the conversation to move toward more respectful dialogue.
Enforce debate rules equally.
Hold candidates accountable by challenging each candidate to speak the truth and act with integrity.

Giphy

Treat all candidates equally in regard to the complexity of questions and debate rules.
Be respectful when interacting with candidates.
The NICD said its five-point plans for all the participants emerged from research on deliberation techniques, surveys to gauge citizens' definitions of what constitutes civil and uncivil language in public life, and conversations with elected officials and members of the press.
Justin Sullivan / Getty Images
California Gov. Gavin Newsom signed into law on Tuesday three democracy reform bills focused on local redistricting, voting access and campaign contributions.

The first piece of legislation prohibits partisan gerrymandering at the local level by establishing criteria for cities and counties to use when adjusting district boundaries. While California is the largest state to use an independent redistricting commission to draw its congressional and state district maps, local districts did not have the same regulations.
Keep reading...
Show less
Zach Gibson/Getty Images
More than 22,000 Virginians with felony convictions have regained the right to vote thanks to executive actions taken by Democratic Gov. Ralph Northam since he took office in January 2018, his office announced this week.
In a statement, Northam's office said he has so far restored the civil rights of 22,205 people who had been convicted of felonies and have since completed their sentences. Those civil rights include the right to vote as well as the right to serve on juries, run for public office and become a notary public.
Northam previously announced in February that nearly 11,000 convicted felons had their voting rights restored under his watch.
Keep reading...
Show less