News. Debate. Community. Levers for a better democracy.
Dear presidential candidates: Use your manners
Jun 26 2019
The National Institute for Civil Discourse has a message for the 20 Democratic presidential candidates who will participate in debates on Wednesday and Thursday nights: Remember first grade.
In other words, don't poke your neighbor, wait your turn, and if you can't say something nice, don't say anything.
---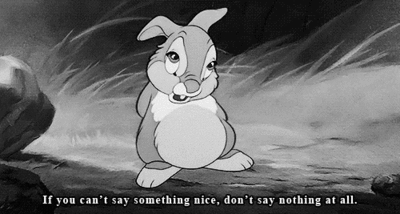 Giphy
Seriously, the institute, which studies and promotes civility in political debate is reminding candidates of standards it developed in 2015 in advance of the last presidential election season.

They say that politicians living up to basic standards of civility, especially when they're on national television, is essential if the angry tribal nature of America discourse is ever going to ease. "Zingers and insults might get headlines, but it's leading to a culture of candidates who stand out by throwing punches and amplifying the polarization of our politics," said Keith Allred, the institute's executive director.
The guidelines for the candidates are:
Be respectful of others in speech and behavior.

Giphy

Answer the question being asked by the moderator.
Make ideas and feelings known without disrespecting others.
Take responsibility for past and present behavior, speech and actions.

Giphy

Stand against incivility when faced with it.
The institute also developed guidelines for the moderators of the debates. (NBC and MSNBC are providing the ones for these debates.) They are:
Address uncivil behavior by naming it and moderating the conversation to move toward more respectful dialogue.
Enforce debate rules equally.
Hold candidates accountable by challenging each candidate to speak the truth and act with integrity.

Giphy

Treat all candidates equally in regard to the complexity of questions and debate rules.
Be respectful when interacting with candidates.
The NICD said its five-point plans for all the participants emerged from research on deliberation techniques, surveys to gauge citizens' definitions of what constitutes civil and uncivil language in public life, and conversations with elected officials and members of the press.
We're all about the issues that have broken American democracy — and efforts to make governments work again for you, your family and your friends.
Donate
Matt Anderson Photography/Getty Images
With the presidency on the ballot in less than a year, fears of another attempt by Russia or other foreign powers to interfere in the election seem to grow with each passing day.
But in the battlegrounds where the outcome will be decided — the 13 states almost certain to be most hotly contested by both parties — election security has been tightening and the opportunities for a successful hacking of American democracy are being greatly reduced, a review of the procedures and equipment on course to be used in each state in November 2020 makes clear.
"There's been a huge amount of progress since 2016," says Elaine Kamarck, an election security expert at the Brookings Institution. James Clapper, a former director of national intelligence, says his assessment of the fight against election interference results in feeling "confident that a lot has been done to make it better."
In fact, many who work on the issue now cite the public's perception that our election systems are vulnerable as a problem at least as great as the actual threat.
Keep reading...
Show less
Along with the candidates and the issues, the 2020 presidential election is also going to be about the voting process itself.
Russian efforts to hack into the voting systems of 2016 have boosted election security to a critical concern this time, prompting states to spend tens of millions buying new equipment, hiring cybersecurity wizards and installing software that warns of intrusions — among numerous other steps. More purchases of hardware, software and expertise are coming in the months ahead.
Whether enough money gets spent, and wisely, won't be known for sure until Nov. 3, 2020 — when the system will be subject to the one test that really matters. And whether the country decides the presidential election result is trustworthy will likely come down to how reliably things work in the relatively small number of states both nominees are contesting.
[Swing states build 2020 hacking protections: Will they hold?]
With 11 months to go, The Fulcrum reviewed information from state elections officials, the National Conference of State Legislatures, the Election Assistance Commission and news reports to get a sense of the election security landscape. Here's the state of play in the 13 states likeliest to be presidential battlegrounds.
Keep reading...
Show less
Jeff Swensen, Getty Images
Gatheru is the outreach manager at American Promise, which advocates for amending the Constitution to permit laws that regulate the raising and spending of campaign funds. She graduated two years ago from the University of Connecticut.
When young Americans come together, we can make a big impact. That's what we've seen throughout history. Alexander Hamilton and Betsy Ross were in their early 20s during the American Revolution. Frederick Douglass was 23 years old when he took the stage at the Massachusetts Anti-Slavery Society. Alice Paul through her 20s led the fight for the 19th Amendment and women's voting rights.
And that's what we're seeing today in youth-led climate movements around the globe and the movement to end mass shootings here in the United States. But one issue that doesn't get as much attention sits at the root of our modern problems: big money in politics.
Money in our political system has completely eroded the promise of a functioning and just democracy. Due to a series of Supreme Court cases, corporations have the same rights as humans, special interests control Capitol Hill and democracy only works for those who can afford it. This is the dystopia my generation has inherited.
Keep reading...
Show less
Chip Somodevilla/Getty Images
The explosion of small-donor political contributions is often celebrated and extolled as one of the few positive developments amid all the problems facing the democracy reform movement.
Not so fast, argues New York University law school professor Richard Pildes. In a new essay published in the Yale Law Journal Forum, he argues the proliferation of modest contributions to candidates may be contributing to more political polarization and, at least, requires more careful examination.
Pildes also says the proposals to promote more small-donor giving that are part of the House Democrats' comprehensive political process overhaul, known as HR 1, could have unintended negative consequences.
Keep reading...
Show less