Trump hits the all caps button for latest baseless attack on counting votes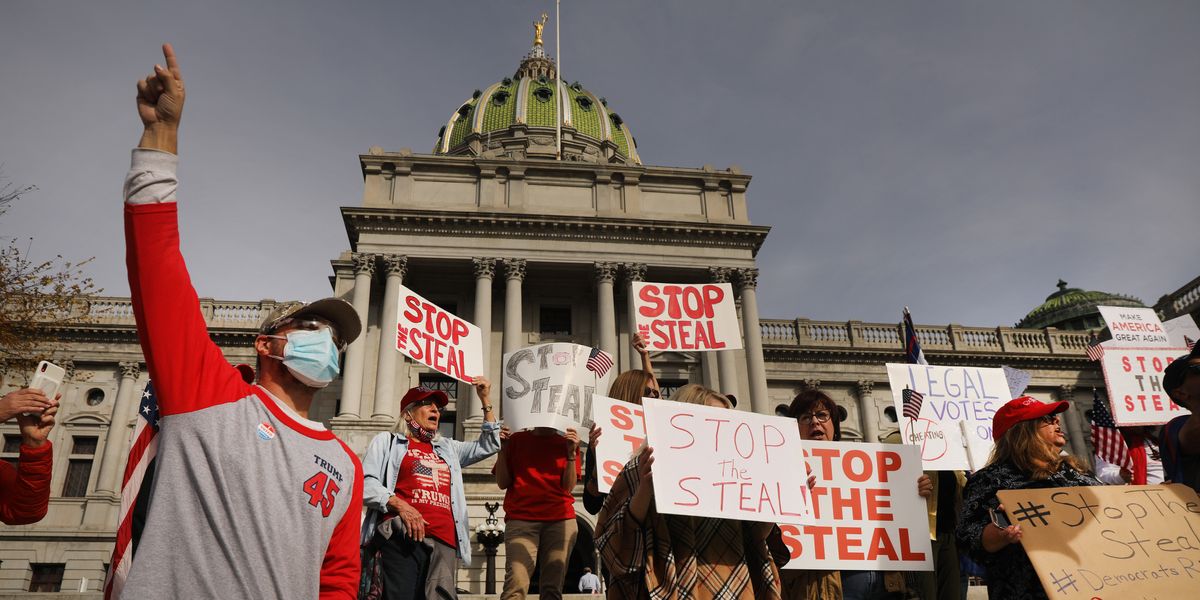 Spencer Platt/Getty Images
President Trump escalated his wholly unsubstantiated allegations of voter fraud Thursday. He did so while election officials kept laboring to produce definitive and clean results in the five battlegrounds where the count is not complete — but still put Joe Biden on the cusp of a narrow yet unassailable victory.

The president's legal team went into overtime to press his case in court in four tossup states where he's in danger, but it was unclear whether any courts would act in his favor — especially in time to stop the tallying of legally cast ballots.
Trump took to Twitter with all-capitalized fury, but no evidence of electoral misconduct that might warrant a stop. He totally incorrectly said the counting of ballots after Election Day was the same as allowing people to vote after the polls closed.
---
"IF YOU COUNT THE LEGAL VOTES, I EASILY WIN THE ELECTION! IF YOU COUNT THE ILLEGAL AND LATE VOTES, THEY CAN STEAL THE ELECTION FROM US!" was the latest iteration of false claims as part of an incumbent president's unprecedented efforts to sow doubt about the integrity of an American election.
While the Biden campaign continued to express confidence, the Trump campaign has now sought to reverse the former Democratic vice president's prospects in four states. It has sued to halt the vote-counting in Pennsylvania and Michigan, demanded a recount in Wisconsin and challenged the handling of ballots in Georgia.
Sign up for The Fulcrum newsletter
At the same time, a group of former federal prosecutors named by Republican presidents excoriated Trump for his unwarranted declaring of victory and labeled the president's allegations of cheating as "premature, baseless, and reckless."
"Unfounded allegations of fraud and threats to initiate litigation aimed at stopping the vote count are clearly inappropriate and have the potential to undermine the rule of law as it applies to our electoral process," the group of former U.S. attorneys said.
"We hereby call upon the president to patiently and respectfully allow the lawful vote-counting process to continue," they said — a pointed jab at a Trump tweet that read, "We hereby claim the State of Michigan." Biden is the universally projected winner of the state.
The former U.S. attorneys were appointed by every Republican president from Dwight Eisenhower to George W. Bush. The group had endorsed Biden last month.