Dominant force in campaign giving, Steyer vows presidential run to take on big money
https://twitter.com/saramswann?lang=en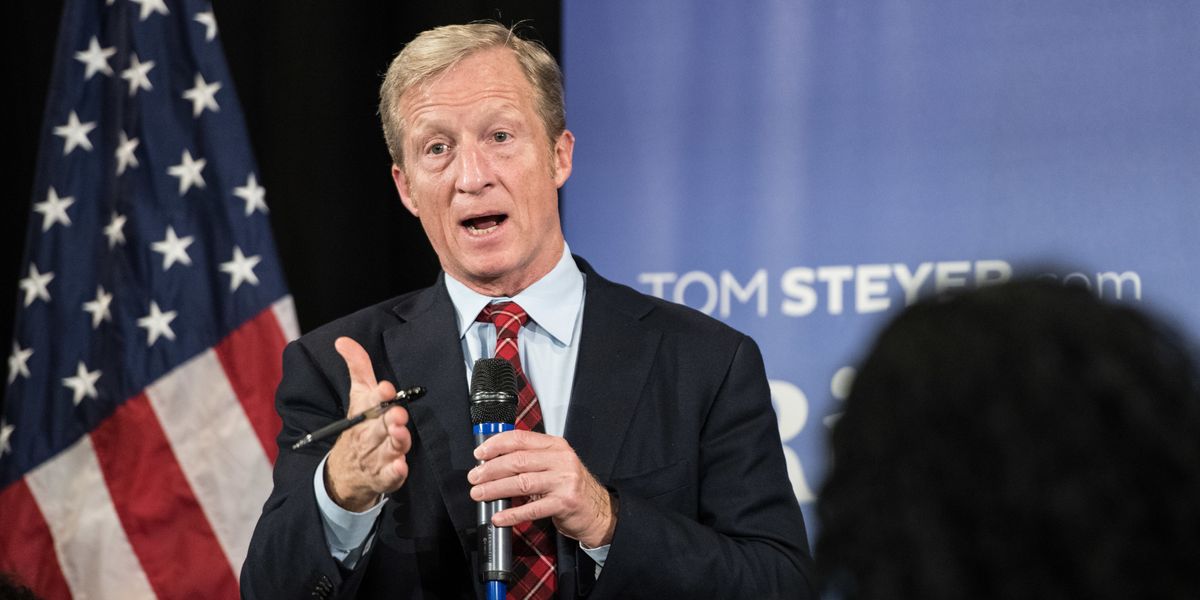 Sean Rayford/Getty Images
When liberal billionaire Tom Steyer announced his entry into the presidential race on Tuesday, his central vow was to take on the big-money influences that have infiltrated American politics. But his own extraordinary level of political spending has made him a big-money influence in his own right — and signals he's positioned to become the biggest self-funder in Democratic presidential history.

In the six years he's been active in national politics, Steyer has spent $240 million to promote candidates — almost all of them committed to an activist role in combatting climate change or the impeachment of President Trump.
And he's done so through the very system that's a prime target of criticism among advocates for revamping the campaign finance system. He has funneled almost all the money through two super PACs he created, NextGen Climate Action and Need to Impeach, which in turn have spent lavishly on television advertising in support of the Democratic candidates he likes and opposing the Republicans he doesn't. Steyer was the face of many of the TV spots.
---
The world of super PACs and their unlimited and minimally regulated spending was created as an outgrowth of the Supreme Court's Citizens United ruling, which is reviled for unleashing unfettered corporate spending on campaigns but expanded as well the influence of corporate financiers, like Steyer. Almost all the leading Democratic candidates for president say that 2010 decision should be reversed — or at least neutralized as much as constitutionally permissible through legislation.
Sign up for The Fulcrum newsletter
Steyer lambasted that ruling in his announcement video. But whether he will be seen by the party's electorate as an imperfect vessel for a populist campaign finance message, which has become an article of faith in Democratic campaigns, will be a central question about his campaign's viability.
"What people believe is that the system has left them," Steyer said in announcing his candidacy. "That the politicians don't care about or respect them. Don't put them first, are not working for them, but are actually working for the people who have rigged the system."
Based on his spending history, however, Steyer is likely to continue using his wealth to influence politics — this time to benefit his own campaign. Steyer's announcement is a reversal of his previous declaration, in January, that he would not run for president.
Steyer intends to spend at least $100 million on this race, his campaign spokesman told The New York Times. This would put the 62-year-old former hedge fund investor and philanthropist in the No. 3 spot among the most generous self-funders in the history of U.S. presidential elections, far outpacing other Democrats.
If he ends up spending $100 million, Steyer's out-of-pocket expenses would far surpass the combined fundraising hauls in the past three months of the Democrats who have raised the most: Joe Biden, Pete Buttigieg, Elizabeth Warren, Bernie Sanders and Kamala Harris. And his personal spending would be almost half what Hillary Clinton raised from donors big and small across the country to win the nomination four years ago — an outsized sum compared to most campaigns.
Texas billionaire Ross Perot — who, coincidentally, died on Tuesday — holds the title as the biggest self-funder, when adjusting for inflation. In 1992 and 1996, Perot, who ran as an Independent, spent more than $129 million combined on his presidential campaigns. Republican Steve Forbes burned through roughly $118 million combined, in current dollars, in his 1996 and 2000 campaigns.
While Perot lost twice in November and Forbes never made it far in his quests for the GOP nomination, Donald Trump found success when he used his own money to win the presidency. In 2016, he spent just over $70 million on his campaign.
In his campaign video, Steyer underlined his mission, if elected president, to stop corporations from influencing the U.S. political system. While he is not a corporation, Steyer has used his money to put weight behind certain Democratic candidates.
In both 2014 and 2016, Steyer was the top individual contributor to federal parties, candidates and outside spending groups, according to the Center for Responsive Politics, a nonpartisan campaign finance watchdog. By giving $166 million, beating out other top contributors, Democrat Michael Bloomberg and Republican Sheldon Adelson. In 2018, Steyer dropped to the No. 3 spot with total donations of almost $74 million.
Steyer has given some money to individual campaigns, but Federal Election Commission regulations limit how much one person can contribute. Super PACs, however, can spend unlimited amounts of money advocating for or against candidates, which is how Steyer has allocated the overwhelming majority of his political spending.
In the 2018 midterm campaign, Steyer's super PAC NextGen Climate Action spent just over $4 million supporting and opposing candidates — and in 72 percent of the contests where the PAC took sides, the candidate Steyer preferred was the winner.