Trump's FEC member says this election is a 'spiritual war'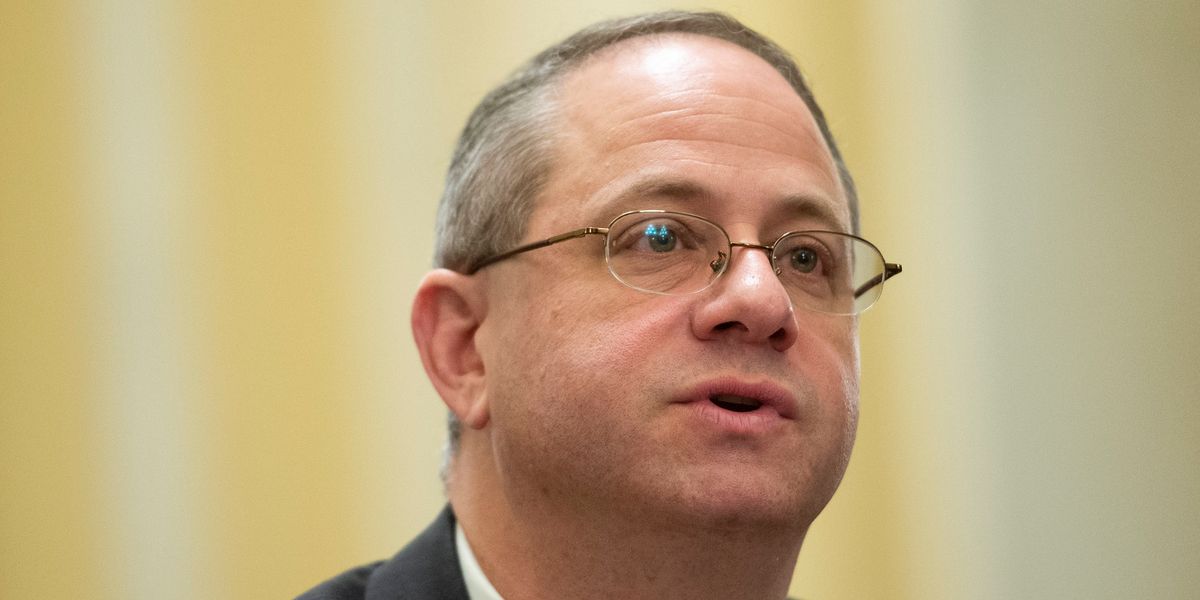 Caroline Brehman/Getty Images
The nation's newest campaign finance regulator is inserting himself into the never-ending debate about separating church and state, and causing a stir by accusing Roman Catholic bishops of hiding behind their church's nonprofit status to avoid endorsing candidates.

Trey Trainor, a Catholic who was confirmed for a long-vacant seat on the Federal Election Commission in May, also said in an interview with the conservative website Church Militant released on Wednesday (and a followup interview with the Religion News Service) that separation of church and state is a "fallacy" and that this year's election amounts to a "spiritual war."
None of these comments would appear to have any bearing on Trainor's role overseeing the federal rules that govern the flow of money into politics, but they quickly attracted criticism.
---
All nonprofits are prohibited by federal law from taking part in political campaigns, and the U.S. Conference of Catholic Bishops states in its "Political Activity Guidelines" that this precludes supporting or opposing specific candidates.

Trainor said he believes church officials are motivated by a fear of losing their tax status and the tax dollars that go to Catholic social service agencies.
"The bishops are using their nonprofit status as a shield to hide behind from having to make a decision about who to support," said Trainor, a longtime Republican campaign lawyer in Texas who is the only person President Trump has put on the FEC.
Sign up for The Fulcrum newsletter
He said the bishops have nothing to fear about their tax status because Trump issued an executive order in 2017 directing the Treasury not to pursue legal action against religious organizations that speak out about politics. The actual impact of that order has been heavily debated but even Trainor agreed that it does not change the law on the books.
Fellow FEC Commissioner Ellen Weintraub is among those who disputed Trainor's views about limits on religious groups' political activity.
"My colleague is not correct," Weintraub, a Democrat who recently turned over the rotating job of FEC chairman to Trainor, said in a statement to RNS. She said the "statute remains the law of the land and cannot be undone with an executive order."
John Gehring, Catholic program director with the progressive group Faith in Public Life, tweeted that Trainor's comments were a "brazen use of federal power to encourage Catholic leaders to endorse Trump."
While their clergy have avoided endorsing candidates, some Catholics argue that followers of the faith should not vote for Democrats because of their support for abortion rights — most prominently Democratic presidential nominee Joe Biden, who is Catholic.
A Lacrosse, Wis., priest sparked controversy when he posted a video last month saying: "You cannot be a Catholic and a Democrat. Period." His bishop promised last week to "correct" the priest but a bishop in Texas stated his support for what the Wisconsin priest said.
Trainor's comment about the separation of church and state was based on the conservative legal view that the prohibition against government-sponsored religion in the Constitution is not meant to preclude people from expressing and acting on their faith in the public square.
And in his interview with RNS, he expanded on his comment that the election is a spiritual war.
"What we see going on around the country is complete anarchy in places where the rule of law has been completely abrogated," Trainor said. "So it is a spiritual war in that it is striking at the underlying foundations of our constitutional republic. It's getting rid of the Christian moral principles that are the basis of the foundation of the country."
The dustup comes at a time when Trainor is somewhat underemployed. Just a month after he joined the FEC one of his new colleagues resigned, leaving just three commissioners on the job — one short of a quorum, meaning the regulators have not been able to take any enforcement actions during the height of campaign season.