The state of voting: June 27, 2022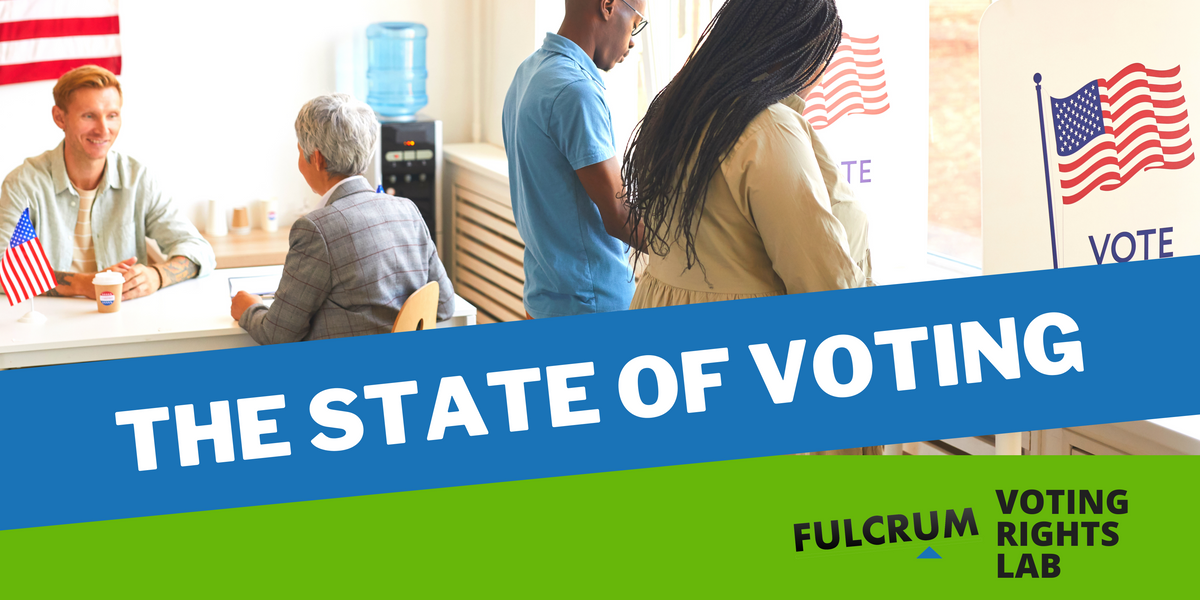 This weekly update summarizing legislative activity affecting voting and elections is powered by the Voting Rights Lab. Sign up for VRL's weekly newsletter here.

The Voting Rights Lab is tracking 2,176 bills so far this session, with 579 bills that tighten the rules governing voter access or election administration and 1,035 bills that expand the rules.
In the final days of the legislative session, Arizona lawmakers passed a bill that would revive previously vetoed approaches to voter purges and another to ensure voters can track the status of their mail ballots online. Louisiana enacted legislation prohibiting stand-alone drop boxes as well as bills to provide voter registration opportunities in high schools and codifying an absentee ballot cure process.
Meanwhile, New Hampshire's legislature sent the governor a bill that imposes harsh criminal penalties for election administrators. Delaware appears to be on the verge of enacting same-day registration. And the Safeguard Fair Elections Act, legislation that would provide a number of protections against election threats and intimidation, was introduced into the North Carolina Senate.
Looking ahead: Missouri Gov. Mike Parson is likely to sign a bill creating in-person early voting and strengthening voter ID requirements on Wednesday.
Here are the details:
---
Arizona lawmakers pass flurry of bills as session ends. The Arizona Legislature spent several long days finishing up its work for the 2022 session last week. In addition to passing the state's budget, the Legislature passed several election-related measures to cue them up for either the governor's signature or their presentation to Arizona voters in the fall. Lawmakers added an amendment related to voter registration purgesto H.B. 2243 before it passed, very similar to that which Gov. Doug Ducey vetoed earlier this session. They also passed a bill ensuring voters can track the status of their mail ballots online. If the governor signs it, voters will be able to see when their ballots are received, verified and counted.

Sign up for The Fulcrum newsletter
Missouri's governor plans to sign legislation that would create in-person early voting, while also tightening the state's voter ID law. This week, Parson plans to sign H.B. 1878, legislation that would create early voting for the first time in Missouri – but would also make the voter ID law in the state more strict. The bill would create two weeks of early voting via in-person absentee voting. It would also make the state's ID law more restrictive by eliminating many of the ID types that Missouri voters are currently allowed to show. In Missouri, the governor has 45 days after a bill is passed and the General Assembly adjourns to sign or veto that bill.
Louisiana facilitates student voter registration and codifies a cure process, while restricting absentee ballot return. Gov. John Bel Edwards signed a bill that requires all public and charter high schools in the state to provide eligible 17-year-old seniors with an opportunity to register to vote on school computers or paper applications. Louisiana also codified an absentee ballot cure process. While the state already had regulations establishing a notice and cure process, the newly enacted legislation would bar future secretaries of state from eliminating the system.
Louisiana also enacted legislation that would limit the in-person return of absentee ballots to registrars' offices and early voting sites, prohibiting stand-alone drop boxes. In 2020, the New Orleans City Council won a legal fight allowing local officials to establish alternative, staffed, ballot drop-off sites, which are prohibited under the new legislation.
The Delaware Senate passes legislation that will establish same-day registration on Election Day. H.B. 25, a carryover bill from last session, would establish Election Day registration by moving the registration deadline from the Saturday before Election Day to the close of polls on Election Day. The bill has been sent to Gov. Jay Carney's desk.
New Hampshire sends legislation to the governor targeting election administrators. The New Hampshire legislature passed H.B. 1567, which would direct the attorney general to investigate allegations against local election officials, make election official misconduct the only misdemeanor for which a conviction results in disenfranchisement, and establish civil penalties of up to $1,000 for unintentional misconduct by election officials. If passed, this legislation could interfere with the retention of election officials and make it more difficult to administer elections. The bill is now eligible for the governor's signature.
The Safeguard Fair Elections Act is introduced in North Carolina. A new bill introduced in North Carolina last week (S.B. 916) would establish criminal penalties for intimidation, threats or coercion of voters and election officials. The bill would also safeguard election totals by establishing penalties for public officials who refused to certify election results, require political party observers to complete training designed by the State Board of Elections, and establish funding for the board to monitor and track threats to voters and election officials.