Cuomo pushes plan to ease voting in New York
https://twitter.com/saramswann?lang=en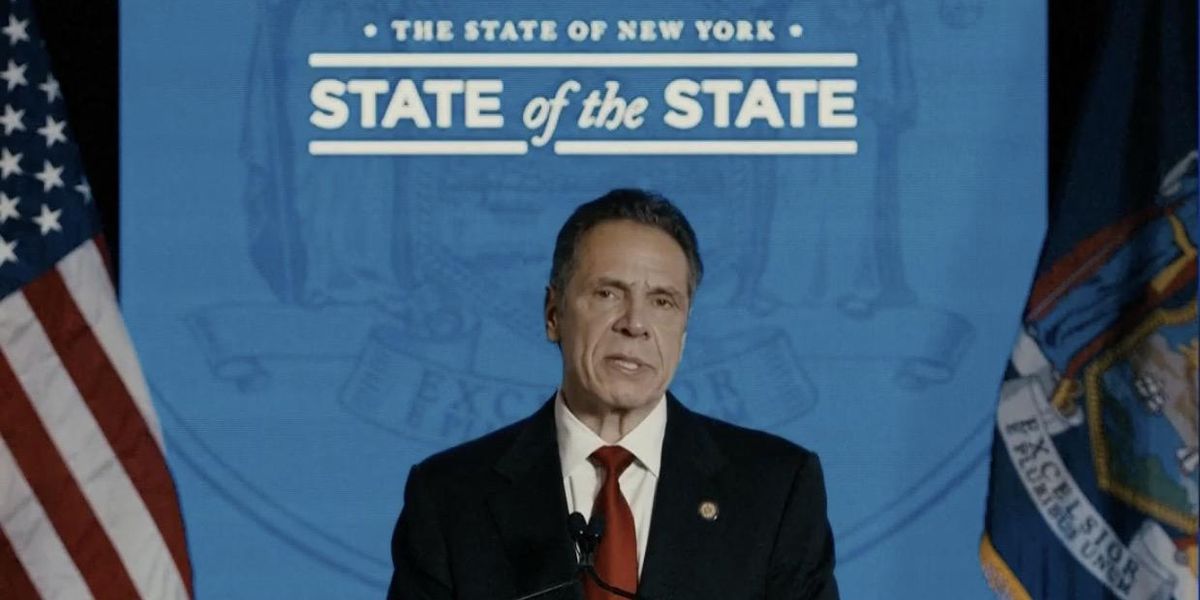 State of the State livestream
Acknowledging election complications caused by the Covid-19 pandemic, New York Gov. Andrew Cuomo proposed a slate of reforms to ease the voting process Monday.

As part of his 2021 State of the State agenda, Cuomo wants to extend the early voting period, make voting by mail more accessible and speed up the ballot counting process. These reforms would build on election changes the state has made in recent years.
In the aftermath of the unprecedented 2020 election, many states are considering changes to their voting systems as legislative sessions begin. And the Democratic-controlled Legislature in Albany will almost certainly be supportive of expanding access to the ballot box for New York's 13.6 million voters.
---
"Our election system, on which our democracy is built, has, and continues to be, under attack by those seeking to undermine the founding principles of our nation and we must not only protect it, but ensure it can be accessed by all," Cuomo said in his announcement.
Last year, Cuomo issued an executive order temporarily designating fear of Covid-19 infection to be a valid excuse to vote by mail. As a result, 2.5 million New Yorkers took advantage of that option. The governor is now calling on state legislators to put a no-excuse absentee voting amendment on the ballot for voters to decide next fall. Cuomo's other proposals only require approval by the Legislature.
Sign up for The Fulcrum newsletter
In addition to expanding who can vote by mail, Cuomo also wants to give New Yorkers more time to request an absentee ballot. Currently, voters cannot request a mail ballot more than a month prior to Election Day, putting pressure on election administrators to fulfill requests in a short amount of time. Cuomo plans to advance legislation allowing voters to request mail ballots 45 days ahead of an election.
The surge in mail voting last year caused the processing and counting of mail ballots to take much longer than usual, particularly in New York. To expedite that process in the future, Cuomo is proposing legislation to allow election administrators to begin processing mail ballots as soon as they are received, so they can then be quickly tabulated on Election Day. The current system allows ballots to be processed within two weeks of a general election and eight days of a primary.
Cuomo's plans also include a provision to build on early in-person voting access. Since more than 2.5 million Empire State voters cast their ballot early in the presidential election — the first major contest in New York to allow early voting — Cuomo wants to extend early voting by 3 hours on weekends and on at least three weekdays during the state's 10-day early voting period.
"While we have already made some progress in modernizing New York's election system, there is much left to do and this historic package of election reforms will be critical in strengthening how elections are run and ensuring all New Yorkers are able to exercise this fundamental right," Cuomo said.
Meanwhile, in neighboring New Jersey, Republican lawmakers are pushing legislation aimed at preventing fraudulent absentee voting — even though there was no significant evidence of such fraud in the 2020 election. The proposed measures would suspend automatic voter registration, mark voters with undeliverable addresses as inactive, establish a voter fraud task force and require reports of vote-by-mail irregularities.