Revived campaign aims to engage 1 million Latino voters in 4 key states
https://twitter.com/davidmeyers?lang=en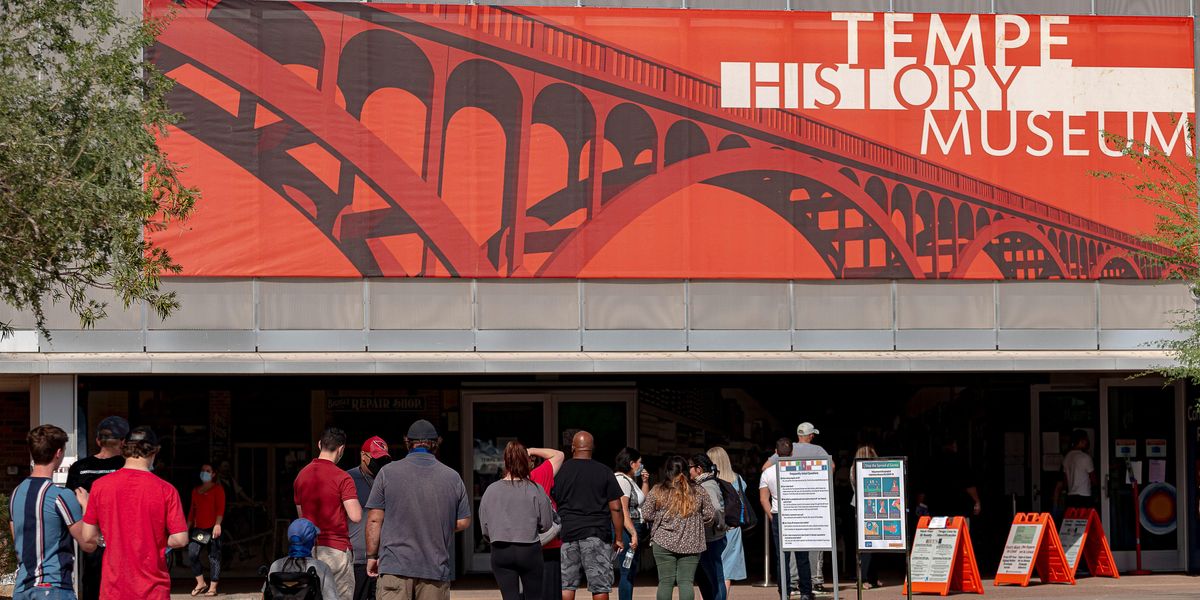 Olivier Touron/AFP via Getty Images)
After helping achieve record voter turnout in the Latino community in 2020, two nonprofits hope to build on that success by engaging 1 million potential Latino voters across four battleground states during this fall's midterm campaigns.

Corazón Latino and EcoMadres, which address environmental and health issues, are expanding their civic engagement efforts through their joint Soy Latino, Sí Voto campaign.
"We know that clean air and water are essential for healthy lives. EcoMadres, the Latino community outreach program of Moms Clean Air Force, and their advocates around the country are leading the charge to bring awareness of these critical issues to their communities," said Carolina Peña, program manager for EcoMadres. "The SLSV campaign is an important step forward in continuing this work and making sure we have a livable planet for our children."
---
The campaign will focus on races in Arizona, Georgia, Pennsylvania, and Nevada. Each of those states features hard-fought races for Senate and governor, as well as contests for U.S. House and state legislative seats and other statewide offices.
"These are states in which the Latino vote will play a decisive role in the outcome of the elections," said Felipe Benitez, executive director of Corazon Latino. "Our goal is to increase Latino voter participation and build Latino political power."
Sign up for The Fulcrum newsletter
Slightly more than half (53 percent) of Latino adults told Pew Research in August that they have been thinking about the upcoming midterms "a lot" or "some" – 11 points lower than among all U.S. adults. Arizona (24 percent) and Nevada (20 percent) have significant Latino populations eligible to vote. About 5 percent of eligible voters in both Georgia and Pennsylvania are Hispanic.
In 2020, more Latino adults registered to vote, and voted, than ever before. That year, the SLSV campaign focused on engaging voters in five battleground states: Arizona, Florida, Michigan, Pennsylvania and Ohio. That year, Arizona and Ohio had the fourth and fifth highest turnout rates among Hispanic voters. Michigan was 10th.
UnidosUS, a Latino civil rights group, estimates that 1 million Latino people turn 18, and thus become eligible to vote, each year. An additional 800,000 Latino immigrants become U.S. citizens each year.
While the SLSV organizers favor certain policy positions, they do not campaign for particular candidates, Benitez explained.
"We will mainly motivate Latino registered voters to exercise their right to vote. This is a non-partisan effort," he said. "We advocate for environmental protection, economic justice, health and conservation."
To achieve their goals, they will run paid media campaigns on digital platforms in addition to TV and radio, while seeking media coverage, running canvassing programs, use text messaging campaigns and engaging in peer-to-peer organizing.
This year, SLSV has enlisted Lalo Alcaraz, author of La Cucaracha, a nationally syndicated comic. Alcaraz won the prestigious Herblock Prize for excellence in editorial cartoonists.
"I couldn't be more excited about creating voter engagement cartoons and making sure Latinos come out and raise their voices through the ballot box," Alcaraz said.