Jan. 6 hearings aren't just about Jan. 6
---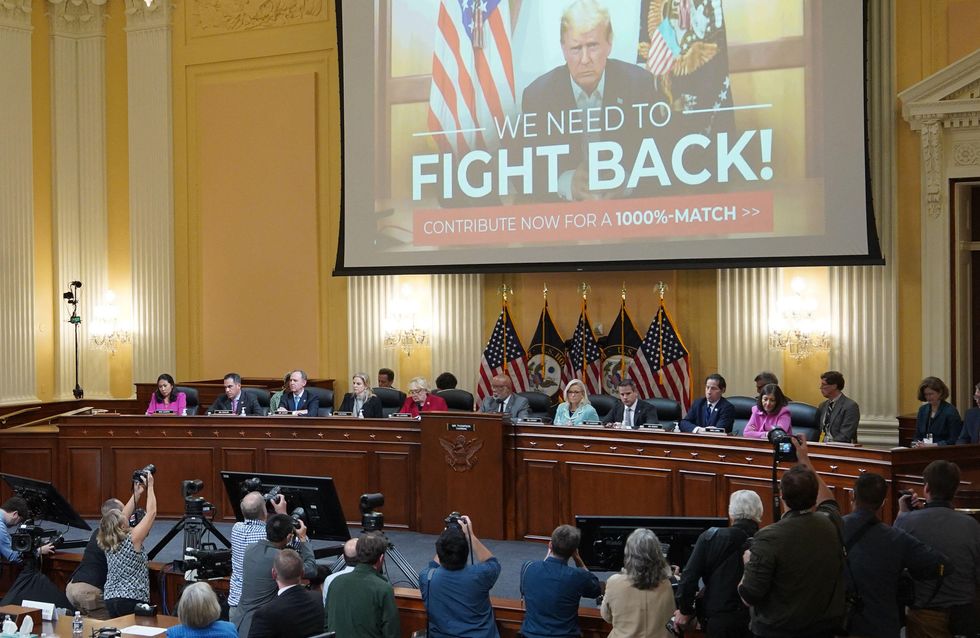 Mandel Ngan/AFP via Getty Images
The House committee investigating the Jan. 6, 2021, insurrection and former President Donald Trump's role resumes its public hearings today. To some, the proceedings aren't just about election denialism and violence in the Capitol – they also reinforce Trump's perceived habit of breaking democratic norms, if not breaking federal laws.

Some leaders in the democracy reform space found parallels between the root of Trump's first indictment (an alleged effort to blackmail Ukraine's president into digging up dirt on the Biden family).
Former Issue One Executive Director Meredith McGehee: "The Ukrainian call became part of a pattern where we had a president who really failed in that aspect" of putting the interests of the nation over his own.
Public Citizen Executive VP Lisa Gilbert: "His entire presidency is a clear indication that he believes himself to be above the law."
When the hearings continue today, more parallels may be drawn
The Supreme Court has an extensive list of cases due to be decided by the end of the month. One of them, Dobbs v. Jackson Women's Health Organization, is likely to reverse Roe v. Wade and leave abortion laws to the states.
With abortion being one of the most polarizing issues, the final opinion is sure to further divide Americans and possibly impact the public's opinion of the Supreme Court – which is already at an all-time low, according to new polling by Morning Consult.
Just 46 percent of Americans have "some" or "a lot of" trust in the Supreme Court, down from a recent high of 57 percent in April, per the latest data.
The biggest threat to U.S. elections remains efforts to interfere if not corrupt the counting of votes, according to David Levine, an elections integrity fellow at the Alliance for Securing Democracy. But, he argues, there's a second serious threat: unnecessary barriers to voting.
While there are legitimate reasons to tighten the voting rules, some states (he specifically cites Texas, Iowa and Georgia) are taking it too far.
To be clear, there is ample room for disagreement on many election administration policies. For example, as a former election official, I worked in one jurisdiction that did not require an ID to vote and another that did require ID, but also allowed a voter to fill out and sign an affidavit if they forgot to bring their ID to the polls. Neither policy unduly restricts access to the ballot, and both can plausibly be justified in terms of convenience and security. The problematic policies are those that are justified predominantly in terms of "improving voter confidence," rather than rooted in scientific principles.
Times have changed for corporate America. It's no longer enough to solely focus on increasing profits, as businesses have to take public stands on social issues – even when it potentially puts them at odds with bottom-line priorities.
The latest episode of "How Do We Fix It" features a discussion of the hazards and opportunities for corporations and their leadership with author, researcher, and facilitator Elizabeth Doty, director of the Erb Institute's Corporate Political Responsibility Taskforce at the University of Michigan.
Also in the news
Has Your State Made It Harder To Vote? (FiveThirtyEight)
Louisiana lawmakers resume work on remapping House districts (Associated Press)
Tennessee Supreme Court to hear felon voting rights restoration case (Tennessean)
New Mexico Supreme Court orders rural county to certify election results by June (Courthouse News Service)
Initiative for "approval voting" that would change Seattle elections is headed toward November ballot (Seattle Times)
Upcoming events
2021 Aicher Award Virtual Celebration - Everyday Democracy - June 16
America's Vulnerable Elections - Network for Responsible Public Policy - June 16
National Debate: Labor Unions - Braver Angels - June 16
Join, Design & Build the Empathy Movement
EMPATHY MOVEMENT - Center for Building a Culture of Empathy - June 18