Is Ukraine a democracy?
https://twitter.com/davidmeyers?lang=en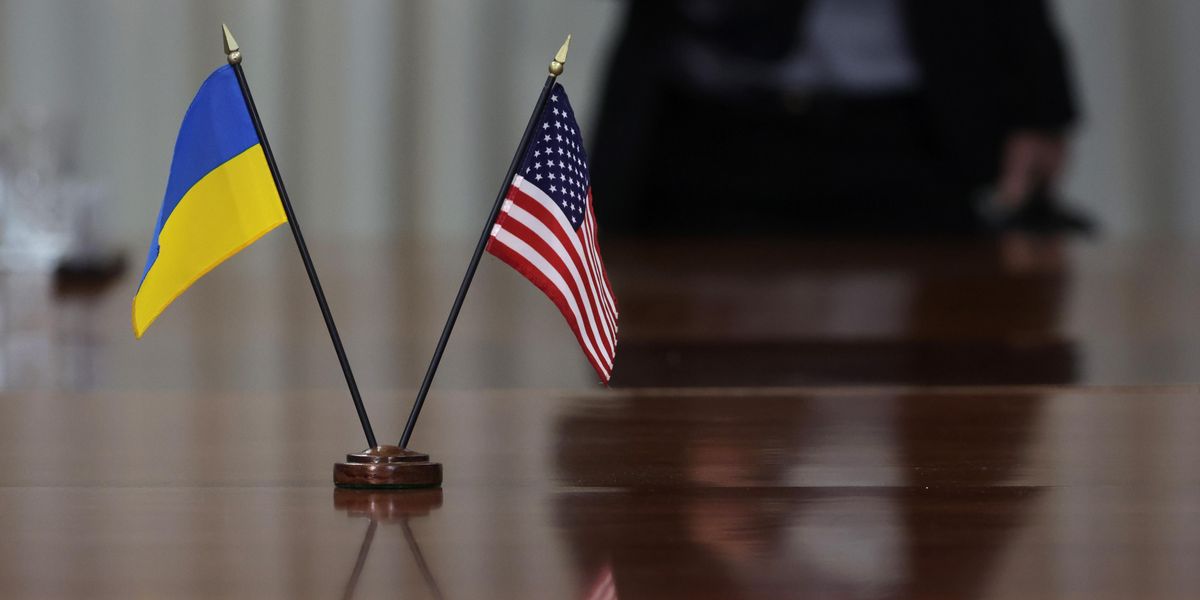 Alex Wong/Getty Images
As Russian military forces enter Ukraine, Western nations are taking steps to "defend democracy" from an authoritarian regime.

But what exactly are the United States, Germany and other Western powers trying to protect? According to leading analysts of global democracy, Ukraine's government does not measure up as a healthy democracy. Of course, that is not a justification for abandoning a sovereign nation.
After all, the United States does not earn top marks either.
---
"The American people understand that defending democracy and liberty is never without cost," President Biden said recently, regarding the United States' role in protecting Ukraine.
However, the Economist Intelligence Unit, which recently released its 2021 Democracy Index, doesn't even consider Ukraine either a full or flawed democracy. Rather, Ukraine falls into the "hybrid regime" bucket, tied for 86th place with Mexico in the democracy rankings. (The United States ranks 26th, making it a "flawed democracy.")
Ukraine ranks 17th in Eastern Europe, five spots ahead of Russia but with a significant gap in their scores.
Ukraine is a republic, with a president chosen by popular election, a prime minister appointed by the president and confirmed by the legislature, a unicameral legislature that's a mix of single-seat and proportional representation, and a Supreme Court that is appointed by the president.
Sign up for The Fulcrum newsletter
While Ukraine performs very well in regard to its electoral process, according to the EIU, its overall score is dragged down by a poorly functioning government — which the researchers tied to the looming Russian threat.
"Government functioning under a direct military threat usually restricts democratic processes in favour of the centralisation of power in the hands of the executive and the security or military apparatus with the aim of guaranteeing public safety," the report states. "In Ukraine, the military played a more prominent role in 2021 and exerted more influence over political decision-making; government policy also became less transparent."
Similarly, Transparency International, which annually ranks 180 countries based on perceived corruption, gives Ukraine poor marks. The latest version of the Corruption Perceptions Index ranks Ukraine 122nd, with a score of 32 out 100 (where a lower score indicates more public-sector corruption).
The United States, by comparison, performs better but fell out of the top 25 this year with a score of 67.
Transparency International combines Eastern Europe and Central Asia into one region — the second lowest, on average, in the CPI.
"In Central Asia, many political leaders used COVID-19 as a smokescreen to introduce new restrictions on rights and accountability during the last year, while populist governments in Eastern Europe have severely cracked down on the freedoms of expression and assembly needed to call out corruption," according to the CPI researchers. "Across the region, authoritarian regimes spied on, intimidated and attacked activists, journalists, opposition leaders and ordinary citizens."
A third organization, Freedom House, is expected to release its annual "Freedom in the World" report this week. Last year, Freedom House considered Ukraine "partly free," earning a score of 60 out of 100 (down 2 points from the previous year). The country's total was dragged down by the political influence of Russia and Ukrainian oligarchs, rampant corruption, a severe lack of transparency, and restrictions on civil liberties.
(The United States was considered a "free" country, with a score of 83 out 100 in the 2021 report, although that total continued a decade-long decline.)