The battle of Ukraine involves the American homefront
https://twitter.com/clementsjeff?lang=en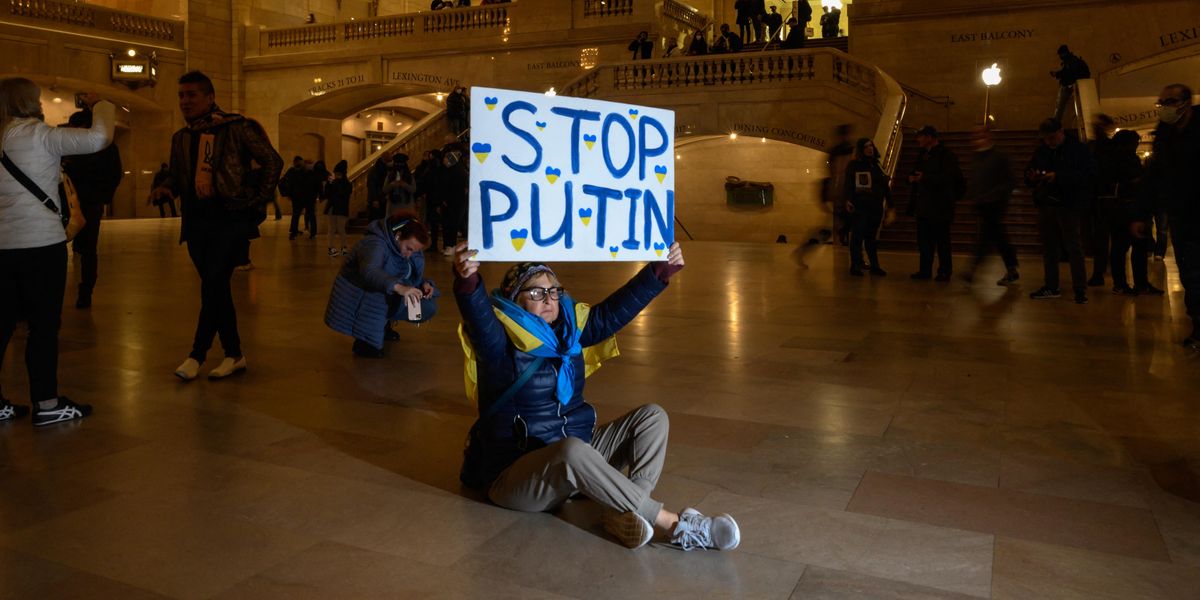 Ed Jones/AFP via Getty Images
Clements is the president of American Promise, a nonprofit advocate for amending the Constitution to allow more federal and state regulation of money in politics.

Events of these challenging years have forced Americans to face uncomfortable truths about ourselves, our government and our place in the world. We are reminded that constitutional democracy is not the default human condition; it is fragile and rare in the world and in human history. The aspiration for freedom is universal, but government of tyrants or oligarchs is far more common than government of the people. Free people and democratic societies that won't defend themselves from external or internal dangers don't survive.
---
The 2022 Freedom House report, "The Global Expansion of Authoritarian Rule," describes 16 years of democratic decline. "[G]lobal freedom faces a dire threat. Around the world, the enemies of liberal democracy are accelerating their attacks."
Vladimir Putin's brutal and illegal invasion of Ukraine, and the Ukrainians' heroic defense of their country, underlines that while we may not wish it, we now are in a dangerous global defense of freedom. Most Americans now accept this somber fact. According to Citizen Data, nearly 80 percent of Americans see the Ukrainian resistance as part of a global struggle for democracy, rather than as a regional conflict. Nearly the same number want the United States to do more.
Sign up for The Fulcrum newsletter
These Americans are right. The battle of Ukraine is a front in the global resistance to enemies of democracy. The elected Ukrainian president, Volodymyr Zelensky, refuses to surrender and makes compelling appeals to the democracies of the world, citing Winston Churchill in the British Parliament and the Rev. Martin Luther King Jr. in Congress. Meanwhile, in Russia, the isolated autocrat justifies his extraordinary violence against a sovereign country and a free people by saying they have no right to exist. He calls for Russian "self-purification" against "traitors and scum" (i.e., Russians who disagree with him).
If we are to help lead a global fight for freedom, America must confront our shortcomings and division at home. This has always been so in our persistent progress toward the promise of liberty and self-government. Our anti-oligarch Constitution was forged in the first global struggle of freedom against tyranny. Two generations later, to block European intervention and win the Civil War, our battle for Union became a fight for freedom over slavery — and we had to prove it with the 13th, 14th and 15th amendments to the Constitution.
In the 20th century, when America intervened in World War I to defend democracy, we had to prove it at home with votes for women and anti-oligarch measures such as income tax reform and the first campaign finance laws. During the Cold War, America could not lead the free world without civil rights reform to end violent inequality and segregation.
As we respond to the undeniable threat to democratic societies in Europe and around the world today, what is the priority defense at home? We face not only the danger of insurrection, populism and authoritarian norm-breaking but a danger from what Nathan Gardels calls the "Perfect Plutocracy."
According to Gardels, the collapse of public trust in institutions of self-government is the core crisis of democracy. The response to this crisis, he says, has gone in two directions: 1) populist-oriented authoritarian movements and leaders who promise to act for the people, and 2) increased efforts to expand tools of citizen engagement and participation.
But Gardels warns of a third response to the trust crisis, a "perfect plutocracy," where authoritarian leaders or the elite interests use the tools of citizen engagement to reinforce their anti-democratic power.
Examples abound. Elections are the most obvious place where we should find citizen participation. But how can most Americans engage in meaningful participation when the parties, politicians and process are dominated by billions of dollars from a small donor class? Half of the $1 billion donated to Joe Biden's 2020 campaign came from just five cities, all on the coasts. Donald Trump's big spenders were slightly more distributed, but also came mostly from five wealthy cities. The 20 billionaires who fund much of the Democratic and Republican candidates and super PACs are from the same cities.
The citizen ballot initiative has been co-opted by global corporations and billionaires who use it to drive preferred policies that cost most Americans money and hardship. What citizen or honest elected official can afford to offer a different view against a $200 million ballot campaign of the global and foreign-owned corporations like Uber? Who can work for lower drug prices when pharmaceutical companies will spend $100 million on initiatives that keep prices high?
Political parties once enabled increased citizen participation and debate about significant issues. Now the parties and primaries are dominated by a small slice of big donors and the most extreme party activists. With dueling donor factions in both parties, and partisan district line drawing making most elections uncompetitive, only 10 percent of eligible voters decided the primaries that elected 83 percent of Congress.
Many reforms are needed, and mega-wealthy donors such as Kathryn Murdoch, the Arnold family and Mike Novogratz say they can help. But wealthy donors may exacerbate the distrust that is at the root of populism and authoritarianism if they neglect how money is used in elections. To unite America and reinforce our resistance to oligarchy, reform will need to include lasting constitutional steps to correct unfair election spending rules that favor the wealthy and global corporations at the expense of most Americans.
In this global struggle for democracy, American servicemembers already are responding in Europe and beyond. Most of us, God willing, will not be called to arms. But all of us can help at home. As we seek to protect freedom from the attacks of oligarchs and tyrants, we dare not settle for a perfect plutocracy in America.