Empowering people of faith to support democracy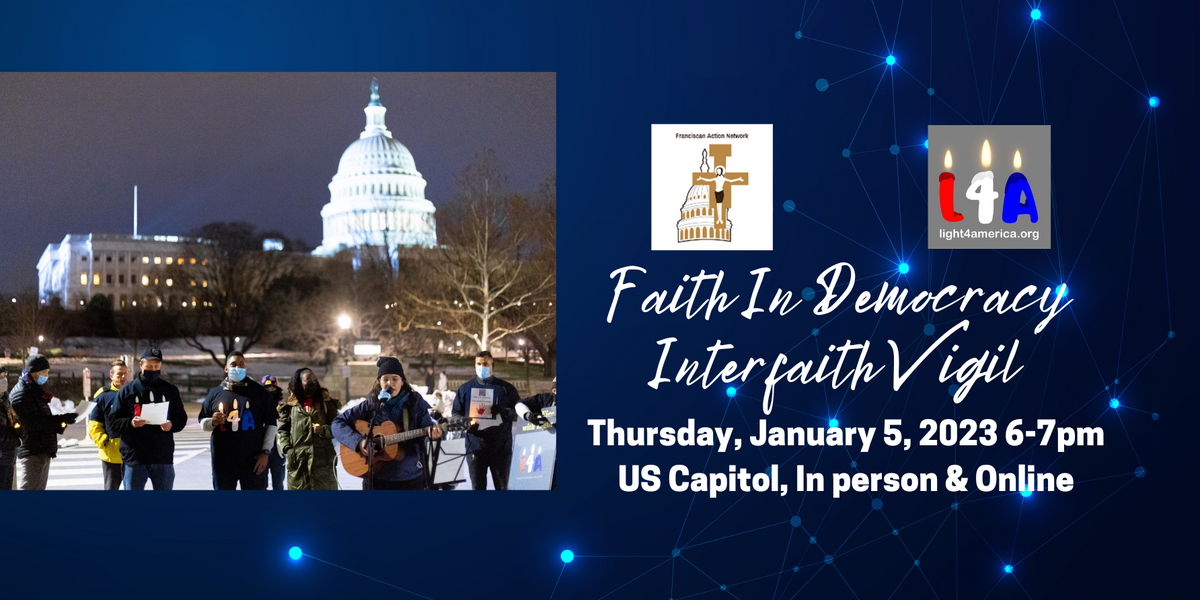 Searby serves as Director of Light4America working to empower people of faith to make January 6 "Faith in Democracy" day.
On January 6, 2021, some of those who stormed the U.S. Capitol wore shirts and hats and carried banners showing that their faith helped motivate them to attack American democracy. One of the first rioters to enter the Senate Chamber carried a Christian flag. Others at the Capitol that day waved Bibles and "Jesus Saves" and "Jesus is my Savior/Trump is my President" banners.
---
We want to flip the script on January 6. We want to make it a day of unity and peace. I am the Project Director of the Bridge Alliance partner Light4America (L4A). The Franciscan Action Network (FAN) and Light4America, supported by the Declaration for American Democracy (DFAD), are hosting the interfaith "Faith In Democracy'' vigil on Thursday, January 5, 2023 from 6pm - 7pm ET. The power of people of faith as uniters, not dividers, inspires the Light4America motto: "Fight Fire with Light." All the major religions use light as a metaphor to show understanding, tolerance and peace. Our vigil will show how sacred scripture from many traditions supports these values.
The vigil will have a different tone and tenor from some of the other gatherings DFAD is supporting commemorating the January 6 attacks, with a focus on unity and hope to draw a broad audience spanning different faith traditions and political perspectives. As FAN Executive Director Michele Dunne has said, "As Franciscans, we are called to act as peacemakers and bridge-builders. January 6 continues to divide Americans and create concern about the health of our democracy as well as our ability to resolve political differences without violence."
Sign up for The Fulcrum newsletter
Speakers and participants will pray for democracy and peace with music by Hip-artist Anthony "Wordsmith" Parker, a nonprofit leader who sings in the "Concert for the Human Family" series of the Episcopal Church. The hybrid event will be held in person on the Mall by the US Capitol and online across the country. Confirmed speakers include: Sr. Carol Zinn, Executive Director of Leadership Conference of Women Religious (LCWR); Bishop John Stowe of Lexington, Kentucky; Rabbi Stephanie Crawley, Associate at Temple Micah; Rev. Paul Raushenbush, President & CEO Interfaith Alliance; and the Rev. Dr. Liz Theoharis, Director of the Kairos Center and co-chair of the Poor People's Campaign.
Together we can carry on the never-ending work of forming our more perfect union in America. People of all faith traditions should feel welcome at our event, including nonbelievers. We hope that this vigil with the support of DFAD and other great partners will not be the last. We see great potential for making January 6 a day of unity and peace in America, not division and violence. A day of healing, not hurt.
To register online: https://www.mobilize.us/jan6hearings/event/546043/ or register live: https://www.mobilize.us/jan6hearings/event/545952/.
From Your Site Articles
Related Articles Around the Web