The state of voting: Sept. 19, 2022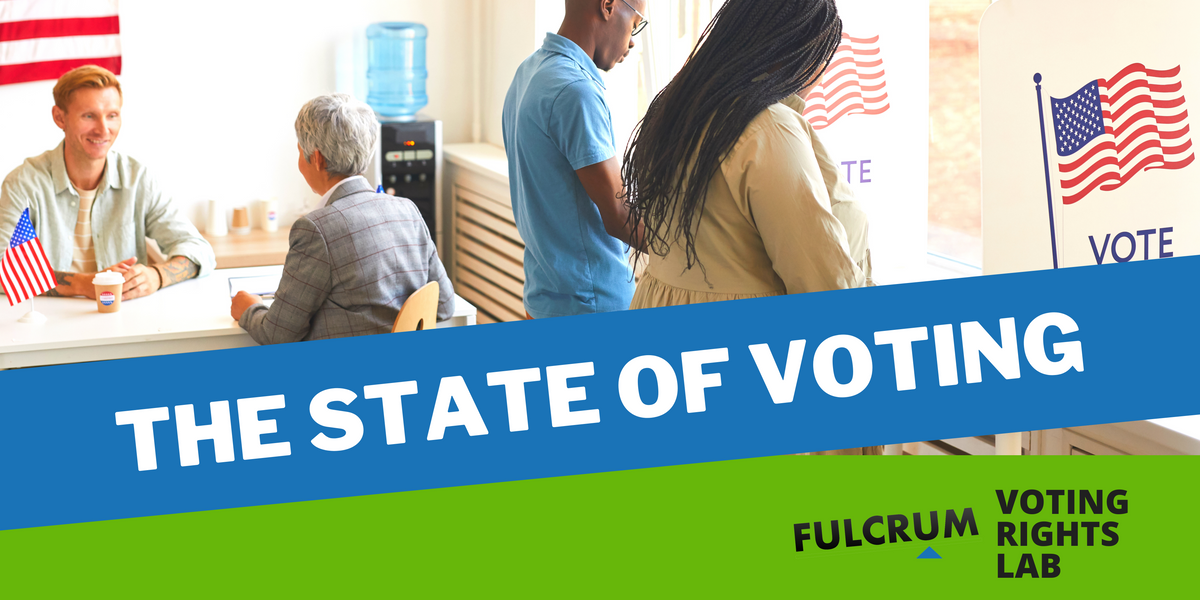 The state of voting: Sept. 12, 2022
This weekly update summarizing legislative activity affecting voting and elections is powered by the Voting Rights Lab. Sign up for VRL's weekly newsletter here.

The Voting Rights Lab is tracking 2,197 bills so far this session, with 581 bills that tighten voter access or election administration and 1,050 bills that expand the rules. The rest are neutral, mixed or unclear in their impact.
The Midwest was home to the latest legal maneuvering of election rules last week, while a court opinion in Delaware delivered mixed results for voting rights advocates in the First State.
In Michigan, a court upheld state statutes that prohibit some types of voter assistance and a Wisconsin group filed a new lawsuit challenging the state's use of the federal voter registration form. The Delaware ruling prohibits voters from voting by mail this election, unless they have a specifically enumerated reason but upheld the state's new same-day registration law.
Looking ahead: The North Carolina Supreme Court is expediting a challenge to the state's 2018 voter ID law. The state's highest court will hear the case in October and determine the law's fate prior to the November election. A lower court struck down the law, finding it intentionally discriminated against Black voters.
Sign up for The Fulcrum newsletter
Here are the details:
---
Delaware court blocks no-excuse mail voting, but upholds same-day voter registration. Earlier this summer, Delaware enacted new laws creating no-excuse mail voting and same-day registration. Both laws were challenged in court. On Wednesday, Vice Chancellor Nathan Cook of the Delaware Court of Chancery issued an opinion enjoining the state's Department of Elections from offering no-excuse mail voting for this November's general election, finding that the law likely violates the state's Constitution. Cook wrote that he was bound by judicial precedent to come to this conclusion, but that if he were looking at the issue "on a blank slate," his finding would be different. No-excuse mail voting was established earlier this year by S.B. 320. In a consolidated opinion, Cook also dismissed the challenge to the state's new same-day registration law, which was enacted by H.B. 25.
Federal court upholds unusual Michigan laws that prohibit certain types of voter assistance. A federal district court denied challenges to unusual Michigan statutes that prohibit hiring transportation to the polls for most voters and prohibit people who are not registered voters from assisting with absentee ballot applications. In the past, the challenged transportation law has been an obstacle for third-party organizations providing rides to voters without easy access to public transportation, rideshare apps offering discounted or free rides for voters, and organized voting efforts like "Souls to the Polls."
Wisconsin group sues to prevent the state from using the federal voter registration form. The Wisconsin Institute for Law and Liberty has filed another lawsuit to restrict voting access. After successfully ending Wisconsin Election Commission guidance authorizing drop boxes and allowing spouses and friends to return ballots for one another – and winning another case that will disenfranchise some eligible voters this November – WILL is now attacking the WEC's approval of the federal voter registration form. WILL argues the form violates state law and cannot be used. Although the National Voter Registration Act requires most states to accept the federal form, Wisconsin is exempt because it offered same-day registration when that law was enacted. WILL is not challenging the registration of the people who previously used the form.