N.C. legislators clear bill combining easier mail balloting with voter ID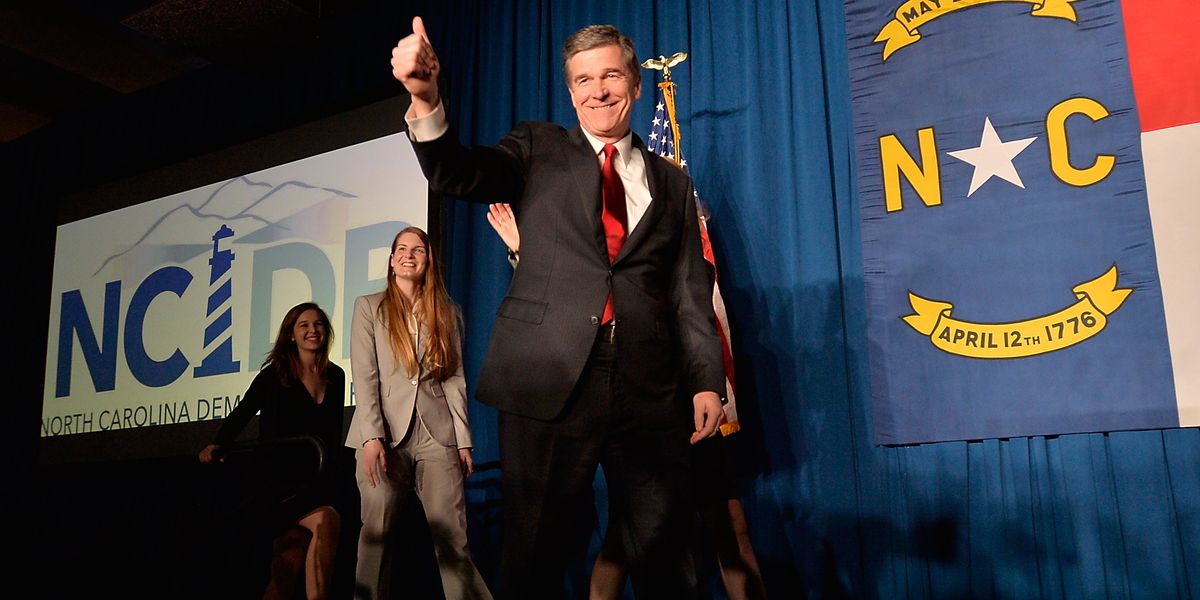 Sara D. Davis/Getty Images
UPDATE: The governor has signed the measure.

Compromise legislation that would make it easier to vote absentee in North Carolina this fall, and safer to vote in person, has been cleared with bipartisan support in the General Assembly.

But it faces an uncertain future on the desk of Gov. Roy Cooper, who is being pressed by fellow Democrats for a veto because of a voter identification provision added at the last hour by majority Republicans.
The measure has produced the last in a long roster of fights over election rules in the 10th largest state. Attention is heightened because North Carolina is hosting the bulk of the Republican convention this summer and is a potential presidential battleground this fall — and its part in the nationwide struggle to assure safe and open balloting during a coronavirus pandemic is being complicated by its vivid role in the South's long struggles over voting rights.
---
The most important provision in the bill, which won final passage Thursday, would require the state to allow voters to request their vote-by-mail ballots online this fall.
No excuse is required to vote absentee, but current rules permit applications only by mail or in person — a main reason why 4 percent of votes, or less, have been cast that way in recent elections.
Sign up for The Fulcrum newsletter
The state is expecting the number could surge tenfold, to 40 percent, for November.
Another reason is that North Carolina is among just four states where mail ballots must be witnessed by two people. The compromise measure would drop the number to one for this year only — as in half a dozen states, several of which are defending lawsuits arguing that finding such witnesses is an unconstitutional burden at a time of social distancing.
Proponents say the requirements guard against fraud, and a prominent conservative group in the state lobbied hard against the entire bill as an invitation to "unlimited voter fraud," supporting President Trump's unsubstantiated position that mail voting is an invitation to easy cheating.
But the argument was rejected outright in Raleigh. The measure passed the Senate 35-12 on Wednesday, with all Republicans and about half the Democrats in favor, before a 105-14 vote for final passage Thursday in the House.
The entire dispute was about language that would permit voters to use public assistance documents as proof of identification at the polls — an idea some Democrats approve of in isolation, but not in the context of the long-running fight over the state's voter ID laws.
The version enacted two years ago has been put on hold by two different courts, which are considering suits by civil rights groups arguing the measure was written with the racist motive of suppressing the black vote — the same argument that prompted courts to strike down as unconstitutional the previous voter ID law.
The current litigation could be resolved before November, however, and if the Republican lawmakers defending the law win, voters would need to bring a photo ID to their polling places.
Some Democrats and civil rights groups, who are seeking to have the law thrown out altogether because of its "racially discriminatory intent," worry their case will be badly weakened by an alteration permitting public aid ID cards as an option. That is what they are pressing the governor to reject the measure.
Turnout is crucial to both sides in the state this fall. President Trump carried it by 4 points last time, but Democrat Joe Biden plans to spend to compete for its 15 electoral votes — hoping to replicate Barack Obama's narrow win in 2008, which was propelled by a wave of votes from urban areas. The state also has a tossup Senate contest between GOP incumbent Thom Tillis and former Democratic state Sen. Cal Cunningham.
The measure would provide $27 million in funding for local officials to help them sanitize polling places, buy protective clothing for poll workers and enhance the security of voting equipment, and it would explicitly prevent North Carolina from ever conducting elections entirely by mail.
It also would allow precincts to be staffed with poll workers who don't live in the neighborhood, as is normally required but could prove important because of a huge drop in volunteers. The average poll worker in North Carolina is 70 and the elderly are especially prone to Covid-19 infection.