N.C. and NAACP agree on this much: Too late to demand photo IDs on Super Tuesday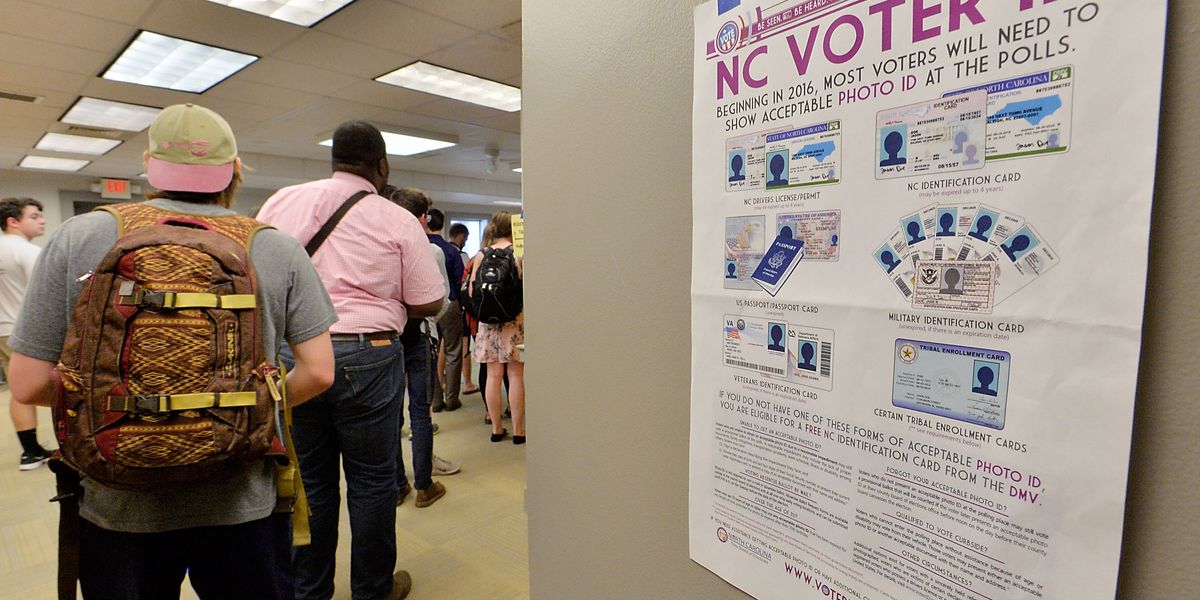 Sara D. Davis/Getty Images
One month from North Carolina's potentially pivotal primary, the battle over making voters abide by one of the country's strictest photo ID laws is not close to done.

Last week lawyers for both the NAACP and the state urged a federal judge to hold fast to her decision to block the law from being implemented March 3, when the state's 110 Democratic delegates are the third-biggest prize on what's dubbed Super Tuesday. Lifting it so close to the balloting would cause chaos and confusion for voters, attorneys generally on opposite sides of voting rights issues in the state agreed.
The fight over the law has emerged as one of the premier voting rights cases in the country ahead of the 2020 presidential election.
---
Their briefs, filed Friday, came in response to a last-minute effort by top Republicans in charge of the General Assembly to persuade U.S. District Judge Loretta Biggs to change her mind in time for the primary. In December she blocked the voter ID law from taking effect at least until after a trial to decide the statute's ultimate fate.
North Carolina voters approved a ballot measure in 2018 requiring voters to produce an ID when they cast their ballots. The GOP-controlled Legislature passed a bill the next month to implement the ballot measure. It was vetoed by the Democratic governor, Roy Cooper, but the Legislature overrode him. Civil rights groups quickly filed suit, arguing the law disproportionately harms African-American voters.
Sign up for The Fulcrum newsletter
North Carolina "has a sordid history of racial discrimination and voter suppression stretching back to the time of slavery, through the era of Jim Crow, and, crucially, continuing up to the present day," the judge said in putting a halt to the law.
Following Biggs' injunction, Republican state in the state House and Senate filed a motion with the court, requesting that the injunction be lifted ahead of the primary. North Carolina is among 16 states and territories where Democrats will declare their presidential favorite on March 3. Only California and Texas offer more delegates.
On Friday, lawyers from the state attorney general's office responded, saying such a move would be reckless, seeing as hundreds of absentee ballots have already been returned by voters, and those ballots would be subject to provisions of the proposed photo ID mandate. Early voting also begins next week.
The State Board of Elections "has taken a number of specific measures to comply with the court's order, and it would be extremely difficult, if not impossible, and confusing to the public, to unwind many of these actions in an orderly way if the order were stayed," the state's lawyers said.