Hate gerrymandering? This beer is for you.
https://twitter.com/saramswann?lang=en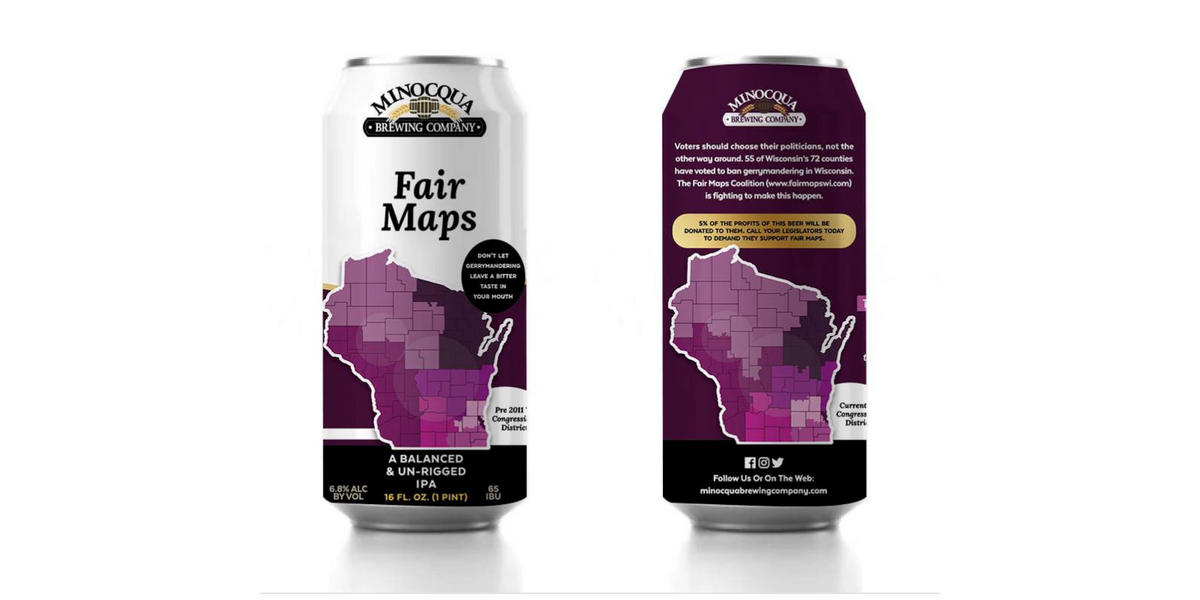 Courtesy Kirk Bangstad
Wisconsinites will soon get a taste of fair redistricting — literally. A local brewery is launching a beer next week to promote anti-gerrymandering efforts in the state.

Because he sees partisan mapmaking as the root of political dysfunction in Wisconsin, Minocqua Brewing Company owner Kirk Bangstad has created the "balanced and unrigged" Fair Maps IPA.
While "gerrymandering leaves a bitter taste in your mouth," Bangstad has said, the Fair Maps IPA won't. It has floral and citrus notes and the classic hoppiness of an IPA.
---
Wisconsin's election maps are a notorious example of partisan gerrymandering — GOP lawmakers a decade ago distorted districts to preserve their party's power. But as the country faces another round of redistricting this year, reform advocates are fighting to make the process more fair and transparent.
Over the past decade, 55 of Wisconsin's 72 counties have passed resolutions calling for fair maps. With public support continuing to grow as mapmakers gear up for their decennial task, Bangstad saw an opportunity to invent this reform-minded brew. By doing so, he hopes to bring more attention to the issue and help build momentum for change.
The front of each can of Fair Maps IPA shows Wisconsin's state legislative and congressional districts prior to 2011, then the back reveals the drastic change in election maps after the last round of redistricting. The can also includes a brief message about reform efforts in the state, encouraging consumers to call their state legislator to demand fair maps.
Sign up for The Fulcrum newsletter
"Maybe they'll call Republicans and just hammer away so much that they can't sleep at night until they vote for fair maps," Bangstad said.
The first cases of Fair Maps IPA will be available in Madison and Lac de Flambeau on Monday. Bangstad said the beer is already in high demand so he plans to make more soon, so people in other parts of the state can quench their anti-gerrymandering thirst.
While the beer won't be available to out-of-staters, anyone can purchase Fair Maps T-shirts and sweatshirts from the Minocqua Brewing Company's online store. Five percent of all profits from the Fair Maps IPA and merchandise sales will be donated to the Wisconsin Fair Maps Coalition, which advocates for fair and transparent redistricting.
"The Fair Maps Coalition is really grateful for the support of Minocqua Brewing. Partisan gerrymandering hurts us all — Democrats, Republicans and independents. It creates hyperpartisanship and makes legislators unaccountable to their constituents, no matter their party affiliation," said coalition organizer Carlene Bechen.