Ron DeSantis and the rise of political racism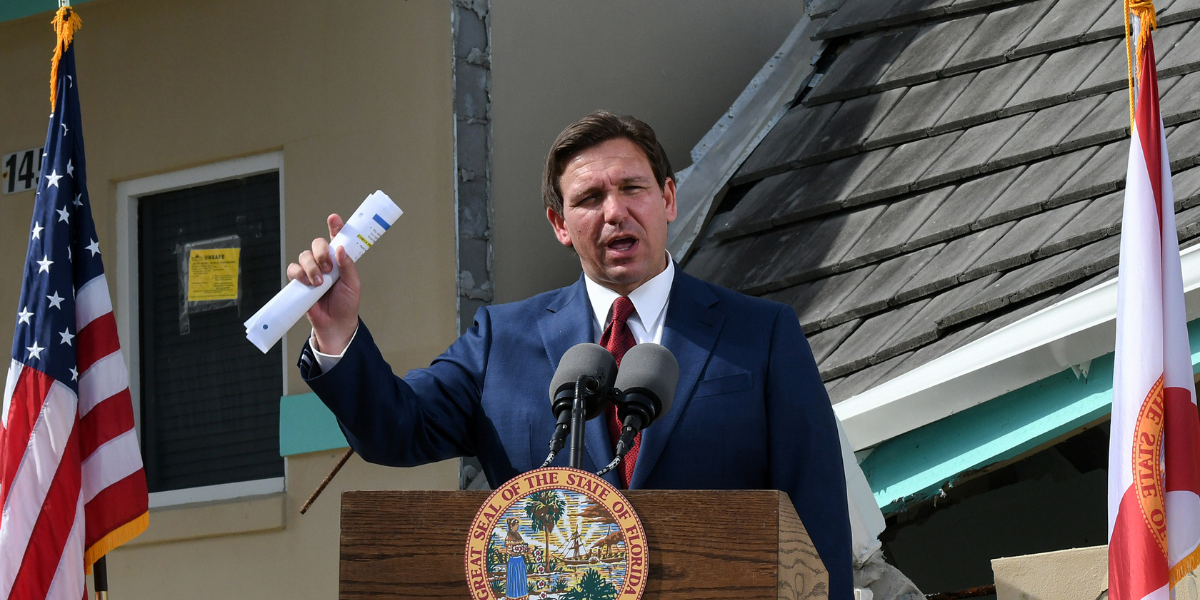 Photo by Paul Hennessy/SOPA Images/LightRocket via Getty Images
Goldstone is the author of the forthcoming "Not White Enough: The Long Shameful Road to Japanese American Internment."
Ron DeSantis, in his crusade to become panderer-in-chief against the scourge of wokism, followed up his ban on teaching critical race theory with a similar prohibition of an advanced placement history course in African American studies proposed by the College Board. These decisions were officially rendered by the Florida Department of Education but the notion they were made independently of the governor is as persuasive as the idea that the Russian parliament's support for the Ukraine War was arrived at independently of Vladimir Putin.
---
The proposed course is an interdisciplinary study, which includes literature, the arts, and science, in addition to history and politics. To justify its actions, the department told CNN that "it had concerns about six topics of study in the year-long course, such as the Movement for Black Lives, Black feminism, and reparations." They specifically objected to material they claim violates state law, which forbids "instruction that suggests anyone is privileged or oppressed based on their race or skin color."
DeSantis, at a news conference, was blissfully disingenuous in insisting that Florida requires teaching Black history, but, alas, the state's educators concluded this version, with its radical agenda, went too far. In addition, he observed, "You learn all the basics you learn about the great figures, and you know, I view it as American history. I don't view it as separate history."
Sign up for The Fulcrum newsletter
Perhaps DeSantis needs to take this course himself. Pretending there is no educational value in exploring the history of race conflict in the United States in a course dedicated to the subject is either blind, stupid, or shamelessly racist. DeSantis, whatever else he may be, has clearly demonstrated that he is neither blind nor stupid.
If he bothered to study the history he seems to believe doesn't exist, he'd discover that "privilege and oppression based on race or skin color" has not only been a cornerstone of American history since before the nation was officially founded but that it has gone through several distinct incarnations preceding the version that plagues the nation today.
The first might be termed "biblical racism," which used Scripture to justify slavery. Two of the passages favored by slave owners were, "slaves, obey your earthly masters with fear and trembling" (Ephesians 6:5), and "tell slaves to be submissive to their masters and to give satisfaction in every respect" (Titus 2:9).
In January 1788, Rawlins Lowndes, once president of South Carolina, summed up the slave owners' creed. Defending the slave trade, he said it "could be justified on the principles of religion, humanity, and justice; for certainly to translate a set of human beings from a bad country to a better was fulfilling every part of these principles."
During the nineteenth century, biblical racism was eventually supplanted by social and scientific racism. The first was epitomized by Chief Justice Roger Brooke Taney in his infamous Dred Scott opinion in 1857.
"[Black people] had for more than a century before been regarded as beings of an inferior order, and altogether unfit to associate with the white race, either in social or political relations; and so far inferior, that they had no rights which the white man was bound to respect; and that the negro might justly and lawfully be reduced to slavery."
Scientific racism arose during the same period, epitomized by crackpot theories, such as polygenism, which postulated that Blacks and whites had developed separately, from different antecedents, so that Black people were not really "human" at all. This theory was developed not in the slaveholding South, but by a Philadelphian, Samuel George Morton, a physician, geologist, and paleontologist, hailed as "the most famous American anthropologist of his day." After studying hundreds of human skulls, Morton concluded that "the Ethiopian (Negro) is joyous, flexible, and indolent; the many nations which compose this race present a singular diversity of intellectual character, of which the far extreme is the lowest grade of humanity."
Although Charles Darwin deposited polygenism in science's dustbin, Herbert Spencer's perversion of natural selection, termed "social Darwinism," soon gained widespread popularity. In Spencer's postulate, if, in civilized society (a definition that could be manipulated to suit) one race or ethnic grouping did "better" (another definition that could be manipulated to suit), did it not then follow that the more successful group was more suited to civilized society? And the less successful, less suited? Social Darwinism was irresistible to society's winners—the rich, well-placed, powerful…and white—and adherents included Andrew Carnegie, John D. Rockefeller, and Oliver Wendell Holmes.
Social and scientific racism hung on for quite a while and created the justification for decades of horrific unapologetic racial oppression. In 1890, for example, Mississippi drew up a constitution expressly to deny the vote to African Americans. As James K. Vardaman, later elected as both governor and United States senator, boasted, "There is no use to equivocate or lie about the matter. Mississippi's constitutional convention of 1890 was held for no other purpose than to eliminate the n----- from politics…let the world know it just as it is."
Even those who considered themselves enlightened were not immune. Supreme Court Justice John Marshall Harlan, who wrote famously that the Constitution was color-blind, also noted, "The white race deems itself to be the dominant race in this country. And so it is in prestige, in achievements, in education, in wealth and in power. So, I doubt not, it will continue to be for all time if it remains true to its great heritage and holds fast to the principles of constitutional liberty."
What is common to all these manifestations is the conviction that Black people are racially inferior to whites and therefore discriminatory laws and practices are acceptable, even necessary, to protect the white race. While doubtless there are still those who subscribe to this fantasy, most Americans have moved past it.
The question is whether Ron DeSantis is one of them.
That cannot be determined definitively without a look into DeSantis's heart, but there is no question that he has embraced racist policies for political gain. Such tactics are not new, of course, but the rise of Donald Trump has elevated political racism right along with it.
That DeSantis is trying to out-Trump Trump is obvious, but Trump didn't believe anything he said. Snake oil salesman that Trump is, he recognized that hate, anger, and perceived injustice made for very effective politics, and morality, decency, and truth were only for losers.
DeSantis, whether he believes his loathsome pronouncements or not, has moved right in there with him.