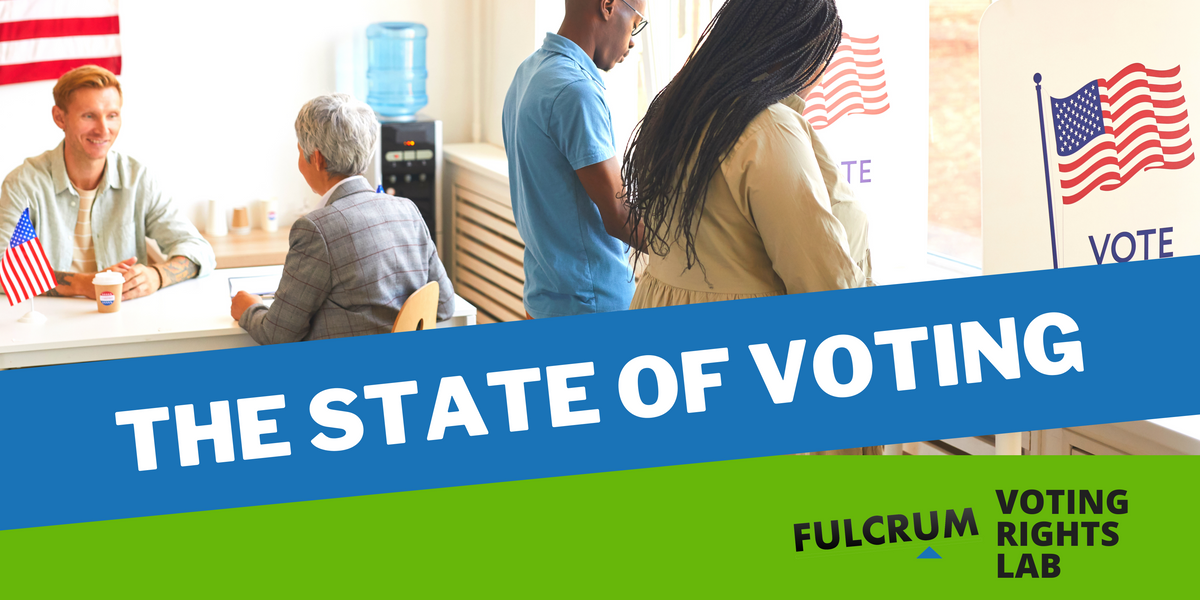 This weekly update summarizing legislative activity affecting voting and elections is powered by the Voting Rights Lab. Sign up for VRL's weekly newsletter here.

The Voting Rights Lab is tracking 2,187 bills so far this session, with 580 bills that tighten voter access or election administration and 1,042 bills that expand the rules. The rest are neutral or mixed or unclear in their impact.
Last week, a Michigan ballot initiative seeking to create stricter voter ID requirements received enough signatures to allow the Legislature to enact it without the governor's approval. In Pennsylvania, a court affirmed that voters may vote by mail without having to provide a special reason or excuse, while a federal judge struck down voting restrictions targeting students in Texas.
Meanwhile, of about 4,000 Iowans who regained their right to vote post-incarceration and registered, nearly 77 percent cast a ballot in the 2020 general election. And the Postal Service announced a new division that will focus on ensuring timely and secure delivery of ballots for the November election.
Here are the details:
A Michigan initiative to create stricter voter ID requirements gets sufficient signatures to allow the Legislature to enact it without governor approval. Sponsors of the Secure MI Vote initiative turned in over 500,000 signatures, well over the roughly 340,000 required. The initiative seeks to create a strict photo ID requirement for in-person voters and to require voters applying for mail ballots to include a specific ID number on their ballot application. After the state's Bureau of Elections approves the legitimacy of the submitted signatures (which may take months), the Legislature has 40 days to enact the initiative. If enacted, the initiative would not be subject to Gov. Gretchen Whitmer's veto. Since the signatures were submitted well past the June 1 deadline, the initiative will not be on the 2022 general election ballot.
Sign up for The Fulcrum newsletter
The Pennsylvania Supreme Court rules that all voters may continue voting by mail. In 2019, a bipartisan law expanded mail voting availability in Pennsylvania to all voters. Previously, mail voting was limited to voters with a specific reason or excuse. Following the 2020 election, some of the same legislators who expanded mail voting sued to strike it down as a violation of the state constitution. The trial court struck down the law in January, but on Aug. 2, the Pennsylvania Supreme Court upheld it, affirming the freedom of all Pennsylvania voters to choose to vote by mail.
A federal judge strikes down voter registration restrictions targeting students, others. In 2021, Texas enacted S.B. 1111, which imposed new restrictions on who could register to vote. Specifically, S.B. 1111 prohibited voters from using a P.O. box as a registration address and authorized election officials to require additional evidence of residence from certain voters. On Aug. 2, a federal judge blocked the state from enforcing these rules because they would have made it impossible for some people to register – including part-time and off-campus college students – and would have required an unjustifiable documentation burden for certain voters.
More than three-quarters of Iowans who had their voting rights restored after felony convictions and registered to vote in the 2020 election cast their ballots. Gov. Kim Reynolds pursued voting rights restoration via constitutional amendment for years, but she finally found success ahead of the 2020 general election through an executive order. After the order was issued, 3,955 Iowans who had previously been ineligible to vote due to felony convictions re-registered in time for the 2020 elections. Of those voters, over 77 percent cast a ballot in the election.
The U.S. Postal Service launches a new division focused on election mail. USPS announced on Wednesday the creation of a dedicated division, known as Election and Government Mail Services, which will focus on ensuring timely and secure delivery of ballots for the November election. The plan will involve local "election mail strike teams" prepared to handle any problems that arise.