The election went remarkably well. Here's how to make the next one even better.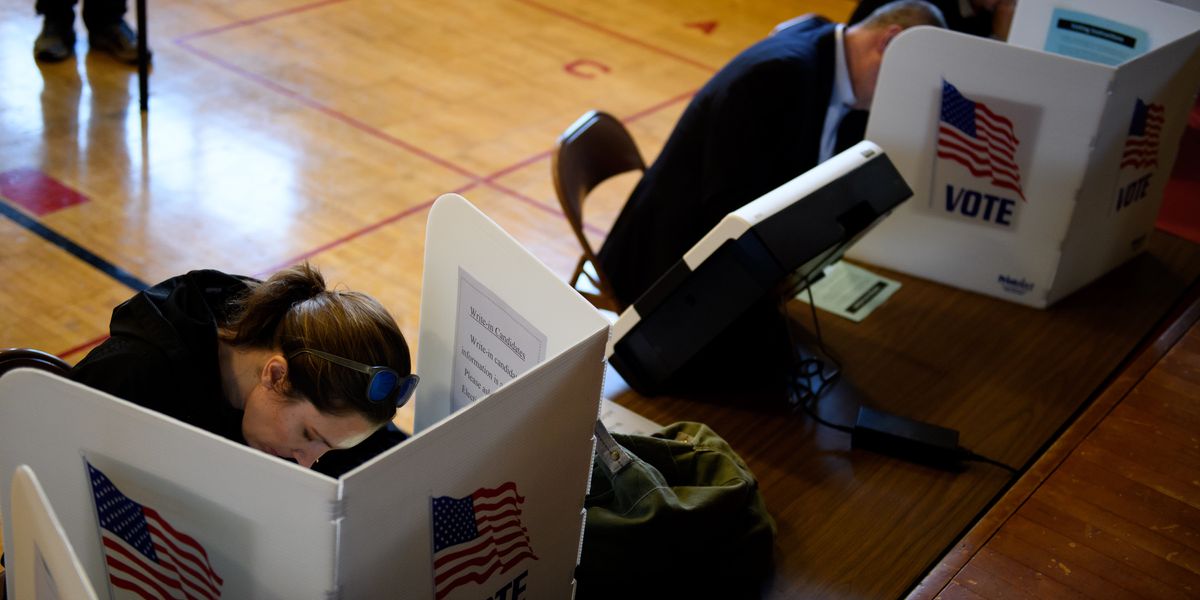 Jeff Swensen/Getty Images
We haven't yet seen evidence that would cast doubt on the legitimacy of the 2020 presidential election — even with the unprecedented challenges of a global pandemic, the threat of foreign interference, civil unrest and greater turnout than any time since 1900. That counts as a resounding success.

Once the final tallies are certified, we need to thank the election administrators and poll workers whose heroic efforts preserved American democracy. After that, we need to assess what worked best and what needs to improve, so we can identify achievable steps to make future elections even more secure.
Based on what we know so far, here are five things that should be on the U.S. elections to-do list:
---
First, counties in eight states are still using paperless voting equipment exclusively. We need them to transition to paper-based systems, providing financial resources if necessary. Voting equipment without an auditable paper trail can produce results that are inconsistent with voter's choices, either because of hackers or a technical failure. In 2020, more than 90 percent of votes were cast on paper-based voting equipment, including all of the states President Trump is contesting or that haven't been called. That's an improvement over the 2016 election, when 80 percent of votes had a paper record. The goal for the 2024 election should be 100 percent.
Sign up for The Fulcrum newsletter
Second, all states using voting equipment with an auditable paper trail should conduct robust audits before election results are certified. This will ensure all ballots are counted correctly. It will also allow discrepancies to be remedied and reflected in the final results. If any issue threw off the count, election officials would be even more likely to spot it and re-create an accurate count with paper records.
Third, any jurisdictions without backup manual processes for each of their election technologies must obtain them. No technology is infallible. Each piece — including electronic poll books, electronic voting systems, and online voter registration websites — has vulnerabilities that can be exploited or could experience technical failures. As we saw with the 2020 presidential election, safeguards such as backup paper poll books ensure election infrastructure failures only slow down voting, rather than stop it.
Fourth, bolster the mail-in balloting process. Due to the pandemic, far more voters requested absentee ballots this year. Preliminary evidence suggests that relatively few of these ballots have been rejected. Unfortunately, U.S. Postal Service data also shows that at least 150,000 ballots arrived the day after the election, leaving many votes out of some states' counts. To prevent this from happening again, there should be an investigation of USPS processing of election mail. It should determine how many ballots were late to election offices through no fault of the voter.
Fifth, states should also adjust deadlines to reflect the realities of mail balloting and provide even more options for returning ballots, including more ballot drop boxes and in-person drop-off locations. These measures would not only improve the administration of mail-in voting, they would counter the misinformation and disinformation surrounding mail-in ballots we've seen throughout the 2020 cycle.
David Levine is an elections integrity fellow at the Alliance for Securing Democracy and a former election official in Ada County, Idaho. Read more from The Fulcrum's Election Dissection blog. A version of this essay ran previously on the Election Law Blog.