Passage of historic voting rights law takes a partisan turn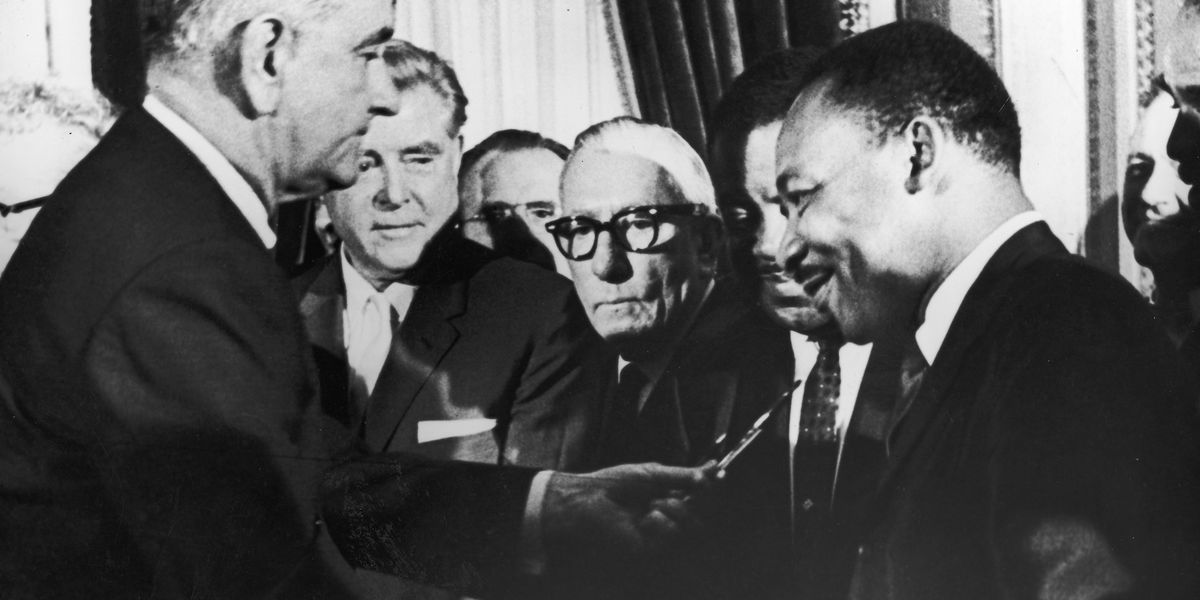 Washington Bureau/Getty Images
In a partisan vote on an issue that once was bipartisan, House Democrats pushed through legislation Friday that would restore a key portion of the 1965 Voting Rights Act.
The Voting Rights Advancement Act passed the House 228-187, with all Democrats voting for the bill and all but one Republican, Rep. Brian Fitzpatrick of Pennsylvania, voting against it.
The bill faces virtually no chance of being considered in the Republican-controlled Senate.
---
The legislation would reverse the Supreme Court's 2013 ruling that eliminated the "preclearance" requirement. This was the mandate that changes in votings systems and procedures in areas with a history of voting discrimination be approved in advance by the federal courts or the Justice Department.
The court ruled 5-4 that the evidence being used to decide which areas — mostly in the South — were covered by "preclearance" was significantly out of date, and therefore unconstitutional and no longer valid.
Congress, in broadly bipartisan votes, had reauthorized the Voting Rights Act several times since its original passage and those reauthorizations were signed by Republican presidents.
The new legislation says a state would be subject to preclearance if there were 15 or more voting rights violations in the last 25 years or 10 or more voting rights violations in the last quarter century when one of those was committed by the state itself.
Sign up for The Fulcrum newsletter
Under that formula, 11 states including the four most populous — California, Texas, Florida and New York, plus Alabama, Georgia, Louisiana, Mississippi, North Carolina, South Carolina and Virginia -- would be subject to preclearance, according to an analysis by Facing South, a media platform for the Institute of Southern Studies.
But Republican Rep. Rodney Davis of Illinois argued on the House floor that it was not clear which states would be covered by preclearance under the legislation.
"It doubles down on federalizing elections and would attempt to put every state and jurisdiction in the country under preclearance," Davis said.
Democrats argued that the 2013 Supreme Court ruling loosed a flood of laws and other actions intended to reduce voter participation, including purging of valid voters from registration rolls, cutbacks in early voting, polling place closures and onerous voter ID requirements.
In order to collect fresh evidence of ongoing voter discrimination, Democrats reconstituted the Elections Subcommittee of the House Administration Committee when they took control of the chamber this year. The Democratic chairwoman, Ohio's Marcia Fudge, conducted field hearings in eight states and the District of Columbia. The Judiciary Committee conducted another eight hearings.
Rep. Doug Collins of Georgia, the ranking Republican on the House Judiciary Committee, called the legislation a "good-hearted attempt" but that it could have unintended negative consequences.
Civil rights icon Rep. John Lewis, D-Ga., 79, presided in the Speaker's chair during the vote and announced its final passage to a smattering of applause.