Longshot bid to revive Voting Rights Act takes first step in Congress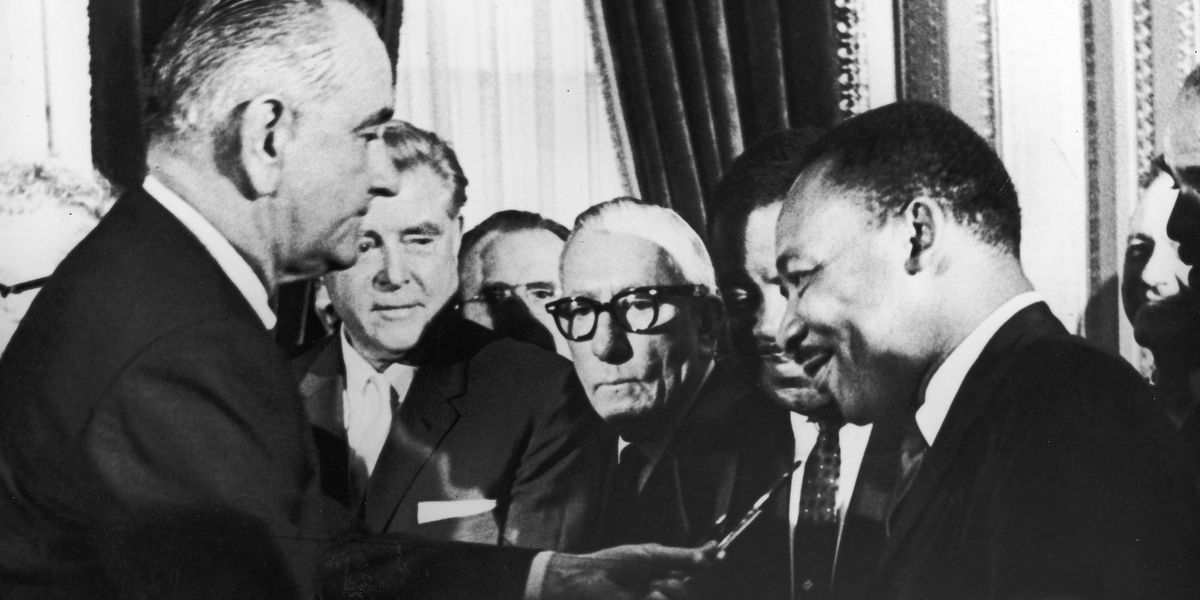 Washington Bureau/Getty Images
Changes in election procedures suspected of fostering discrimination could be stopped before they're imposed on parts of the country with histories of racial discrimination, under legislation that started through Congress on Wednesday.
The party-line vote endorsing the bill in the House Judiciary Committee marked a hugely symbolic, if probably short lived, victory for advocates of enhancing the political rights and powers of minorities. It was the first formal action by Congress in the six years since the Supreme Court struck down the heart of the Voting Rights Act, effectively permitting a new wave of restrictions on voting in states with histories of racial bias in conducting elections.
The legislation has 225 co-sponsors, all of them Democrats, meaning it should be guaranteed to win passage by the Democratic-majority House. That vote has not been scheduled, but once it happens there seems to be little hope for the measure to even be considered in the Republican-controlled Senate.
---
The committee vote was 19-6. All those in favor were Democrats and those opposed where the minority of panel Republicans who stayed in the room for the roll call.
The bill is important because it would reverse the court's 2013 ruling preventing almost all applications of the so-called preclearance requirement in the Voting Rights Act, widely hailed as one of the most important civil rights laws in American history. Preclearance is a mandate that any proposed changes in district boundaries, registration requirements, poll closing times or any other voting procedures in areas with histories of discrimination be approved by the Justice Department or a federal court.
Sign up for The Fulcrum newsletter
The court ruled 5-4 that the evidence being used to decide which areas — mostly in the South — were covered by preclearance was significantly out of date, and therefore unconstitutional and no longer valid. Before now, Congress has never come close to developing new standards.
The legislation says a state would be subject to preclearance if there were 15 or more voting rights violations in the last 25 years or 10 or more voting rights violations in the last quarter century when one of those was committed by the state itself.
Under that formula, 11 states including the four most populous — California, Texas, Florida and New York, plus Alabama, Georgia, Louisiana, Mississippi, North Carolina, South Carolina and Virginia -- would be subject to preclearance, according to an analysis by Facing South, a media platform for the Institute of Southern Studies.
An individual political subdivision, such as a county, would be required to preclear changes if three or more violations occurred there in the last 25 years.
Judiciary Chairman Jerry Nadler, a New York Democrat, said the court's ruling had "unleashed a deluge of voter suppression laws" across the country, including:
Excessively strict voter ID laws.
Purging of voter registration rolls.
Reducing early voting times and locations.
Closing or moving polling places.
The committee held a series of hearings to document the ongoing violations, creating a record that may be needed in order for the new law to survive a legal challenge.
At one of those hearings, the Leadership Conference Education Fund reported that nearly 1,700 polling places have been closed in counties that had once been covered by preclearance.
Rep. Mike Johnson of Louisiana, the ranking Republican on the Judiciary subcommittee overseeing civil rights policy, repeated the argument he has made at previous hearings: Too often claims of voting discrimination are based on disparate outcomes of new laws, not discriminatory treatment or intent.
Johnson said the legislation would interfere with state and local officials' control over voting rules even when no evidence of discrimination had been found.
Republican James Sensenbrenner of Wisconsin, who sponsored the 2006 reauthorization of the Voting Rights Act, said he opposed the new bill because it was not the result of bipartisan negotiation. Still, he said he thinks the court's ruling is wrong.
His reauthorization legislation passed the House 380-33 and 98-0 in the Senate.
"It is a poison pill. It will never become law," Sensenbrenner said of the new bill. He said Democrats had to "decide whether you want an issue or a law."
Republican Steve Chabot of Ohio also opposed the legislation, which he said was simply a "messaging bill" by Democrats.
Advocates of reinstating preclearance argue that without it, they are left to file lawsuits challenging laws they consider discriminatory after they are already in place. Those lawsuits are costly and take a long time to decide.
For example, a 2016 federal appeals court ruling in a lawsuit filed by the American Civil Liberties Union (among others) struck down as discriminatory a North Carolina law that required voters to have an ID, removed a week of early voting and ended same-day voter registration, among other provisions.
The case took 34 months and cost nearly $6 million, and the 2014 election was held under rules that the court later said discriminated against black voters.
In another example, the Brennan Center for Justice determined that from 2014 through 2016, after the court ruling, about 16 million names were removed from voting rolls. That was 4 million, or one-third, more than struck from the rolls from 2006 to 2008. Many of those purged were in areas previously covered by preclearance.