Suit challenges subjective system for rejecting Texas mail-in ballots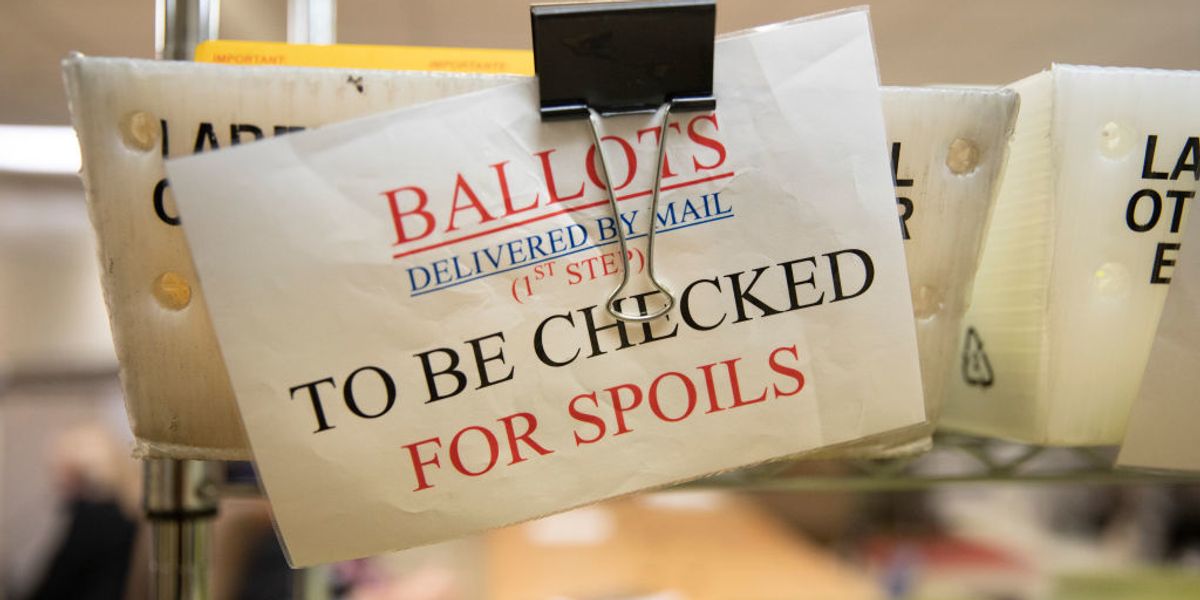 Alex Edelman/Getty Images
Election officials in Texas, the nation's second largest state and one that's rapidly becoming politically competitive, are being sued by voters and advocacy groups who say the way they reject mail-in ballots is unconstitutional.
The lawsuit was filed Wednesday in federal court in San Antonio by two voters and groups who advocate for the disabled, older and disabled veterans, people in jail, and young voters on college campuses.
People in all of those groups tend to make extensive use of mail-in ballots, not only in Texas but across the country. And litigating to ease the rules for this type of voting is becoming an increasing popular tactic for those pushing for better access to the ballot box.
---
Last year the American Civil Liberties Union won suits to liberalize mail-in voting in California and New Hampshire, for example, and the group is now pursuing a similar effort in Georgia.
The Texas suit says 1,873 ballots were rejected in 2018 after local election officials made completely subjective assessments that the signatures on the envelopes weren't similar enough to the signatures on file.
Although that's a tiny amount compared with the nearly 8.4 million votes cast statewide last fall — and where Republican Ted Cruz's 3-point margin in the marquee Senate race was still 215,000 votes — those mail-in results could nonetheless have been dispositive in particularly close state legislative contests or even a couple of congressional races.
Sign up for The Fulcrum newsletter
More such tight contests seem destined to be part of the near-term future of Texas politics. Though no Democrat has won statewide in a quarter-century, rapid urbanization and demographic shifts have already changed Texas's color on the national partisan map from deep red to pinkish purple. (The Hispanic population, which votes solidly Democratic, has surged 20 percent this decade alone, according to Census estimates, and their ranks will exceed the white population in the next few years.)
Democrats picked up two House seats last year and have a shot at several more next year, when some party leaders are proposing a heavy investment in winning the state's 36 electoral votes, the second biggest presidential prize.
One plaintiff in the new litigation, George Richardson, found out after the midterm was over that his write-in paperwork had been rejected. Richardson, a physician who says he who signs hundreds of prescriptions each year, confronted Brazos County election officials who said that a panel that "eyeballs" the signatures determined his did not match.
Often the decision to reject a write-in ballot is made by an Early Voting Ballot Board. State election law also allows for creation of Signature Verification Committees. But the law sets no qualifications for the people who serve on either group nor are there any standards for how to determine whether a signature matches.
The suit claims the mail-in process violates the equal protection and due process clauses of the 14th Amendment as well as the Americans with Disabilities Act.
It asks the court to invalidate the signature comparison procedure, or else mandate that voters with rejected signatures be notified so they can try again before Election Day.
The suit notes that signatures may vary for a variety of valid reasons including aging, illlness, injury, changes in eyesight — and even the types of pen used, the ink and the signing surface.
Almost 370,00 Texans voted by mail last year, about 3 percent of the votes cast.
The second plaintiff voter, Rosalie Weisfeld, sent in a write-in ballot for a McAllen municipal runoff in June. A letter she received 10 days after the election said the envelope was rejected because of a perceived signature mismatch – meaning her streak of voting in every election for at least 30 years was broken, according to the lawsuit.
The secretary of state's office has yet to respond to the lawsuit.