Committed, coordinated and long-term efforts are part of the reason that turnout among 18- to 29-year-olds increased 15 percentage points in 2018 from 13 percent in 2014 to 28 percent, writes Ryan Drysdale.
Let's emphasize growing collegiate voter turnout
Jun 12 2019
Drysdale is the assistant director for campus partnerships at the All In Campus Democracy Challenge, which works to increase nonpartisan democratic engagement on college campuses.
In the rural mountains of northern Thailand, I clutched my colleague Wan around the waist as I sat perched on the back of his dirt bike. I'd joined him on this seven-hour ride through winding mountains to his hometown to witness him vote in Thailand's first democratic election in five years. At that moment I was not aware that this journey would eventually divert my nascent career in international development to one focused on democratic engagement in the United States.

As I learned more about the U.S. election process, I became increasingly aware of the various privileges I have in accessing the polls. In high school, my social studies teacher drove our class to the courthouse to register to vote. In my first election during college in 2006, a mentor from my small Iowa community emailed me to ask if I had requested my absentee ballot yet; I had not and likely wouldn't have without that reminder. In 2008, I still remember the buzz and excitement at the polling place conveniently located on my campus. During the 2012 presidential election, while I was living abroad, my mom helped the county clerk send me a ballot in Australia. Only later did I realize this level of support and access was not the norm.
It's because of these experiences – seeing the lengths to which some people must go to cast a ballot and becoming aware of how instrumental early support is to becoming a voter – that I now work to support youth democratic engagement in the United States at the All In Campus Democracy Challenge.
With 20 million students attending colleges and universities in the United States, it is imperative that higher education institutions leverage their opportunity to help increase nonpartisan civic learning and democratic engagement to develop informed and involved members of our communities and our democracy.
---
While some narratives focus on perceived youth voter apathy, college students face challenges accessing the polls and developing the habits of informed voters. Civics education is limited in many areas. Young people are highly mobile, requiring them to frequently re-register to vote and learn new election laws, which vary from state to state. Many voter ID laws don't include student IDs in lists of accepted identification while fewer young people are obtaining driver's licenses. College students who do not live at home have to decide where to register and vote. Securing absentee ballots can require multiple steps and even that one appear in person, which poses a challenge for students living far from home. There are more systems in place to help a young person file their taxes online than to help young people become confident voters through simplified processes to register to vote, access the polls and cast a ballot.
The National Study of Learning, Voting, and Engagement, housed at the Institute of Democracy & Higher Education at Tufts University, measures college student voter registration and voter turnout. NSLVE found that the 2014 midterm election voter turnout for college students was 19.1 percent. During the 2016 presidential election, only 50.4 percent of college students cast a ballot. Turnout for college students aged 18 to 21 years old was 45 percent while turnout for college students aged 30 to 39 was more than 10 points higher at 55.7 percent. These turnout results demand that more work is done to support young people as they cast their ballots by increasing nonpartisan democratic engagement on campus.
The All In Campus Democracy Challenge was created in 2016 to help empower colleges and universities to increase nonpartisan democratic engagement. We are a national, nonpartisan initiative that supports and recognizes the work of nearly 500 colleges and universities in 48 states and the District of Columbia to increase civic learning, political engagement and voter participation. The Challenge encourages institutions to help students form the habits of active and informed citizenship, as well as to institutionalize democratic engagement activities and programs – making them a defining feature of campus life. Through a combination of structure, support and recognition, we partner with campuses to ensure that students graduate ready to help strengthen our democracy.
By making a public commitment to increasing nonpartisan democratic engagement and creating data-informed action plans to institutionalize efforts, campuses develop a comprehensive understanding of their students, efforts and climate for democratic engagement and establish short-term and long-term goals for improvement. Colleges and universities develop a campus culture that promotes democratic engagement throughout the curriculum and co-curriculum. Students acquire and apply the knowledge, skills, attitudes and behaviors to be prepared to be lifelong participants needed for a strong and vibrant democracy.
Over the past three years, we have seen campuses greatly increase democratic engagement efforts on campus. More students are now registered to vote during orientation, in residence halls, and in classrooms. State-specific election information emails are sent to students that are especially helpful for out-of-state students. Campus communities are hosting absentee ballot request parties and parties at the polls with our partner #VoteTogether. Civic learning is being integrated into classrooms beyond the social sciences. Institutionally branded voter engagement efforts are highly visible on more campuses. Many more organizations that are our fellow members of the national Students Learn Students Vote coalition – including the Andrew Goodman Foundation, APIAVote, Campus Electoral Engagement Project, the Voter Friendly Campus initiative and Voto Latino – are working with campuses to implement voter registration, voter education and voter turnout programming. Athletic conference learning communities like the Big Ten Voting Challenge are gaining traction. Secretaries of state offices are launching state voting challenges for colleges and universities.
These committed, coordinated and long-term efforts are part of the reason that turnout among 18- to 29-year-olds increased 15 percentage points in 2018 from 13 percent in 2014 to 28 percent, according to the Center for Information & Research on Civic Learning and Engagement. College- and university-specific turnout data will be available from NSLVE this summer. While there is still a long way to go to increase and sustain high levels of participation, it's important for us to acknowledge and celebrate this success. In only three years, nearly 500 colleges and universities representing more than 5 million students have joined the All In Challenge, making a commitment and taking action to be part of the solution to increasing turnout among college students. While this represents a great start, there are more than 4,000 colleges and universities enrolling 20 million students. Together we can increase access to the polls and reduce barriers like I witnessed Wan overcome while ensuring every college voter has the reminders, education and support that I was fortunate to have to become a voter.
On November 12, 2019, the All In Challenge will host our second biennial award ceremony to honor campuses with seals of recognition and national awards for the 2018 midterm election. If you're interested to see if your campus or alma mater is participating in the Challenge, you can check here. If you don't find yours on this list, nominate your campus to join the All In Challenge allowing us to help empower more college and universities to achieve excellence in student democratic engagement.
Related Articles Around the Web
From Your Site Articles
Alex Wong/Getty Images
Stacey Abrams, who gained national attention during her failed 2018 bid for the Georgia governorship, is urging Congress to restore federal oversight of elections in some states.
Had she won the extremely close contest, Abrams would now be the first black female governor in America. She and her fellow Democrats maintain the election was not fairly conducted in part because her Republican opponent, Brian Kemp, was secretary of state – and therefore Georgia's top elections official – at the time.
Abrams was the most prominent witness Tuesday at a House Judiciary subcommittee hearing on civil rights and elections in the six years since the Supreme Court eviscerated the heart of the 1965 Voting Rights Act. In Shelby County v. Holder, the court struck down the part of the law requiring advance federal approval before any changes in voting laws or practices in parts of country with a history of voter discrimination. All of Georgia had been subjected to this so-called preclearance requirement, which the court ruled is now unconstitutionally outdated.
Calling for Congress to come up with a new system for preclearance that could withstand another such challenge, Abrams said that jurisdictions formerly covered by the law "have raced to reinstate or create new hurdles to voter registration, access to the ballot box, and ballot counting."
Abrams said a voter registration group she created in Georgia, which was active in her 2018 race, submitted thousands of forms to Kemp's office and soon discovered "artificial delays" in processing those registrations. The state's requirement that names on registrations exactly match records of other government agencies sidetracked thousands more.
Both practices had a greater impact on black citizens, she said, because they are more likely to register through third-party groups like the one she founded, Fair Fight Action.
And both, she said, would have been stopped in advance under preclearance.
Abrams also charged that Kemp improperly purged names from the voter rolls.
"By denying the real and present danger posed by those who see voters of color as a threat to be neutralized rather than as fellow citizens to be engaged," Abrams said, the six-year-old Supreme Court ruling "has destabilized the whole of our democratic experiment."
After the election, Abrams created Fair Fight Action to combat the tactics used against her. It has also sued the Georgia secretary of state and is asking the federal courts to revive preclearance for any election law changes in her state.
House Democratic leaders have written legislation creating a new set of rules for the Justice Department to use in determining which states must get such preclearance, and it has more than enough sponsors to pass. But the bill would almost certainly be shelved by the Republicans in charge in the Senate.
Related Articles Around the Web
From Your Site Articles
The National Institute for Civil Discourse has a message for the 20 Democratic presidential candidates who will participate in debates on Wednesday and Thursday nights: Remember first grade.
In other words, don't poke your neighbor, wait your turn, and if you can't say something nice, don't say anything.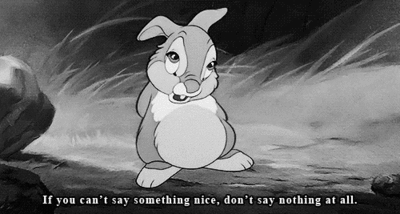 Giphy
Seriously, the institute, which studies and promotes civility in political debate is reminding candidates of standards it developed in 2015 in advance of the last presidential election season.

They say that politicians living up to basic standards of civility, especially when they're on national television, is essential if the angry tribal nature of America discourse is ever going to ease. "Zingers and insults might get headlines, but it's leading to a culture of candidates who stand out by throwing punches and amplifying the polarization of our politics," said Keith Allred, the institute's executive director.
The guidelines for the candidates are:
Be respectful of others in speech and behavior.

Giphy

Answer the question being asked by the moderator.
Make ideas and feelings known without disrespecting others.
Take responsibility for past and present behavior, speech and actions.

Giphy

Stand against incivility when faced with it.
The institute also developed guidelines for the moderators of the debates. (NBC and MSNBC are providing the ones for these debates.) They are:
Address uncivil behavior by naming it and moderating the conversation to move toward more respectful dialogue.
Enforce debate rules equally.
Hold candidates accountable by challenging each candidate to speak the truth and act with integrity.

Giphy

Treat all candidates equally in regard to the complexity of questions and debate rules.
Be respectful when interacting with candidates.
The NICD said its five-point plans for all the participants emerged from research on deliberation techniques, surveys to gauge citizens' definitions of what constitutes civil and uncivil language in public life, and conversations with elected officials and members of the press.
Related Articles Around the Web
From Your Site Articles