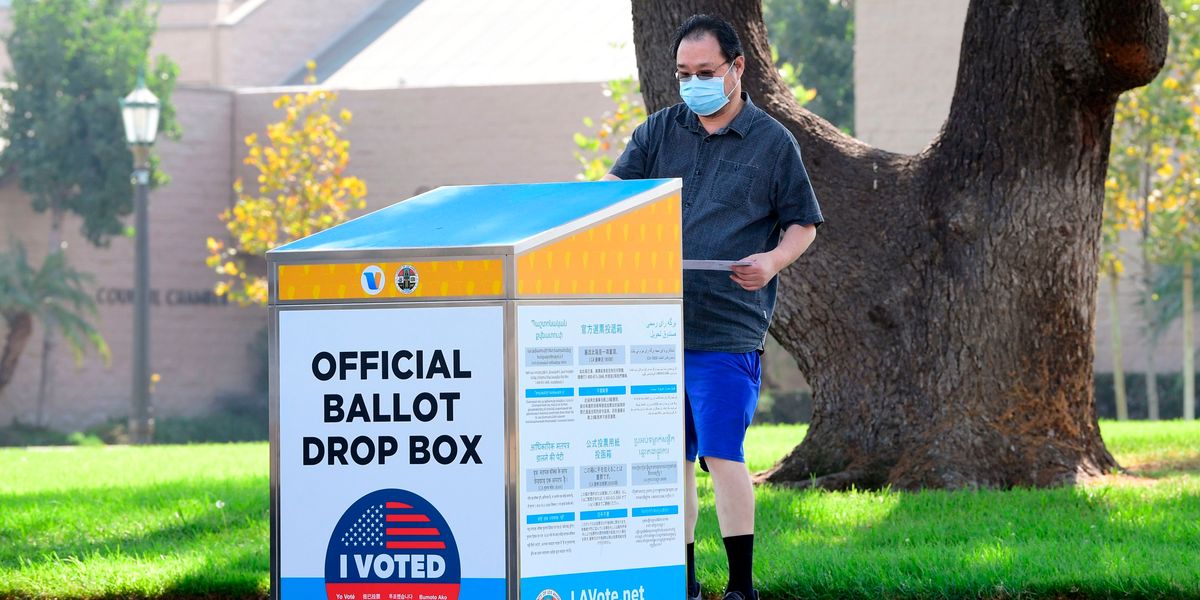 Frederic J. Brown/Getty Images
Partisan tensions, fears of voter suppression and allegations of cheating are roiling in the early stages of the almost entirely by-mail election in the nation's most populous state. At issue is how far the political parties can push California's rules permitting them to collect the envelopes.

Top Democratic officials are ordering the state Republican Party to remove about 50 drop boxes set up to collect ballots in reliably red parts of the state, maintaining they are illegal and could lead to voting fraud. Party officials say they will not comply with Monday's cease-and-desist order, asserting the boxes comply with a state law allowing campaigns to assist with ballot collection.
The dispute — over the limits of what President Trump and other critics deride as the practice of "ballot harvesting" — is the latest skirmish in the partisan war over voting rights and rules easements for an election upended by the coronavirus pandemic.
---
Trump has no shot at California's trove of 55 electoral votes, but he has been highly critical of the state's decision to send ballots to all 21 million active registered voters. In response, the GOP has gone to unusual lengths to get the best of this year's system — especially in the parts of the state hosting five competitive congressional contests and other hot down-ballot races.
Sign up for The Fulcrum newsletter
Secretary of State Alex Padilla and Attorney General Xavier Becerra told the state GOP to remove the dark gray metal boxes it has stationed across Fresno, Orange and Los Angeles counties — affixed with white paper labels declaring they are as either an "Official Ballot Drop off Box" or a "Ballot Drop Box." To the average voter, they look indistinguishable from the hardware being used by the state.
The letter says only county election officials have the authority to set up drop boxes to ensure they all adhere to strict security requirements. "These unauthorized drop boxes are a disservice to elections administrators and a disservice to voters who deserve to cast their ballots with clarity and confidence," Padilla said in a statement.
The letter requests that Republican officials provide a list of unofficial drop box locations and voters who used them to county election administrators by Thursday.
While the state GOP has admitted to placing these drop boxes across the state — including outside churches, gun stores, local GOP headquarters and gas stations — officials deny any wrongdoing and have refused to remove the drop boxes.
"There is nothing in any of the laws or regulations cited in that advisory that indicate private organization drop boxes are not permitted," said Hector Barajas, a spokesman for the California GOP. He blamed Democrats for blocking legislation to tighten the rules for third-party ballot collection.
Four years ago, the Democrats in charge in Sacramento enacted a law removing limitations on who could return an absentee ballot for another voter. Before, only close family members could help out, but the change expanded this assistance to campaign workers and volunteers.
The Democrats made particularly assertive use of the new rules in the 2018 congressional midterms, when their organized armies of ballot collectors helped drive up turnout among their supporters — resulting in the party taking six House seats from the GOP. Trump decried the practice as corrupt at that point, although partisan workers delivering at least some ballots cast by others is permissible in 26 states.
For this campaign, Republicans vowed to do a better job turning the system to their advantage — unless they could get rid of the new law.
Although Republicans in Fresno County have agreed to remove their drop boxes, it's unclear if the others will remain. The Orange County district attorney's office is currently investigating the matter.