Voting improvements made, but issues remain in Georgia and Wisconsin
https://twitter.com/saramswann?lang=en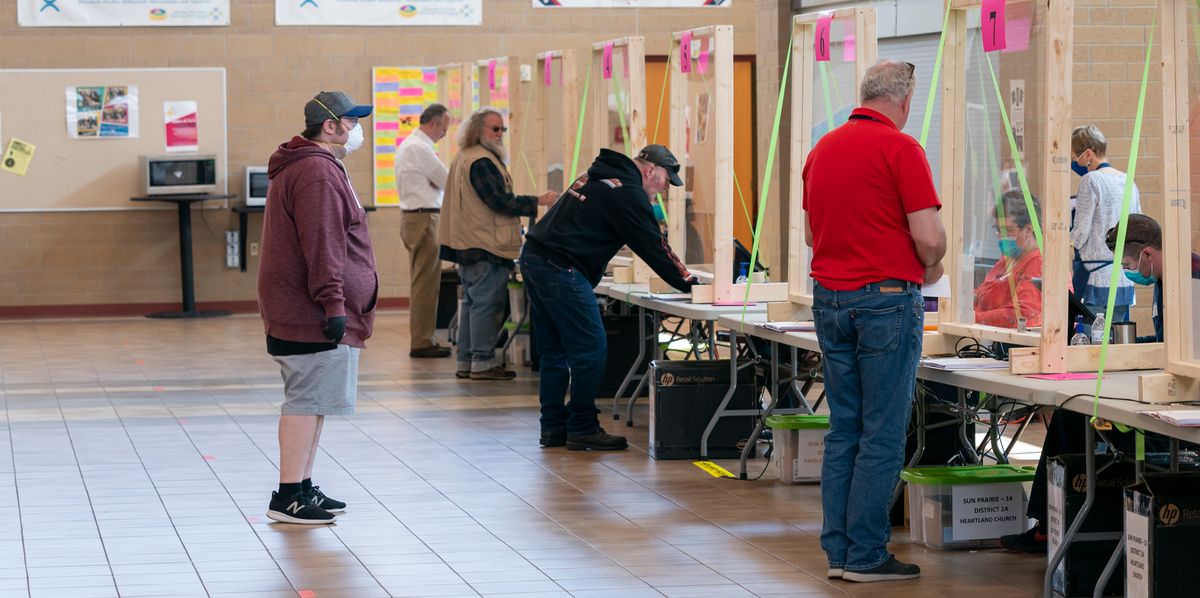 Andy Manis/Getty Images
Georgia and Wisconsin are hoping to bounce back from their problematic primaries earlier this year with another round of voting concluding Tuesday.

Both states have made adjustments since their first elections held during the coronavirus pandemic, but reports at midday from voting rights groups show some issues still remain. While the crowds at polling places were smaller, voters reported machine malfunctions and confusion over where they could cast a ballot in person.
Tuesday's elections were another indicator of what could happen in November, on a much larger scale, if states are not prepared and voters are not informed of changes.
Four other states — Connecticut, Minnesota, South Dakota and Vermont — had voting Tuesday, but no major problems were reported. These are the details in the two battleground states hoping to make their second rounds of primaries less problematic than the first.
---
Georgia

Unlike the June 9 primary, polling locations across the state did not have the same long lines due to the lower-turnout runoff election and increased use of absentee ballots. But malfunctioning voting machines remained an issue for those voting in person — particularly for those in Floyd, Gwinnett, Chatham and Fulton counties, which take in much of the Atlanta region and Savannah.
Sign up for The Fulcrum newsletter
After buying new voting machines for every polling place in the state last year, Georgia has seen operational problems with them for three consecutive elections, which does not bode well for the presidential election, when the contest for Georgia's 16 electoral votes now looks to be a tossup.
"Georgia continues to fail voters by not ensuring these machines are up and running. This is gravely concerning for November," said Kristen Clarke, executive director of the Lawyers' Committee for Civil Rights Under Law, which monitors an election hotline for voters.
Tuesday's runoffs were conducted in 94 of Georgia's 159 counties, including the five most populous. Voters will determine who moves on to the general election in four congressional districts — there were a pair of runoffs in each party — as well as contests for dozens of seats in the General Assembly, a range of trial court judges and various county offices.
Turnout in November is expected to exceed 5 million.
To streamline mail ballot processing, the State Elections Board made two emergency rule changes Monday in preparation for a surge in absentee voting this fall. The first will allow election administrators to process, but not tabulate, mail ballots up to two weeks before Nov. 3. The other is the creation of an online portal, expected to launch within the next week, for voters to request absentee ballots.
Wisconsin
On April 7, last-minute election changes caused widespread confusion and chaos during primaries for president and a range of state offices, including a pivotal seat on the state Supreme Court. A shortage of poll workers in Milwaukee meant only five of the 180 polling locations were open, causing hours-long wait times — and widespread fear that the fight for Wisconsin's crucial 10 electoral votes would be severely tainted.
But for Tuesday's legislative and congressional primaries, the state's largest city had 95 percent of its usual polling locations open for in-person voting — and as a result wait times were not an issue, at least by the middle of the afternoon. The National Guard is also on standby in case of any staffing shortages.
There were fewer mail voting issues this time, but as of Tuesday morning more than 9,600 absentee ballots had yet to be delivered to voters who had requested them. And nearly 342,000 mail ballots that were delivered had not yet been returned. The state Elections Commission said voters who have not yet returned their absentee ballots must do so at their municipal clerk's office before the polls close at 8 p.m. in order to be counted.
Voting rights groups reported that some Wisconsinites were confused about where they could drop off their mail ballot or cast one in person due to lack of proper signage at polling locations and elections offices.