Judge orders paper-based fix for excessive voting lines in Georgia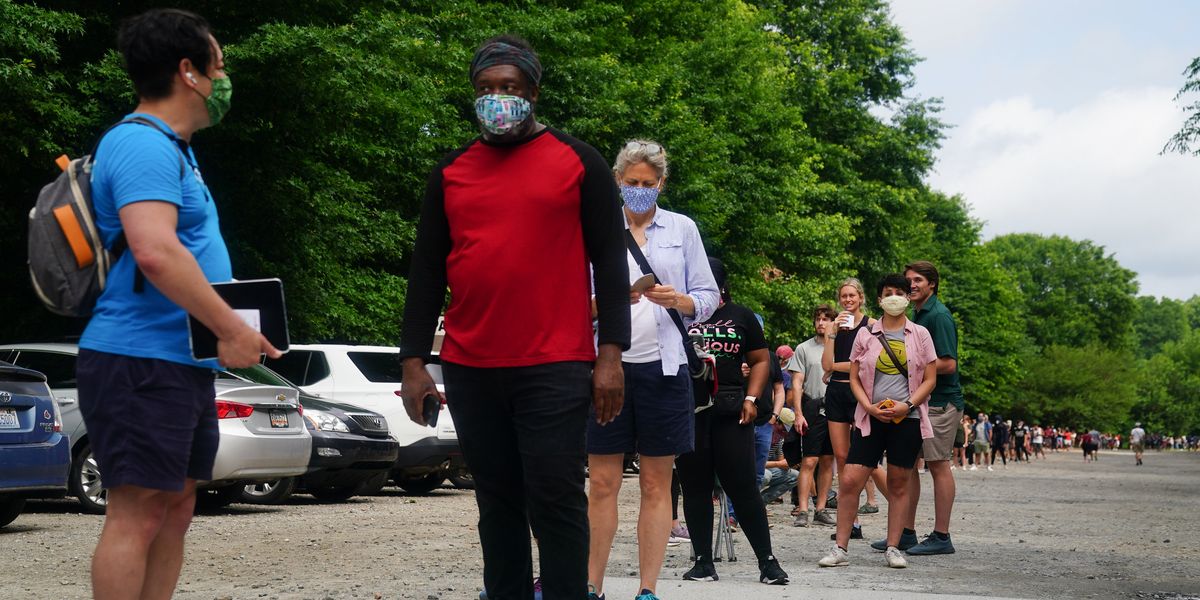 Elijah Nouvelage/Getty Images
An ocean of old-fashioned paper must be deployed across Georgia to assure the lines keep moving at polling places in one of this year's most important battlegrounds, a federal judge says.
A traditional copy of the local poll book, or roster of registered and eligible voters, must be printed and delivered to each precinct in case the brand new but often balky electronic versions malfunction, Judge Amy Totenberg of Atlanta ruled Monday.
It's a narrow, but important and rare, courthouse win this year for voting rights advocates in a state that epitomizes their long battle against government officials willing to hold down turnout in the name of election security. And GOP Secretary of State Brad Raffensperger vowed to appeal.
---
His office and county election officials, he said, "are preparing Georgia for the biggest election turnout in history, and it will do so successfully despite the constant distraction of litigation filed by activists determined to undermine the credibility of our elections."
Raffenseberger also announced he'd referred at least 24 allegations of voter fraud to the state attorney general — a follow-up for his announcement this month he suspected at least 1,000 people had cast both mail-in and in-person votes in the primary.
Sign up for The Fulcrum newsletter
The judge's ruling was a partial win in a lawsuit arguing the state's entire suite of election hardware, being used this year for the first time, proved so inadequate during the primary that it should be ditched entirely in November. Acquired after widespread claims that voter suppression in the 2018 governor's race, its glitches and complexities caused such long backups that thousands walked away without voting in June, especially in and near Atlanta.
Though as many as half of the Georgia electorate plans to vote by mail this fall, shattering past records, that would still mean at least 2 million votes cast in person.
The judge declined to block the use of the new ballot-marking machines in favor of hand-marked paper ballots, which would have been both an expensive and logistically complex assignment with just five weeks until Election Day.
Instead, she told Raffensperger to provide election superintendents in all 159 counties paper lists of people, generated after the end of early in-person balloting, still eligible to vote Nov. 3 at each polling station. The backups are to be used to determine eligibility and precinct assignment if the computers go down, she said, and poll workers must be trained to use both systems — and also to have a sufficient stock of emergency paper ballots on hand, rectifying another widespread problem in the primary.
Those are "reasonable concrete measures," her 67-page opinion said, "to mitigate the real potential harms that would otherwise likely transpire at precinct polling locations grappling with the boiling brew created by the combination of new voting equipment issues and old voter data system deficiencies."
Polling shows a tossup race for Georgia's 16 electoral votes, which President Trump took last time to extend the Republican winning streak in the state to six elections. Both of the state's Senate seats are also being contested, and David Perdue has become one of the year's most endangered GOP incumbents.