Stop the presses, says appeals court, even if that means longer Georgia voting lines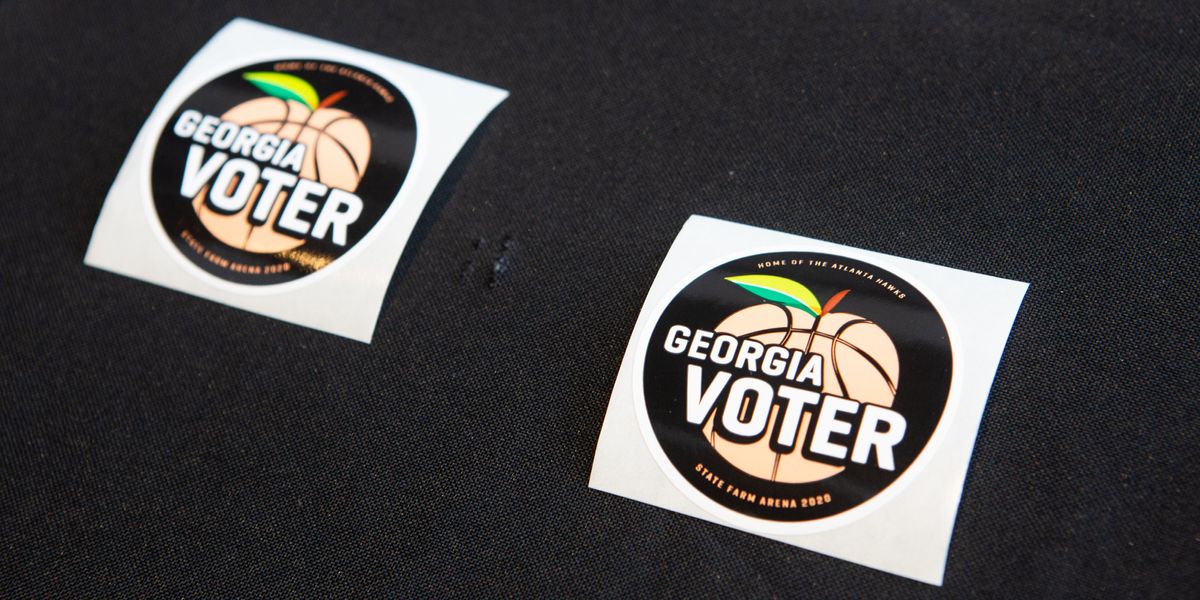 Jessica McGowan/Getty Images
Georgia's battle over paper at the polls has taken another turn, and much longer waiting times on Election Day look to be the result.

At issue is whether up-to-date printouts of voter registration and absentee voting information need to be on hand at every polling place in the state next week, to backstop a new generation of computerized tablets. A federal appeals court on Saturday ruled against the paper poll book requirement, which a trial court judge had set last month.
The issue sounds nerdy. But if the decision is not changed in the next week, which seems unlikely, it could prove crucial to depressing turnout in one of the nation's essential battlegrounds, with the winner of 16 electoral votes and two Senate seats too close to call.
---
Poll workers were forced to rely only on the electronic system on primary day in June and ran into some serious hiccups and delays in trying to check in voters, which created bottlenecks generating lines several hours long especially in and around Atlanta. And the evidence shows not all the software bugs have been fixed.
Part of the problem is with the quality of the information in the tablets, called Poll Pads. In case the electronic records get challenged or freeze up, Judge Amy Totenberg had ordered, a paper copy of each precinct's records should be printed right before Election Day — showing not only who is registered in that neighborhood but whether they've already voted, either by mail or in-person beforehand.
Sign up for The Fulcrum newsletter
She called the order "a limited common sense remedy" to impediments voters have faced this year since a $100 million replacement of all the state's voting hardware has been rolled out.
Two judges on the 11th Circuit, both nominated by President Trump, put a hold on that order but offered no explanation of their reasoning. A judge named by President Barack Obama dissented.
"Murphy's law says Georgia voters will soon find out why the trial court judge found that simple protection should be in place," said Robert McGuire of the Coalition for Good Governance, which filed the lawsuit
"We thank the 11th Circuit for recognizing that, with record turnout and the difficulties of conducting an election during a pandemic, local election officials have enough on their plates without last minute additions from federal judges," said GOP Secretary of State Brad Raffensperger, who fought the order.
The broader lawsuit argued the state's new system was so problematic that it should be sidelined for the general election in favor of hand-marked paper ballots. Totenberg rebuffed that request.
The 11th Circuit's decision this weekend was its second to block an election easement in Georgia. Three different judges had earlier rejected a decision to allow ballots mailed by Election Day but arriving after, reimposing the normal deadline that the envelopes must be in tabulating offices by the time the polls close.
Almost 2.8 million ballots had been cast in the state, in person or by mail, by Sunday night — more than double the 2016 total for votes not cast on Election Day.
Polling shows a tossup race in the state between Trump, who carried the state last time by 5 points, and former Vice President Joe Biden, who would be the first Democrat to carry the state since 1992. Both of the state's Senate seats are also being contested, with David Perdue and Kelly Loeffler among the year's most endangered GOP incumbents nationwide, but there's a strong chance at least one of those races will be extended to a runoff in early January.