Small but significant number of mail-in ballots uncounted in Florida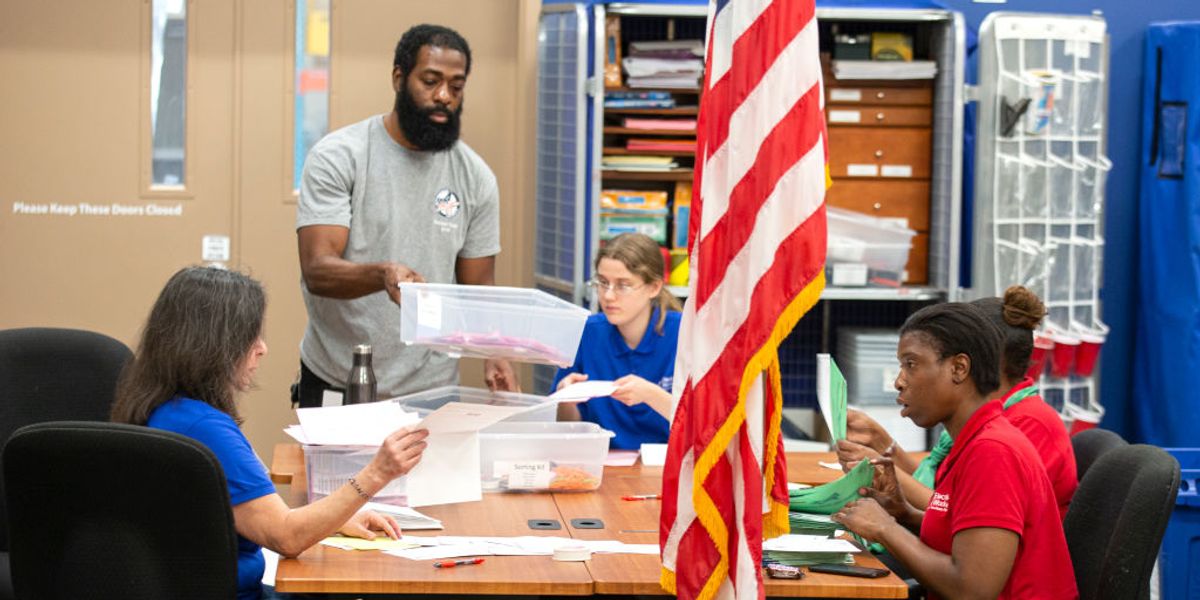 Mark Walheiser/Getty Images
More than 18,000 ballots were mailed in but not tabulated in Florida's presidential primary, researchers have found. And the envelopes returned by young, first-time and Black voters were the most likely not to get counted.

The number of uncounted absentee ballots is one component of an analysis of the March 17 primary published last week by the Healthy Elections Project, created by experts at Stanford and MIT.
While the number of uncounted mail ballots is a tiny fraction — 1.3 percent — of the total number of mail-in ballots in the primary, it nonetheless represents a significant number of voters in a state renowned for its razor-thin election results.
---
Researchers said the data they studied did not provide a breakdown of why the mail-in ballots were not counted. But they said the two most likely reasons were that the envelopes arrived after the deadline — when the polls closed on primary day — or there was some problem with the way the ballots were filled out. This could include everything from not signing the ballot to the signature not matching what is on file with election officials.

The GOP-majority Legislature last year changed the process of signature matching in ways that voting rights advocates want to see nationwide. It sets out a more rigorous standard than in the past for rejecting a mail-in ballot, requires election officials to notify voterd if their envelopes have been rejected because of a perceived signature mismatch, and gives voters until two days after the election to persuade officials that their handwriting was legitimate.
Sign up for The Fulcrum newsletter
The Healthy Elections Project analysis also found that voters 18 to 29 were almost three times as likely to have their mail-in ballots not counted (3.6 percent compared to 1.3 percent overall).
First-time voters were almost twice as likely to have their mail-in ballots not counted, while 2.3 percent of Black voters' mail-in ballots were not counted.
Experts say the results call for a public education effort to explain to people how to properly vote by mail.
Overall, the share of votes cast by mail increased dramatically for the presidential contest — to 46 percent, up from 29 percent four years ago — despite the fact that the coronavirus pandemic was still in its early stages when voters had to decide whether to vote absentee or in person.
Notably, the percentage of Republicans voting absentee outstripped Democrats, 55 percent to 40 percent — a sign that plenty of GOP voters in the third-most populous state disagree with President Trump's oft-stated view that mail-in voting should be sharply restricted because it promotes election fraud.
The president was one of those mail-in voters in March, however, even though he had been in his newly adopted hometown of Palm Beach during the period for in-person early voting in a primary. (He had to amend his initial registration application in September, because he originally listed his "legal residence" as 1600 Pennsyvania Avenue in Washington — the White House address — and Florida law requires voters to be legal residents of the state.
There's no way the uncounted ballots were dispositive. Trump was essentially unopposed and Joe Biden cruised to victory with 62 percent of the vote. But there are plenty of hard-fought campaigns underway for congressional, legislative, judicial and local office nominations ahead of the state primary in seven weeks.
And, of course, the state's 29 electoral votes will be intensely contested in November. Trump carried the state last time by just over 100,000 votes, or 1.2 percentage points, out of a 9.5 million ballots cast. President Barack Obama won the state by less than 1 point in 2012.