Trump linking of easing voting rules to GOP woes creates knowing fury on the left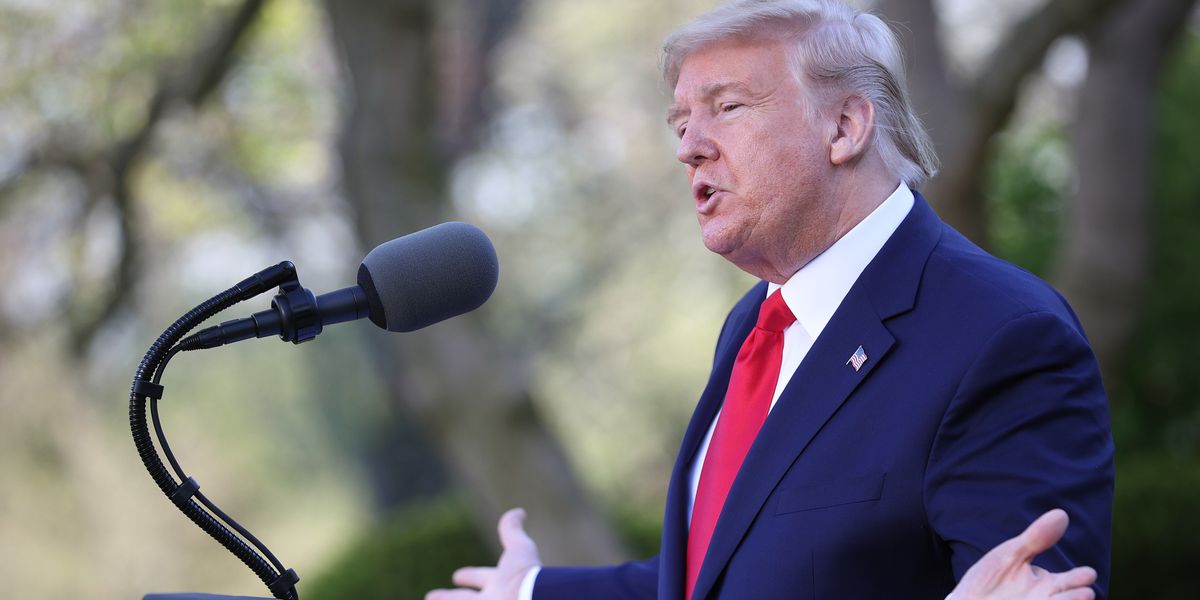 Win McNamee/Getty Images
Progressive democracy reform groups are seizing on a brief comment from President Trump as smoking gun evidence Republicans oppose making it easier to vote because they fear doing worse with bigger turnout.
Preventing election fraud has been the GOP's singular public reasoning for supporting tight rules of access to the ballot box. Democrats and voting rights groups say that's a subterfuge, noting the scant evidence of criminality and the solid evidence that more people voting means fewer wins for Republicans.
Trump openly embraced that concept Monday when discussing proposals he said he blocked from the coronavirus economic rescue package — emphasizing his rebuff of the $2 billion Democrats sought to pay for nationwide voting-at-home, online registration and expanded early voting in person.
---
"The things they had in there were crazy," Trump said during an extended "Fox & Friends" telephone interview. "They had things, levels of voting that if you ever agree to it, you'd never have a Republican elected in this country again."
"They had things in there about election days and what you do and all sorts of clawbacks," he added. "They had things that were just totally crazy and had nothing to do with workers that lost their jobs and companies that we have to save."
Sign up for The Fulcrum newsletter
Negotiators settled on $400 million to make it easier to vote without getting Covid-19, but left out clear guidelines on how the states may spend their share.

"How anyone can oppose our enabling the states to have vote by mail raises so many other questions, but let's just be hopeful and have public opinion weigh in," Speaker Nancy Pelosi said Tuesday . "It's necessary for our country to have a strong Republican Party, and I feel sad that the president does not have confidence that his party can convince the American people about a path to go forward."
Trump's comments suggest that good government groups may have an uphill battle securing such aid in the next coronavirus response package, which Congress is expected to put together in the next two months.
Beyond that, he became the highest ranking Republican to describe a partisan motivation for opposing easier voting — jumping ahead of Senate Majority Leader Mitch McConnell, who last year derided the ballot access expansions in the House's sweeping good government package, known as HR 1, as the "Democrat Politician Protection Act" and "a power grab that's smelling more and more like exactly what it is."
Polling supports the supposition that higher turnout generally benefits Democrats. A study of people who weren't registered or did not plan to vote in the 2014 midterm by the Pew Research Center, for example, found 51 percent favoring the Democrats to just 30 percent favoring the GOP.
Former Vice President Joe Biden said Sunday that all states "should be beginning to plan" to conduct the November election predominantly with vote-from-home ballots because of the coronavirus pandemic.

"I think we should be looking into all mail ballots across the board to begin with, because it's an easier way for people to vote, but whether or not that's required across-the-board in all 50 states and territories I'm not sure yet," the Democratic presidential front-runner said on NBC's "Meet the Press."
Reactions to Trump from the left were particularly impassioned.
"The truth is more people voting isn't good or bad for either party. It's good for America," Ellen Kurz, who runs iVote, which finances campaigns of Democrats committed to voting rights. "But his sentiments bring into stark relief why Republican officials across the country have taken every opportunity to keep people from voting."
"A monstrous example of putting party ahead of America," said House Administration Committee Chairwoman Zoe Lofgren. The California Democrat said "every American, regardless of party affiliation, should condemn the president's apparent belief that it's a good thing for American voters to risk their lives when safer voting alternatives are possible."
"Worth noting that Trump responds to a question about 'special interest projects' by talking about funding for VOTING.This is not a special interest project, it is our DEMOCRACY — and ensuring it can function should be a bipartisan emergency," Vanita Gupta, a former civil rights chief at the Justice Department who now runs the Leadership Conference on Civil and Human Rights, said on Twitter.