Trump's latest baseless claim about mail voting sows doubts that could help him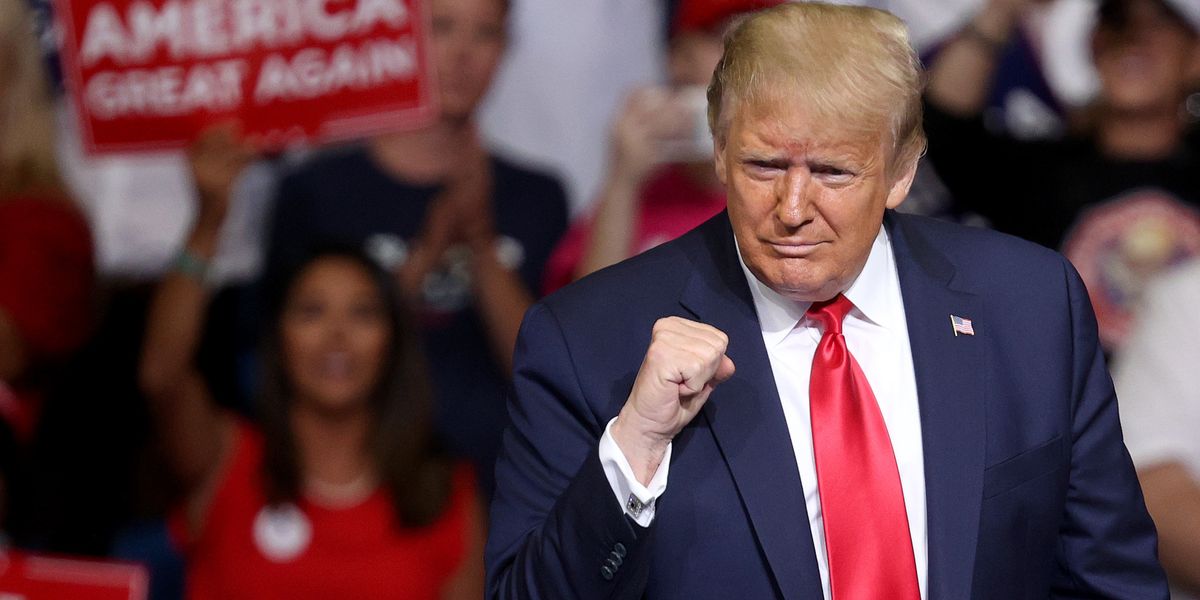 Win McNamee/Getty Images
Voting rights groups, good-governance advocates, independent fact checkers and Democratic operatives are working to repel President Trump's latest salvo against voting by mail: His unsubstantiated assertion that foreign governments plan to flood the country with bogus ballots to rig the results and create "the scandal of our times."
The bogus claim intensifies the president's campaign in recent months to sow doubt about the integrity of the November election — mimicking the sort of disinformation campaigns Russia mounted in 2016 and several foreign adversaries are working on now.
And his efforts to undermine the electorate's confidence in the system, under upheaval as states scramble to accommodate a voting-by-mail surge because of the coronavirus, ignores years of work by states to successfully safeguard against fraud, which now includes tracking systems to connect each ballot with a singular voter.
---
But Trump's unfounded warnings could benefit him two ways.
They could prompt millions to buy the notion the system is corrupt and then decide not to vote this fall, when the president says he knows high turnout will hurt his re-election prospects.
At the same time, they could set the stage for the president challenging the results, claiming a count that shows him losing thanks to a flood of absentee votes is surely the consequence of a stolen contest.
Sign up for The Fulcrum newsletter
The president's freshest and most dramatic attacks on voting-by-mail, in an all-capitalized tweet Monday, came just before an extensive Associated Press report about Vice President Pence and many senior administration and campaign officials routinely casting absentee ballots.
One such official, Attorney General Bill Barr, was the first to speculate without evidence about a flood of fake ballots from abroad. "Right now, a foreign country could print up tens of thousands of counterfeit ballots," he told Fox News in an interview that aired Sunday. "Be very hard for us to detect which was the right and which was the wrong ballot."
The president on Monday retweeted a news report on that and then added his own tweet: "RIGGED 2020 ELECTION: MILLIONS OF MAIL-IN BALLOTS WILL BE PRINTED BY FOREIGN COUNTRIES, AND OTHERS. IT WILL BE THE SCANDAL OF OUR TIMES!"
The campaign of Democratic challenger Joe Biden, who has said several times he suspects Trump will seek to delay the election or discredit the results, called Trump's tweets "a desperate attempt to rewrite reality to revive this president's faltering re-election campaign."
And the Republican-majority Senate Intelligence Committee, in one of its reports issued last year on Russian interference in the 2016 election, concluded that "sitting officials and candidates should use the absolute greatest amount of restraint and caution if they are considering publicly calling the validity of an upcoming election into question."
Colorado, Hawaii, Oregon, Utah and Washington conduct elections almost entirely by mail — with virtually all the printing of ballots and envelopes done domestically. Several other states have already taken steps to encourage more people to use mail-in ballots as a way of social distancing on Election Day — including two major battlegrounds, Michigan and Wisconsin, which are sending absentee ballot request forms to almost all voters.
A steady series of studies have found scant evidence of vote-by-mail fraud and no evidence of the system giving one party's candidates more of an advantage.
Still, Trump said in a Politico interview published Friday that the "biggest risk" to his re-election is the growing use of mail-in ballots, and suggested his chances may rest on the success of the GOP's efforts to combat a wave of Democratic and civil rights group lawsuits pushing to make absentee voting easier.
Depending on how that litigation turns out, the consensus expectation is between half and two-thirds of all presidential votes will be cast by mail this fall — either way, far more than the one-in-four share in recent contests. Processing the tidal wave of paper will take days, especially in places not long-prepared for so much remote voting, leaving the results of close races a mystery but providing time for those worried about losing to amplify allegations of foul play.
Trump himself voted by mail in the Florida primary this year, apparently after listing the White House as his permanent address — which would make him a D.C. resident ineligible for an absentee ballot in the swing state he now calls home.
Similarly, the AP said Pence uses the governor's residence in Indianapolis, where he last lived three years ago and has no business returning to again, as his address for claiming Indiana absentee ballots ever since — including this month's GOP primary.
Education Secretary Betsy DeVos has taken advantage of her home state's laws to register to receive an absentee ballot proactively for every election in Michigan, one of the states where Trump is fighting easements on vote-by-mail.
And, the news service reported, re-election campaign manager Brad Parscale used a liberal interpretation of strict excuse requirements in order to vote absentee in Texas in 2018, while senior Trump campaign officials Michael Glassner and Bill Stepien have repeatedly voted by mail in New Jersey. Campaign advisor Nick Ayers, a former Pence chief of staff, has voted by mail in Georgia since 2014.
Other news outlets have reported White House press secretary Kayleigh McEnany's long history of voting by mail and Barr's use of mail ballots in Virginia last year and in 2012.
The president is "trafficking in debunked conspiracy theories to undermine the election and keep Americans from casting their ballots," said Ryan Thomas of Stand Up America, a progressive group focused on winning federal funds to help states with mail-in voting this year. While "Trump and his aides clearly have no shame lying to the public about a practice they themselves use, Americans should be disgusted by their reckless attempts to suppress the vote amid an ongoing national crisis."