States miss key milestones as redistricting process lags
https://twitter.com/davidmeyers?lang=en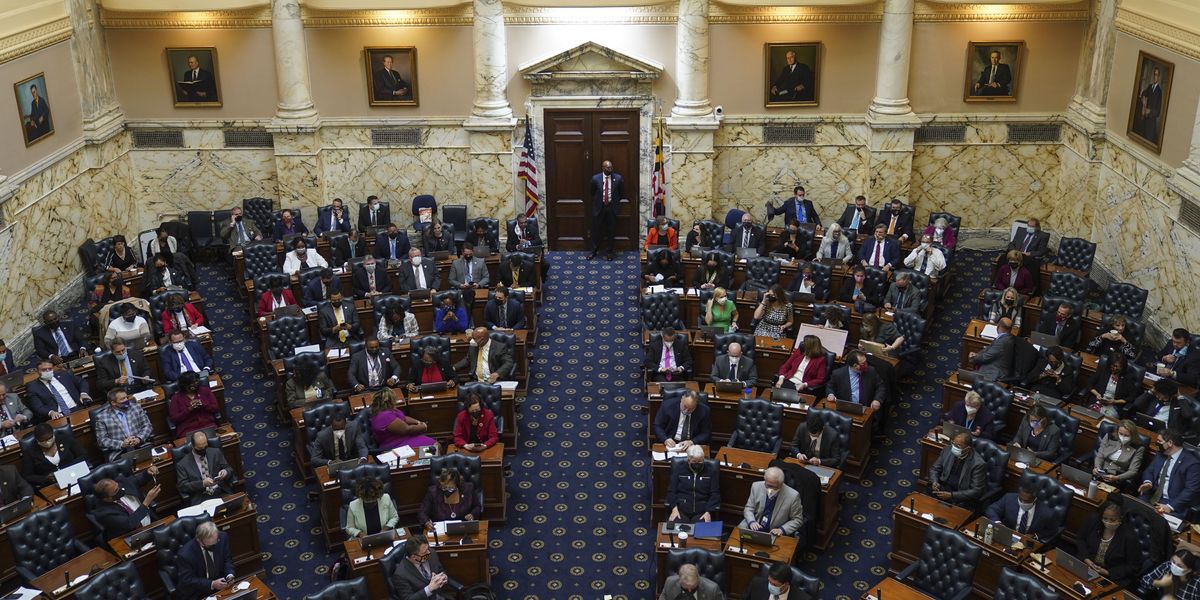 Michael Robinson Chavez/The Washington Post via Getty Images
Update: Both chambers of the Republican-controlled Louisiana Legislature voted Wednesday to override Democratic Gov. John Bel Edwards' veto of the congressional map. And the Maryland General Assembly, run by Democrats, approved a new map Wednesday, sending it to Republican Gov. Larry Hogan for his signature.
Ninety days into 2022, nearly a dozen states have yet to complete their congressional or legislative redistricting work. In three states, candidate filing deadlines have already passed without district maps being finalized.

Missouri has yet to complete its congressional map, while Montana and Ohio are still working on their state legislative maps. But candidates seeking office in those states already filed paperwork to get on primary ballots, meaning the districts they intend to represent are not necessarily defined.
Candidates in eight other states have a bit more time, with filing deadlines coming up in the next four months.
---
Missouri's filing deadline was Tuesday. State law only requires candidates to live in Missouri and not the district they are seeking to represent. So while candidates could look at proposed maps and predict which district would be the most appropriate, there remains the possibility they could represent someplace that does not include their residence.
Lawmakers have been working on the congressional map for months, and the state House had approved a version that would likely retain the current partisan makeup (six seats held by Republicans, two by Democrats). But after the state Senate pushed through a version that might shift another district to the GOP, House members said they needed time to review the changes.
Sign up for The Fulcrum newsletter
The primary is scheduled for Aug. 2.
Ohio, which required legislative candidates to file by Feb. 2, tweaked a rule to make it easier to submit the required ballot petition given the uncertainty around district lines. Ohio's legislative maps remain incomplete after the state Supreme Court rejected a third version of maps drawn by a partisan commission and approved by the Republican-controlled Legislature.
The state had intended to hold all of its primaries on May 3, but that will no longer happen. Election officials will proceed with the congressional primaries as planned, but a date has not yet been set for legislative primaries.
Further muddying the waters, Ohio's congressional map has been challenged by Democrats but the state Supreme Court will not hear the case until after the May 3 primary.
"There is no reason to expedite this case. At this juncture, it is abundantly clear that this case will not be litigated prior to the 2022 primary election," wrote three Republican justices. according to the Columbus Dispatch.
In Montana, candidates filed their paperwork by March 14, for a June 7 primary even though the legislative maps have not been approved yet. The secretary of state's office directed potential candidates to use the current maps to determine district boundaries when determining where to run.
The next deadline is just a few weeks away. People seeking office in Maryland must file by April 15, but congressional candidates are still waiting to see the final district lines.

On March 25, the state Supreme Court tossed out the approved congressional map, calling it an "extreme partisan gerrymander," setting a deadline of March 30 for a new map. The rejected map would have solidified Democrats' hold on seven of eight congressional districts and perhaps even have made the one GOP-leaning district vulnerable to a takeover.
The state Senate quickly approved a new map that would likely shift the balance so Republicans can win two districts. The state House has not yet voted on the new proposal.
The remaining states have more time to complete redistricting, but Florida and Wisconsin may need all the time they can get.
On Tuesday, Florida Gov. Ron DeSantis vetoed a pair of congressional maps approved by his fellow Republicans in the Legislature after lawmakers sent him two options of their own design, rather than the one he recommended.
All three versions would likely increase the GOP majority in the delegation, but DeSantis' map could also lead to two Black Democrats losing their seats.
The Legislature will return for a special session in April to try again. Candidate paperwork is due June 17.
Candidates in Wisconsin face an even tighter deadline. People seeking office must file by June 1, but the U.S. Supreme Court threw out the state legislative maps, saying the state Supreme Court did not do enough work to ensure the new maps complied with the Voting Rights Act.
The state court had approved a map crafted by Democratic Gov. Tony Evers but favorable to Republicans. An analysis by the Milwaukee Journal Sentinel predicted the GOP would maintain margins similar to what it currently enjoys.
Louisiana (July 22 candidate filing deadline) and New Hampshire (June 10) also need to complete their congressional maps.
Kansas (June 1 filing deadline), New Hampshire (June 10) and Vermont (May 26) are still working on their state legislative maps.
Mississippi has not yet completed its legislative map, but it is not holding an election for the Legislature this year.