A new poll maps opposition to gerrymandering
https://twitter.com/davidmeyers?lang=en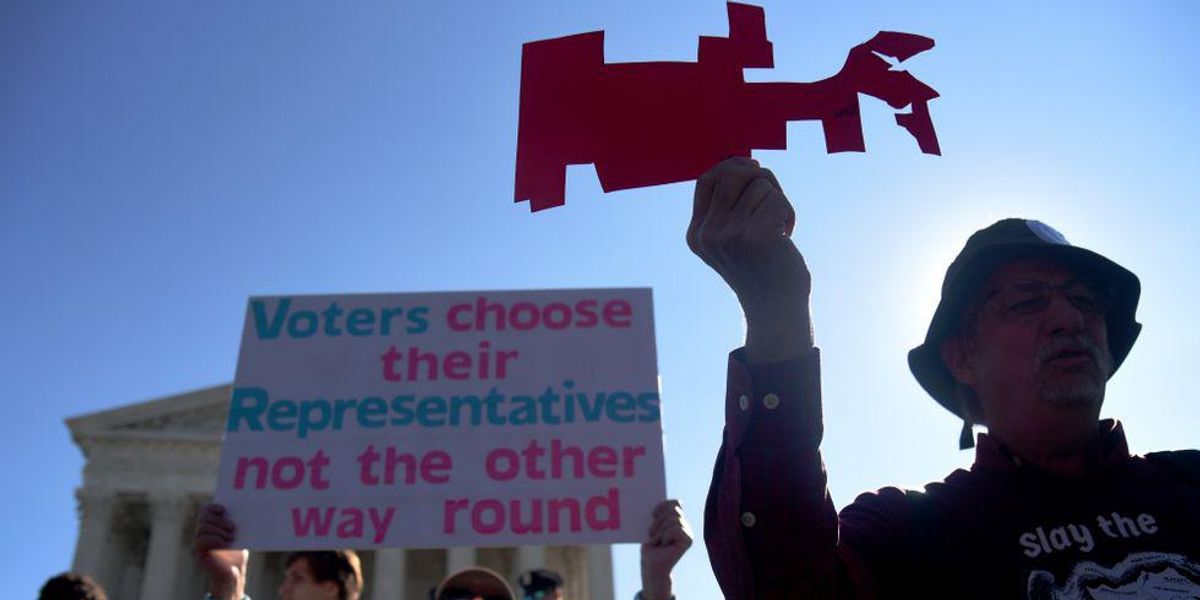 Olivier Douliery/Getty Photos
A new survey finds a majority of Americans oppose partisan gerrymandering, even as many remain unaware of how redistricting works in their own states.

Two-thirds of Americans told pollsters for The Economist and YouGov that states drawing legislative districts to favor one party is a "major problem" with just 23 percent saying it's a "minor problem." But 50 percent said they do not know whether districts are drawn by the legislature or an independent commission in their own state.
---
Even though half of Americans do not know how their districts are drawn, a majority still is opinionated about the process.
Twenty-eight percent believe districts are very or somewhat fairly drawn in their own states, while 36 percent believe they are somewhat or unfairly drawn. Just 35 percent said they were not sure.
Nearly half of respondents (48 percent) said they strongly oppose gerrymandering while another 12 percent said they are somewhat opposed. Only 10 percent said they strongly or somewhat support gerrymandering.
In addition, three-quarters said they are strongly or somewhat in favor of a transparent process for drawing districts, and 63 percent want the process run through a nonpartisan redistricting commission.
The poll, which was conducted Feb. 5-8 and included 1,500 U.S. adult citizens, asked whether the Supreme Court should uphold or strike down congressional districts that are designed for partisan purposes, even though the court ruled in the 2019 case Rucho v. Common Cause that it has no jurisdiction over such a political question.
Sign up for The Fulcrum newsletter
(Racial gerrymandering does remain within the federal court's purview and is the subject of numerous ongoing cases.)
The redistricting analysts at FiveThirtyEight have been tracking the mapping process for congressional seats in every state. Even though Republicans have control over the process in most districts, Democrats appear to be coming out ahead so far.
The Princeton Gerrymandering Project, Electoral Innovation Lab and RepresentUs have created a redistricting report card, grading each state for partisan fairness, competitiveness and geographic features.
Of the 10 states that have been graded so far, four earned an A. Three of them (Arizona, Colorado and Michigan) have independent redistricting commissions. The fourth, Virginia, has a hybrid commission that includes some politicians.
Georgia was awarded a C, with Illinois, Maryland, North Carolina, Oregon and Texas all getting a failing grade. Congressional districts are drawn by the legislature in each of those states.