Election officials will keep the midterms fair. Voters will determine the integrity of future elections.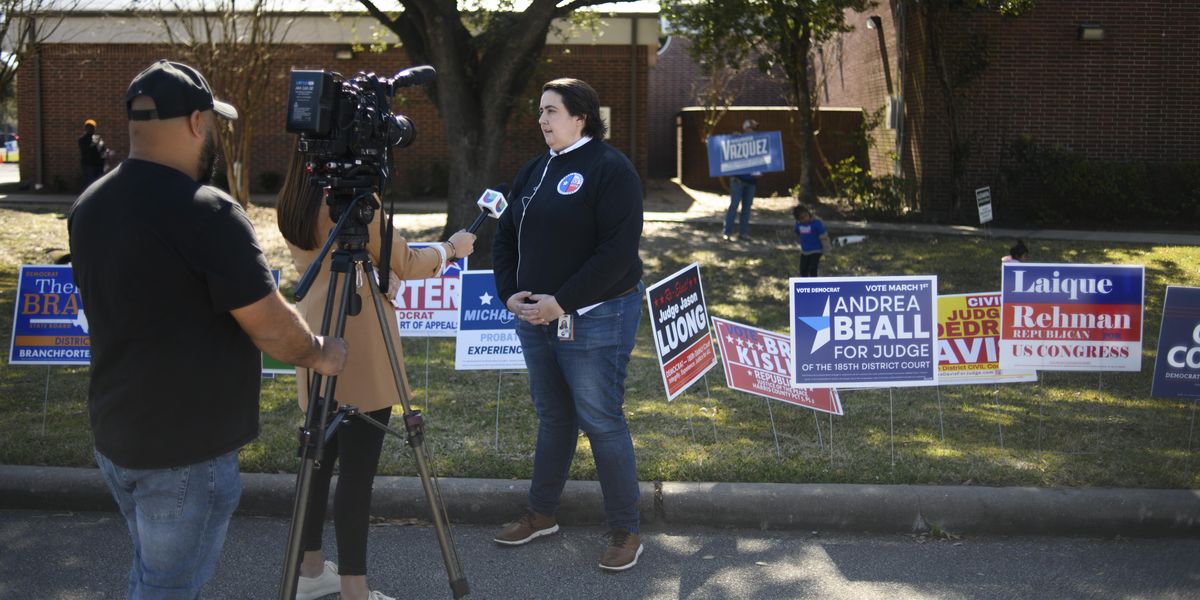 Mark Felix for The Washington Post via Getty Images
Levine is an elections integrity fellow at the Alliance for Securing Democracy, which develops strategies to deter and defend against autocratic efforts to interfere in democratic institutions.

While much has been written about the nearly 300 election-denying candidates seeking public office this November, Americans who believe in democracy shouldn't lose hope yet. But they do need to act now to ensure the integrity of future elections.
Despite the ongoing assault on American democracy, the 2022 midterms are not doomed to fail. In fact, election officials across the country have taken steps and implemented measures this cycle to uphold the legitimacy of the vote, in some cases risking their own safety to do so.
At a time when many Americans rightly seem concerned about democracy, but apathetic about its danger, election officials continue to go to great lengths to protect American democracy from malign actors — both foreign and domestic — and they remain one of the biggest reasons to be confident in the integrity of the midterms.
However, with so many candidates running this fall who don't fully support the legitimacy of the 2020 results and by extension the integrity of American elections — many for positions with influence over how future elections are conducted — there could be a sea change in how future elections are conducted. Americans need to step up and defend American democracy, first with their votes in the midterms and then by both supporting legislation that bolsters the integrity of American elections and speaking up for free and fair elections.
Sign up for The Fulcrum newsletter
---
Earlier this year, the Alliance for Securing Democracy launched "Ballots and Bagels: Conversations with Trusted Election Sources," an interview series that examined the administration of the 2022 primary elections in Arizona, Colorado, Georgia, Pennsylvania, Texas and Wisconsin with officials who helped administer and protect them. In addition to working in states that are more likely to receive threats, many of these election officials also encountered challenging circumstances in their local jurisdictions.
For example, former Harris County (Texas) Election Administrator Isabel Longoria (the first to serve in that position) had just a few months to help implement a sweeping overhaul of the state's election code for the March 1 primary. Brandi Bantz was appointed the designated election official in Mesa County, Colo., just one month before the primary after Clerk Tina Peters was barred from overseeing the county's elections for a second time, a restriction stemming from her alleged tampering with the county's election equipment in response to the 2020 presidential election results. And Constance Hargrove, elections director in Pima County, Ariz., was tasked with ensuring that vote centers and electronic pollbooks were successfully implemented in the jurisdiction's first election on her watch in the heart of election denialism.
The lessons these interviewees learned from the 2022 primaries varied, due in part to the different ways their states administer elections, but the solutions they proposed often dovetailed.
For instance, after witnessing harassment and threats to election workers in Madison and elsewhere, longtime Wisconsin election administrator and attorney Michael Haas recently helped spearhead the passage of an ordinance in Madison that created a new penalty for disorderly conduct targeting election officials. The ordinance came on the heels of a report from the Dane County Election Task Force that raised numerous concerns over whether the county's infrastructure was sufficient to protect its election workers and voting equipment.
After previously receiving death threats for defending the legitimacy of the 2020 elections, Republican Seth Bluestein stepped forward to become a member of the board of elections for the city of Philadelphia and subsequently supported bipartisan efforts that secured $45 million in additional funding for Pennsylvania county elections offices shortly after the state's 2022 primaries. While the law including this funding is far from perfect – for example, it still prohibits pre-Election Day ballot processing and doesn't ensure proper long-term election funding – its passage is a step in the right direction for Pennsylvania elections.
In Colorado, the legislature enacted measures earlier this year that give election workers greater protection against threats and doxing. The law also provides greater security for the voting equipment. For example, it requires 24-hour video surveillance of voting system components and installation of key-card access for rooms where equipment is kept, which can help protect against security breaches and inspire confidence more broadly.
This became necessary after Peters was indicted earlier this year for allegedly helping an unauthorized person copy voting machine hard drives and attend an annual software update; sensitive information from the machines and secure passwords were later shared with election conspiracy theorists online.
Notwithstanding the turmoil Peters' conduct has caused, this ordeal underscores the importance of having transparent processes. Colorado officials were able to identify Peters' role in leaking voting system information in part because the state had transparent procedures to ensure that every person who accesses election systems is authorized to do so.
Since the Peters episode, more election officials have taken actions to counter potential insider threats. For example, Ohio's secretary of state enacted Ohio Security Directive 3.0, which established more robust levels of physical security for maintaining the confidentiality, integrity and availability of sensitive election data, measures that align closely with recent national recommendations from the Cybersecurity and Infrastructure Security Agency on protecting election infrastructure from insider threats. While more can always be done to counter similar threats, it appears that the insider threats to date have largely been isolated, identified and addressed.
Nationally, election integrity advocates are pushing for measures that will similarly protect election workers. This includes an Election Threat Task Force, which the Justice Department established in 2021 to help protect election workers. To its credit, the task force has prosecuted a handful of cases since it was formed and offered greater clarity on when a threat is prosecutable, though more can and should be done.
Congress is now close to passing legislation before the end of the year that would help protect against another attack on a presidential election. Recently, the Senate Rules and Administration Committee voted on a bipartisan basis in favor of an updated version of the Electoral Count Reform Act of 2022, and reconciling it with the version that recently passed in the House — the Presidential Election Reform Act — is very doable. With any luck, the final legislation will include strong safeguards against election worker harassment and intimidation and more robust privacy protections for election workers and their families.
Threats to U.S. elections from both foreign and domestic actors are rapidly evolving and the administration of elections is arguably under greater attack than ever before. Hardworking, trustworthy and honorable election officials across the political spectrum have been working around the clock to counter the threats.
But the most important, most urgent way that the American people can do their part to counter these threats, at this juncture, is to vote for candidates who have demonstrated a willingness to put free and fair elections above any partisan or personal interests. Right now, Americans can and should trust in the integrity of their elections. But if they sit this election out — or vote into office candidates who would not uphold the integrity of our elections — we may not be able to have the same level of confidence in our future races. And that would be the greatest threat to our democracy of all.