Select voters in New York (again!) and Florida to pick their nominees Tuesday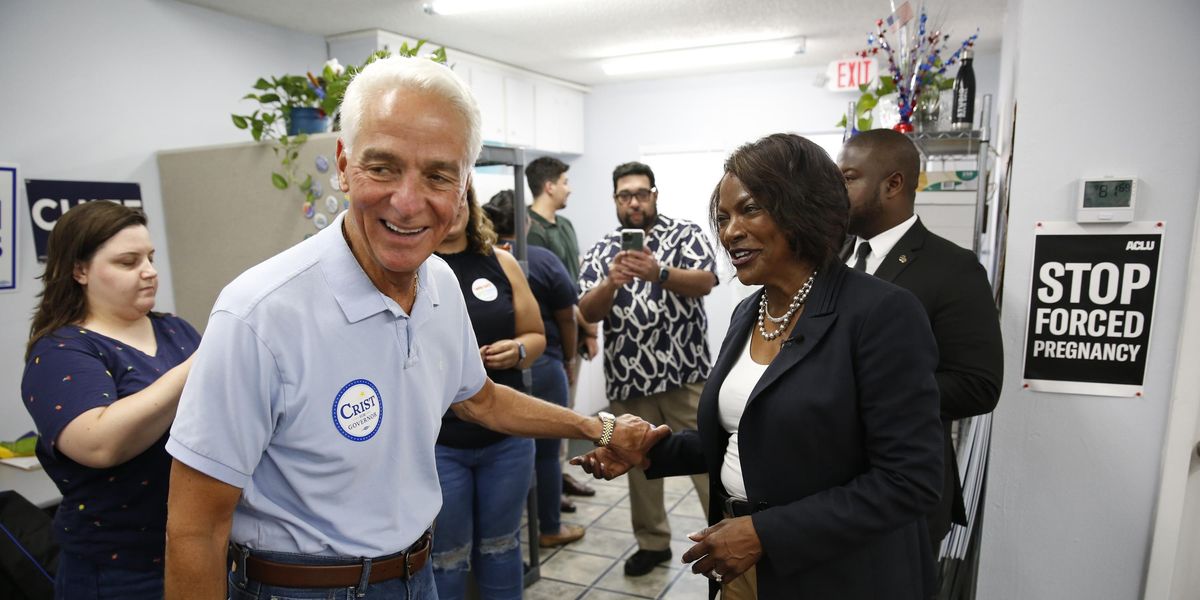 Octavio Jones/Getty Images
Editor's note: This article has been updated to correct errors in the review of New York's primaries.
Voters in two of the nation's most populous states will head to the polls on Tuesday, kicking off the last month of the midterm primaries.
Florida is conducting primary elections for federal, state and local races, while New Yorkers finally get to pick their nominees for the U.S. House and state Senate. Both states feature high-profile incumbents hoping to hang on to their seats.
Both states conduct closed primaries, meaning people may only participate in the races for parties with which they are affiliated. More than one-quarter of voters in each state are unaffiliated and therefore cannot vote in the primaries.
---
Florida
In the Sunshine State, all eyes will be on a pair of Democratic primaries.
In one race, voters will pick a nominee to challenge Republican Gov. Ron DeSantis, who has risen through the GOP ranks and is considered a possible contender for the White House in 2024. DeSantis is seen by many as the strongest competitor to former President Donald Trump if they both seek the nomination in two years.
Regardless of White House talk, DeSantis must face whoever emerges from the four-candidate Democratic primary for governor. The contenders include Rep. Charlie Crist (a former governor as well as state senator and state attorney general). When he held those previous positions, Crist was a Republican until becoming an independent in 2010 and then a Democrat in 2012.
Sign up for The Fulcrum newsletter
Crist leads in the polls, with Nikkie Fried, a former commissioner of agriculture and consumer service, trailing. Cadance Daniel and Robert Willis are also running in the primary.
Democratic voters will also pick a candidate to challenge Republican Sen. Marco Rubio, finished second to Trump in the 2016 primaries. He will face one of four Democrats: Rep. Val Demings, Ricardo De La Fuente, Brian Rush and William Sanchez. Demings is expected to win the race.
The federal primaries will be rounded out with nominating contests in 28 House seats. Republicans currently hold the majority of seats but Democrats will hope to close the gap Nov. 8.
The most anticipated of those races is taking place in the 1st district, held by Republican Rep. Matt Gaetz. He is seeking reelection with an endorsement from Trump. However, an investigation into Gaetz's sexual relations with a minor have cast a cloud over his standing. Democratic candidates Rebekah Jones and Margaret Schiller hope to battle him in the general election.
Other races on Tuesday's ballot include seats for Legislature and school boards.
Florida's elections have endured many changes in the past years. The Legislature enacted a sweeping bill in 2021 that placed new limits on voting by mail, in-person voting, the use of drop boxes and voter registration; many minority groups, including Black voters, have had a harder time registering to vote and even casting a ballot.
Among the provisions in that bill:
Officials may not proactively distribute ballots by mail.
Drop box use is limited to business hours, and mobile drop boxes are banned.
People may not deliver more than two ballots in addition to their own and that of an immediate family member.
These and other restrictions are making it harder for Black people to vote in Florida, according to activists.
In 2018, voters passed a constitutional amendment to restore voting rights for people who complete their prison sentence, but the following year the state enacted a law requiring that people with felony convictions pay all fines and fees before regaining the right to vote. Court battles over that law continue
A bill enacted this year created an Office of Election Crimes and Security to investigate possible election crimes. Under DeSantis' direction, the agency has arrested 20 formerly incarcerated individuals for voting in Florida.
Read more about election law changes in Florida.
New York
New Yorkers will hit the polls for a rare second round of non-runoff primaries Tuesday. The state had scheduled all of its primaries for June 28 but redistricting delays required a second date be added. The New York Court of Appeals ruled that the state's congressional and state Senate maps — configured by Democrats — were unconstitutional partisan gerrymanders and needed to be redrawn. Election analysts have predicted that the new House map will result in as many as five incumbents losing their primaries.
Democrats are hoping for a shift in the political environment following the recent Supreme Court decision that removed constitutional protections for abortion rights. However, voter turnout could be low due to many New Yorkers traveling during the summer months. This has made predicting the outcomes very difficult.
Voters will pick nominees for the state's 26 House seats. Much of the attention will be focused on the 12th district, where two incumbents, Carolyn Maloney and Jerrold Nadler, are facing off for the Democratic nomination — a situation forced on by the redrawn maps. Nadler has been endorsed by Senate Majority Leader Charles Schumer of New York.
Another highly contested race will be decided in 10th district where Democrat Mondaire Jones is the incumbent. He will face New York Assemblywoman Yuh-Line Niou, New York City Councilwoman Carlina Rivera, and former Rep. Elizabeth Holtzman, and Daniel Goldman, who served as counsel to House Democrats during Trump's first impeachment proceedings.
For Republicans, the race for Rep. Chris Jacobs' seat will be incredibly competitive. Jacobs announced he would not seek reelection after receiving backlash from fellow Republicans after embracing gun control reform following a mass shooting that occurred in his district in May. New York Republican Party Chairman Nick Langworthy and Carl Paladino are facing off for the nomination. Paladino has made several headlines in the past due to his propensity for offensive comments.
The elections process has been altered by a number of new bills that have mostly acted to improve voter access, the most noteworthy being the 2022 John R. Lewis Voting Rights Act of New York. The legislation includes reforms that protect people of color from discrimination and expands accessibility for those not proficient in English. The bill includes many provisions that protect POC voters from intimidation, deception, and discrimination during elections.
Read more about changes to election laws in New York.
Oklahoma
Oklahoma requires primary runoffs when no candidate in a race earns a majority of the vote. Therefore, voters will return to the polls Tuesday to finalize the nominees in a handful of races, including the Republican contest to complete the term started by Sen. Jim Inhofe, who is resigning. Neither of the two frontrunners, Rep. Markwayne Mullin and T.W. Shannon, received the majority of the vote needed for an outright win during the June 28 primaries.
Mullin currently represents Oklahoma's 2nd district, a position that he has held since 2013. Shannon served as a member of the Oklahoma House of Representatives from 2006 to 2014. The two outpaced 11 other candidates. The winner will face former Rep. Kendra Horn in November and either of the Republicans would be the only Native American in the Senate.
With Mullin seeking the Senate seat, his House district is up for grabs and no one was able to win the GOP nomination in initial primary voting. State Rep. Avery Frix and former state Sen. John Brecheen advanced to the runoff and the winner will compete with Democrat Naomi Andrews in the general election.