More than 100,000 Kentucky felons will get back the vote this year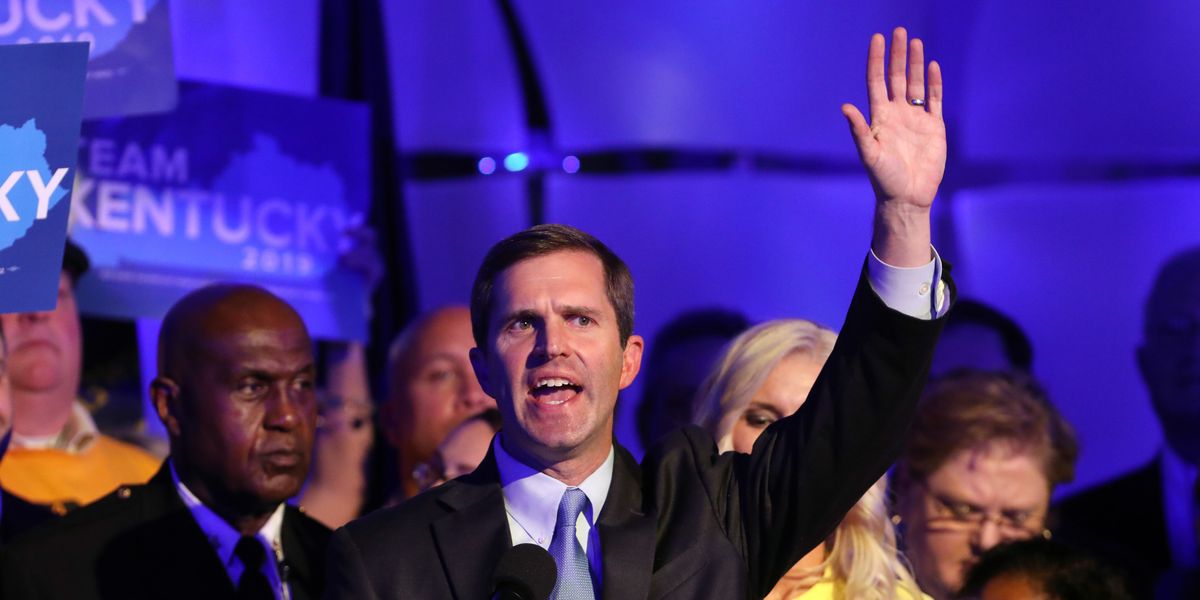 John Sommers II/Getty Images
Kentucky's new governor plans to sign an executive order Thursday restoring the vote to more than 100,000 convicted non-violent felons who have completed their sentences.
Andy Beshear, a Democrat and former state attorney general, made the announcement Tuesday in his inaugural address. It's the fulfillment of a promise that shaped the closing days of his campaign last fall, when he won an upset against Republican incumbent Matt Bevin.
"My faith teaches me to treat others with dignity and respect. My faith also teaches forgiveness," Beshear said, and so he will use his executive power to restore "voting rights to over 100,000 men and women who have done wrong in the past but are doing right now. They deserve to participate in our great democracy."
---
The new governor's move will be the largest restoration of voting rights for felons since Florida voters approved a measure last year granting the franchise to as many as 1.4 million who have finished prison, probation and parole. But a law enacted by the Legislature to place restrictions on felons' voting has tied up many of their new rights in state and federal courts.
Only Kentucky and Iowa permanently disenfranchise all felons unless the governor grants a reprieve — something that Bevin did in about 1,200 cases during his single term.

Sign up for The Fulcrum newsletter
"By taking this step, by restoring these voting rights, we declare that everyone in Kentucky counts," Beshear said. "We all matter."
Beshear appears likely to reinstate an executive order signed in 2015 by his father, Democrat Steve Beshear, that was rescinded by Bevin, his successor. That order would have restored voting rights and the right to hold office to more than 140,000 Kentuckians who had completed their sentences and paid all court-ordered fines and restitution.
About one-quarter of the state's disenfranchised population is African-American, a significant portion of whom were convicted on non-violent drug possession charges, according to The Sentencing Project, which advocates for reducing racial disparities in the criminal justice system.
While the new wave of voters will likely vote solidly Democratic, they are unlikely to shift the state's balance of political power. President Trump can be confident of easily carrying the state, which he won by 30 points last time, and Senate Majority Leader Mitch McConnell is solidly favored to win re-election
Bashear won by just over 5,000 votes, a margin of half a percentage point. Bevin opposed such a widespread restoration of voting rights. He said it would be an abuse of executive power and such a decision should be made by the Legislature.