U.S. history curriculum should focus on education, not indoctrination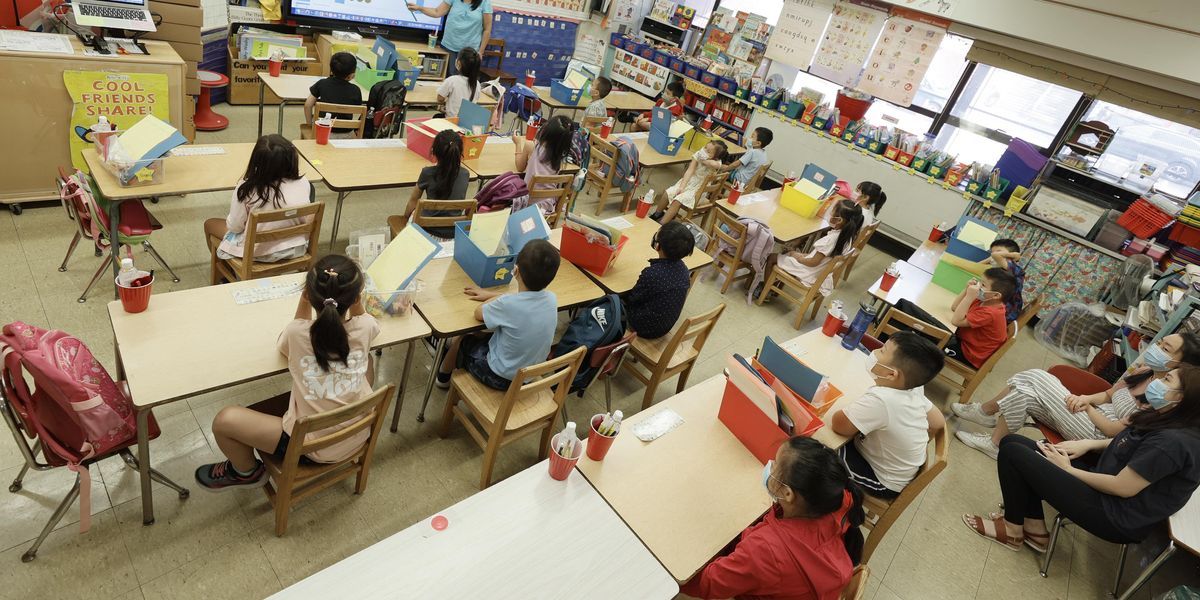 Michael Loccisano/Getty Images
Goldstone is a writer whose most recent book is "On Account of Race: The Supreme Court, White Supremacy, and the Ravaging of African American Voting Rights."

In days past, the worst thing that could be said about American history classes was that they were boring. No longer. The American history curriculum is now a battleground. From both ends of the political spectrum come demands to teach middle and high school students about the development of the United States to comport with their own political ideology.
As with so much of the bickering that plagues the nation, the conflict has coalesced around questions of race, with each side accusing the other of substituting indoctrination for education. Unfortunately, both are correct.
---
To those on the right, contrivances such as "critical race theory" and The New York Times's controversial "1619 Project" undermine not only education but also the very foundations of American society. In a September 2020 speech promoting "patriotic education," President Donald Trump declared, "We must clear away the twisted web of lies in our schools and classrooms and teach our children the magnificent truth about our country. We want our sons and daughters to know they are the citizens of the most exceptional nation in the history of the world." He described teaching racial history as "child abuse."
Sign up for The Fulcrum newsletter
Conservatives have taken up the call to purge classrooms of "divisive" material. There have been demands to ban — or even burn — books that do not show the United States in a pristine light. In Texas, state Rep. Matt Krause initiated an "inquiry" of books that "contain material that might make students feel discomfort, guilt, anguish, or any other form of psychological distress because of their race or sex or convey that a student, by virtue of their race or sex, is inherently racist, sexist, or oppressive, whether consciously or unconsciously." He listed more than 800 titles including "The Confessions of Nat Turner," "Between the World and Me," and books written by Isabelle Wilkerson, Amnesty International, and even Anna Quindlen, John Irving and Michael Crichton.
To critics on the left, institutional racism is the linchpin of the American experience. In the original print version of the "1619 Project," editor Jake Silverstein wrote that celebrating 1776 as "the year of our nation's birth ... is wrong ... and that the country's true birth date, the moment that its defining contradictions first came into the world, was in late August of 1619."
That version of the project spawned sharp criticism from historians who could hardly be described as Trump conservatives. James McPherson, Pulitzer Prize winner for "Battle Cry of Freedom," stated that he "was disturbed by what seemed like a very unbalanced, one-sided account, which lacked context and perspective." MacPherson joined four other eminent historians in a sharply worded letter to the Times, in which, among other objections, they noted: "On the American Revolution, pivotal to any account of our history, the project asserts that the founders declared the colonies' independence of Britain 'in order to ensure slavery would continue.' This is not true ... every statement offered by the project to validate it is false." They also took issue with "the claim that 'for the most part,' black Americans have fought their freedom struggles 'alone.'"
Although the Times denied bias, the online version was altered and when the "1619 Project" was released in book form, additional changes had been made.
What is unfortunate is that, as Adam Hochschild noted in his review of the book edition, the "1619 Project" "is a wide-ranging, landmark summary of the Black experience in America: searing, rich in unfamiliar detail, exploring every aspect of slavery and its continuing legacy, in which being white or Black affects everything from how you fare in courts and hospitals and schools to the odds that your neighborhood will be bulldozed for a freeway."
That the impact of racism has been underemphasized is indisputable. It has been endemic in America from the nation's very onset, be that 1619, 1776 or 1787, when the Constitution was drafted. At the Constitutional Convention in Philadelphia, the economics of the slave system impacted virtually every serious debate in which the delegates engaged.
Fact was often distorted by myth. The banning of the slave trade after 1808 in Article I, Section 9 is often categorized as an anti-slavery provision while it was anything but. Virginia, which grew tobacco, was drowning in a burgeoning slave population and wanted desperately to sell its surplus — at exorbitant prices — to the Lower South, where rice was cultivated in dreadful conditions and slave mortality was high. Led by slave owner George Mason, Virginia delegates insisted the African slave trade be banned. The Lower South refused — Africa was a far cheaper source of slaves than Virginia. The North insisted on a free flow of commerce, some of which was in the slave trade. Eventually, delegates from the North and Lower South struck a deal of which the 20-year extension was part. In response, Mason refused to sign the Constitution, although his refusal has since been cast in loftier terms and today a major university bears his name.
White supremacy has factored into American history through westward expansion, the Civil War, Reconstruction, the Redeemer period, Jim Crow, the civil rights movement, and remains a key to political power. And bigotry has not been confined to African Americans — Asian immigrants faced enormous obstacles in assimilating into American culture, as did immigrants from Eastern and Southern Europe. Native Americans have been treated abominably and remain disproportionately doomed to poverty, alcoholism and disease.
So to pretend that American history is solely "magnificent truth" is absurd. Equally absurd, however, is the notion that race was the only determinant in how the United States developed as a nation and that whites universally, or even predominantly, were oppressors and non-whites were victims. White Americans helped found the NAACP and some such as Andrew Goodman and Michael Schwerner were willing to risk, and sometimes give, their lives in pursuit of equal justice.
The history of the United States is neither simple nor straightforward, but rather one of ongoing struggle, and struggle has two sides. The best way to teach American history is to present those sides fairly and let students struggle to find meaning from them.