New York will break your heart … open
https://www.facebook.com/debilynm/
https://twitter.com/debilynm?lang=en
https://www.instagram.com/debilynmolineaux/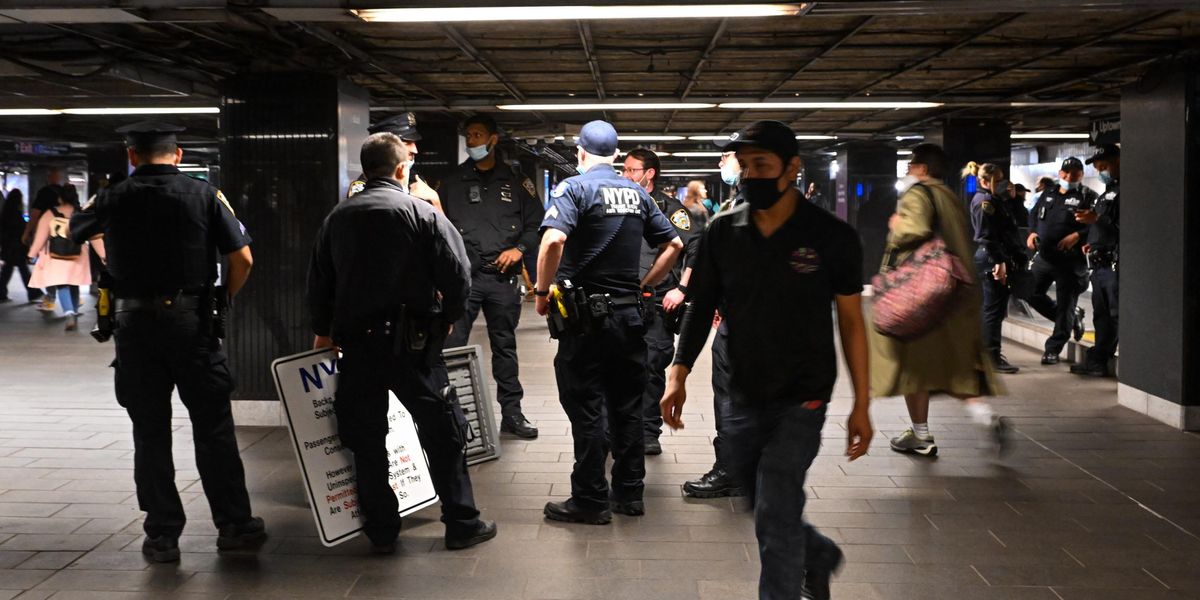 Alexi J. Rosenfeld/Getty Images
Molineaux is co-publisher of The Fulcrum and president/CEO of the Bridge Alliance Education Fund.

While visiting New York City recently, I saw a man in a wheelchair attempting to cross the street near Penn Station. Between the bag he was holding, a missing foot and a quick signal light, he was challenged. I observed dozens of people flowing around him, presumably not seeing a human in need of assistance. In a neighborly way, I asked if he'd like a push? When he agreed, I handed him my roller luggage and said "If you push this, I'll push you." Within seconds, we were across the intersection and I was ready to move on with my day. But the gentleman needed more.
As he got settled on the sidewalk in a spot of sun, he noted that we were outside a diner and he asked me to get him some hot tea. Digging in his pocket, he pulled out a wad of cash and offered to buy me a drink, too. I declined because I just wanted to get on with my day and go to my hotel room. But I agreed to get him two cups of hot tea with lots of sugar. He gave me a $10 bill and I fulfilled his request. And I must admit to some impatience when he wanted me to pour the many sugar packets into his tea for him. Then I noticed his hands were misshapen. All through our interaction, he was speaking (more mumbling, really) and jumping from subject to subject so fast that I stopped trying to keep up. He needed human interaction.
Sign up for The Fulcrum newsletter
---
After a few moments, I needed to get on with my day, and I left him chattering on the sidewalk to passersby. I wonder who was the next to stop and help him? And spend a few moments with him, human to human? As humans, we impact one another in trivial and profound ways. It was but a few minutes of my life. A small thing to me.
The encounter left me unsettled, as he needed more than I was willing to offer and I carried guilt, anger, fear and judgment with me for much of the day. I kept returning to: What more could I have done, without disrupting my day? What more should I have done, regardless of the day I had planned?
My conscience is pricked by the number of people who are homeless and traumatized. Our culture has three primary responses to those in need.
Judgment that they made choices and are personally responsible for their plight.
Indifference or helplessness in the face of the needs of others; it is easier and better to ignore "them."
Compassion and empathy for those in need and harsh judgment on others who do nothing.
I propose we need new thinking; a healthy version of each response listed above.
Teach critical thinking skills in school and adult education, to help people make better choices and be aware of opportunities to improve their lives.
Make it profitable for our best and brightest ideas to serve humanity, and create systems in which the vulnerable among us can thrive, instead of exploiting them.
Set up listening centers, where lonely people can find and talk with each other; foster human interaction. Perhaps a new version of the human library?
The next morning, as I left my hotel to get coffee (at 5:45 a.m.!), a big, young man was haranguing an elderly man for a dollar, while his elderly wife stood by silently; her cell phone pressed to her ear. I didn't sense any immediate danger and breezed by. Their encounter ended when I was about 20 paces away, and the young man headed in my direction. We never spoke, but I wondered why he chose that couple to panhandle to? And why did he harass them after they said no? This encounter was interesting, but left my conscience unbothered. Maybe after the previous day, I had shifted from compassion to indifference as a survival mechanism to avoid feeling helpless? I'm still pondering this. I also know that had I sensed danger, I would have stopped to help.
Before I left New York, a man opened fire in a subway car in Brooklyn. While my family called to make sure I was safe, no one in Manhattan mentioned it. I noticed more police in the subway stations. I was more aware of people around me, especially on the subway. But no one seemed to think anything of it. Just another day in NYC.
My heart was warmed by the images of people helping each other in Brooklyn. My hope is that we find ways to help each other outside of sudden, tragic incidents. We are at our best when we are healthy in our interdependence.