How the federal government could promote voting access without HR 1
https://twitter.com/saramswann?lang=en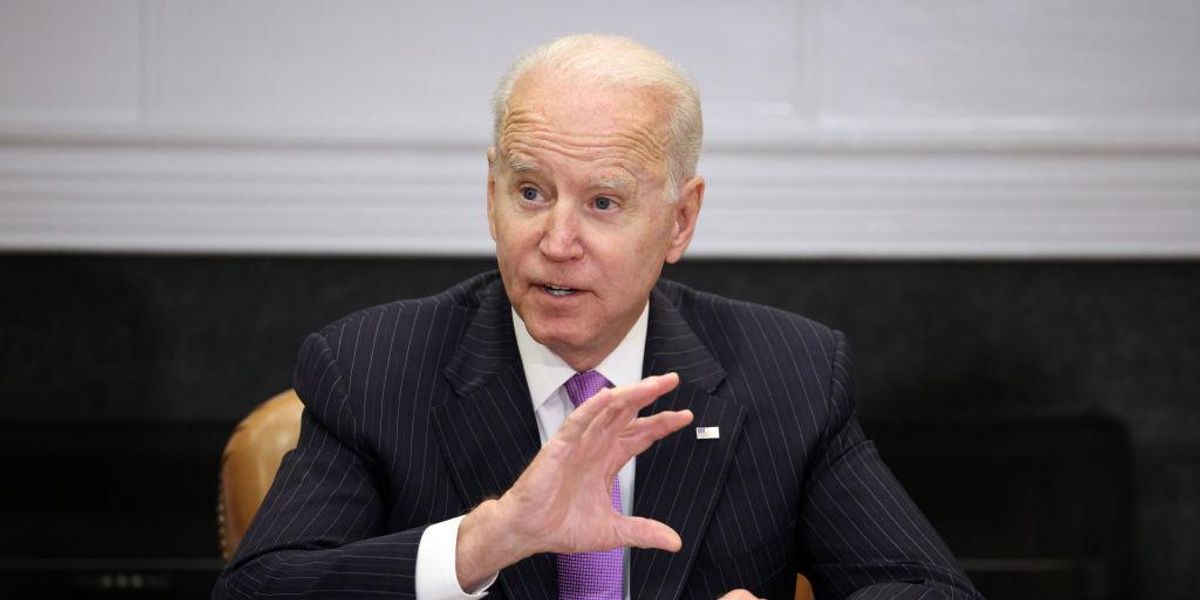 Kevin Dietsch/Getty Images
GOP Senators on Tuesday evening blocked their Democratic colleagues' attempt to advance the For the People Act, the sweeping election reform bill. This partisan gridlock in the evenly split Senate ensures a rocky path forward for any of the Democrats' legislative priorities.
However, there are still ways the federal government, namely the executive branch, can promote voter education and access to the ballot box. In March, President Joe Biden issued an executive order asking agencies to evaluate how they can, within their purview of the law, encourage voter registration and participation.
Federal agencies are expected to present their strategic plans for promoting voting access in late September. And voting rights experts want to make sure they stick to this promise.
---
With fewer than 100 days left until the plans are due, the Campaign Legal Center sent letters to six federal agencies outlining recommendations and best practices for promoting voting access. The agencies include the Department of Education, Election Assistance Commission and General Services Administration, Department of Housing and Urban Development, Executive Office of U.S. Attorneys, Federal Bureau of Prisons and U.S. Marshals Service.
Dana Paikowsky, one of the Campaign Legal Center experts who helped draft the letters, said her organization wanted to show how "the government could be creative and innovative in thinking about how to create more pathways to democracy, instead of fewer."
Sign up for The Fulcrum newsletter
Each of these six agencies already serves populations of Americans that often face barriers to the ballot box — including people who are nonwhite, Native American, disabled, low-income, young or incarcerated — so they are uniquely positioned to engage with people about voting, Paikowsky said.
Here are some of the recommendations the Campaign Legal Center outlined:
Department of Education
Encourage high schools and federally funded institutions of higher learning to provide voter registration, vote by mail and other voter education resources.
Provide voter registration materials and vote by mail resources on campus at colleges, universities and community colleges.
Provide resources to encourage students attending institutions of higher learning to volunteer as poll workers.
Election Assistance Commission and General Services Administration
Biden's executive order directed these agencies to modernize Vote.gov to improve user experiences. The Campaign Legal Center recommends that this website also include resources for people with past felony convictions to verify their voting eligibility. The democracy reform nonprofit offered its own tool, RestoreYourVote.org, as a reference.
Department of Housing and Urban Development
Encourage state and local public housing authorities to make available voter registration forms and vote-by-mail ballot application forms in their offices and facilities where available and consistent with state law.
Facilitate voter registration drives and get-out-the-vote efforts conducted in partnership with state and local election officials, civic organizations, religious groups and other nonpartisan, nonprofit voting rights organizations
Executive Office of U.S. Attorneys
Ensure that individuals who are prosecuted under federal law receive, at the time of plea negotiation, both written and oral explanations of the impact of any such pleas on their right to vote.
Federal Bureau of Prisons (BOP)
Develop and publish jail voting policies and procedures for each prison and the agency at-large.
Maintain centralized resources and best practice guidelines to assist with voter registration and voting at BOP facilities.
"Few people realize that, in every state in the United States, at least some segment of the incarcerated population retains their rights to vote," the Campaign Legal Center wrote in its letter to BOP. These individuals who are still eligible to vote are largely being held in jail pretrial or for minor misdemeanor offenses.
U.S. Marshals Service
Require in new contracts that jails create policies and procedures that include information on voter registration and absentee voting, among other topics.
Promulgate guidance and best practices to assist jails in facilitating voting and elections for incarcerated eligible voters.
"The federal government interacts with more eligible voters than any other entity in the United States, and so we wanted to emphasize the ways in which the federal government can leverage those interactions," said Valencia Richardson, one of the Campaign Legal Center's experts who helped draft the letters.
"We really provide ways the government can leverage the resources they already have and the programs they're already implementing to integrate voter-friendly and voter-accessible information and resources to eligible voters," Richardson said.
At a time when GOP-led states are enacting stricter voting rules to shore up election integrity and Congress is stalled by partisan dysfunction, the Campaign Legal Center experts said protecting the health of American democracy is of the utmost importance. The executive order, they said, provides a pathway for voters to both understand their rights and have the tools necessary to exercise those rights.
But Richardson and Paikowsky also emphasized that the strategic plans submitted by federal agencies in September, regardless of whether they include the Campaign Legal Center's recommendations, are just the first step in a long process to making democracy more inclusive and accessible.
"Part of what we need to see is long-term dedication and persistence," Paikowsky said. "You can't be a proponent of democracy by taking one step. […] You're coming back to the table every time to say, 'OK, what have we missed and how can we make voting easier, how can we make things more accessible, how can we make our democracy work better and include more people's voices?'"