After six years of 'mourning runs,' a pause for optimism
https://twitter.com/fwillisjohnson?lang=en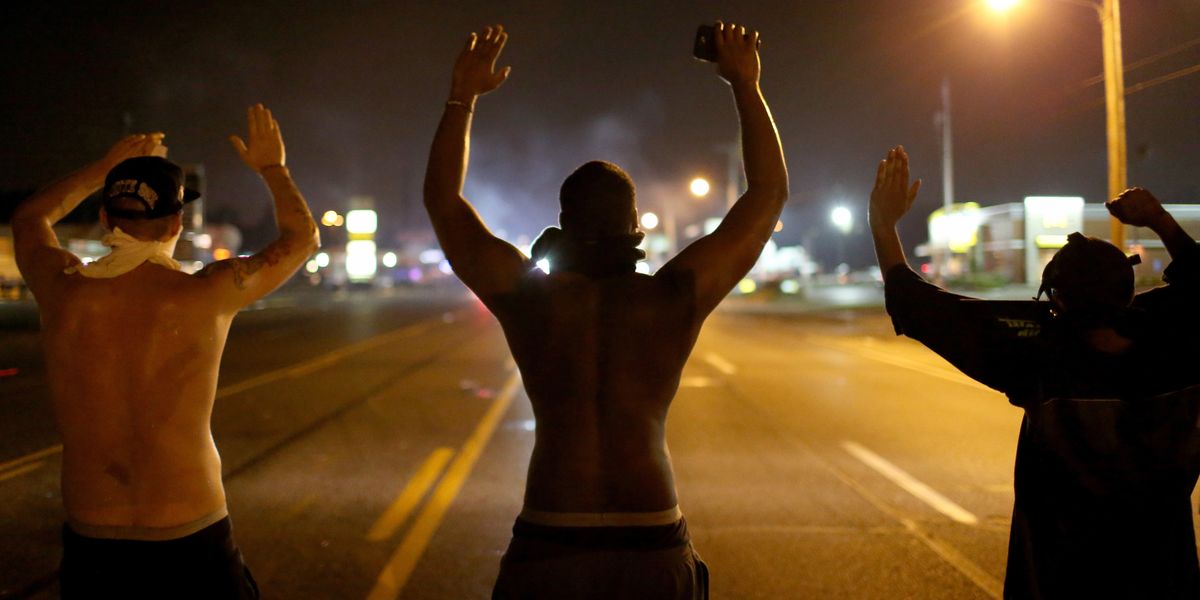 Joe Raedle/Getty Images
Johnson is a United Methodist pastor, the author of "Holding Up Your Corner: Talking About Race in Your Community" (Abingdon Press, 2017) and a senior fellow at the Bridge Alliance, a coalition of more than 100 civic reform groups. (Disclosure: The Bridge Alliance Education Fund is a funder of The Fulcrum.)
---
It has been six years this week since the death of Michael Brown, an 18-year-old Black man who was shot in Ferguson, Mo., by police officer Darren Wilson.
Given the present news and political cycles, six years seems a long time ago. However, for those who lived through the pain of Ferguson — people like me, whose activism came of age, and especially for Lezley McSpadden and Michael Brown Sr., parents of the slain — six years ago feels like yesterday.
At the time, I was the senior minister of Wellspring Church in Ferguson — and, soon after the killing galvanized the nation, I began what I refer to as my "mourning runs." The running was not only therapeutic but also served as a form of protest. I ran to be reminded of what happened that dreadful day. I would run to be reminded to keep running towards the work yet undone. Though I'm no longer a resident in Ferguson, I continue to run. Ferguson is one leg of the relay towards equity and justice in America.
Sign up for The Fulcrum newsletter
Every injustice has awakened more people from their dream of "it's all OK." Each new death at the hand of system enforcers violates our social contract. These unjust fatalities awaken us with a distinctly different visceral reaction. For some people, it was Michael Brown. For others it was Trayvon Martin. Or Charlottesville. Or Ahmaud Aubrey. Or George Floyd. Or Breonna Taylor.
I'm haunted by how comfortable and long-suffering we have become with the loss of Black life and with the persistent victimization of black and brown bodies by police officers. But America is slow to wake up, wanting to burrow back into the dream of justice. But many who are other-ed in America cannot sleep because they live in a nightmare of another Black person being dehumanized or hurt or killed or falsely accused of something. And it is exhausting.
Running is part of how I stay both awake and aware. As we awaken, we begin our part of the relay, taking the baton and doing our part.
My baton carry in Ferguson involved forwarding educational, social and civic uplift. Folks like the Rev. Steve Lawler, Nick Rhinehart-Sweirk, then-state Sen. Maria Chappelle-Nadal, Mary McMutrey and the St. Louis Community Foundation assisted in establishing the Center for Social Empowerment. The center is a hub for theologically informed reflection and exploration of social and racial justice issues. In partnership with numerous local and national entities, we have curated space for deliberative dialogue and citizen empowerment.
We have an opportunity for an initial response, in times of trauma or critical situations, that restores stability. As a country we are now in such a traumatized and critical state. Unless we resolve the trauma, we will remain stagnant and fearful. But a restorative response — one that goes beyond stability — can aid in healing.

We are in a relay race to achieve restorative justice, an equitable economy — and a representative democracy. Not to mention accessible health care, a cleaner environment, better education and immigration reform.
Some team members in the earliest days of Ferguson have faded back into obscurity. But the dreams of freedom, voting, equity and justice — dreams shared by chattel slaves, abolitionists, reconstructionists, those who worked to eradicate Jim Crow, civil rights leaders and Black Power resistance fighters and now the people of Black Lives Matter — have remained.
My unsuccessful school board candidacy six years ago revealed the long-standing discriminatory election practices of Ferguson. With two others and the NAACP, we successfully sued and won a federal court ruling declaring the Ferguson-Florissant Board of Education's elections violated the Voting Rights Act — and had to be switched to a system called cumulative voting. Missouri Faith Matters was a great ally, hosting grassroots civics training, get-out-the-vote phone banks and convening national town halls or national marches for sociopolitical redress.
There are many people who continue to carry the baton in Ferguson. People like Wesley Bell, the St. Louis County prosecutor; Ella Jones, the newly elected mayor of Ferguson as well as the first African American and woman to hold that office; and Cori Bush, who this month won the Democratic primary and unseated Lacy Clay, whose family has held the area's congressional seat for more than five decades.
There are countless others who are selflessly building, leading and advocating in Ferguson and beyond. Our race is far from over.
While we continue to mourn, grieve and lament for Michael Brown, and others who came before and who have been killed since, time passes. Life continues apace. Every issue is not our fault, but every issue of injustice, indifference and democratic inequality remains our responsibility. We are called to acts of continued remembrance and resistance even in the face of difficulty, uncertainty and opposition.
For those of us whose lives were touched by Michael Brown's death, we will never forget. His sacrifice will be remembered as our leg on the long run towards equity and justice.