Bills advance in California for more open primaries, mandatory voting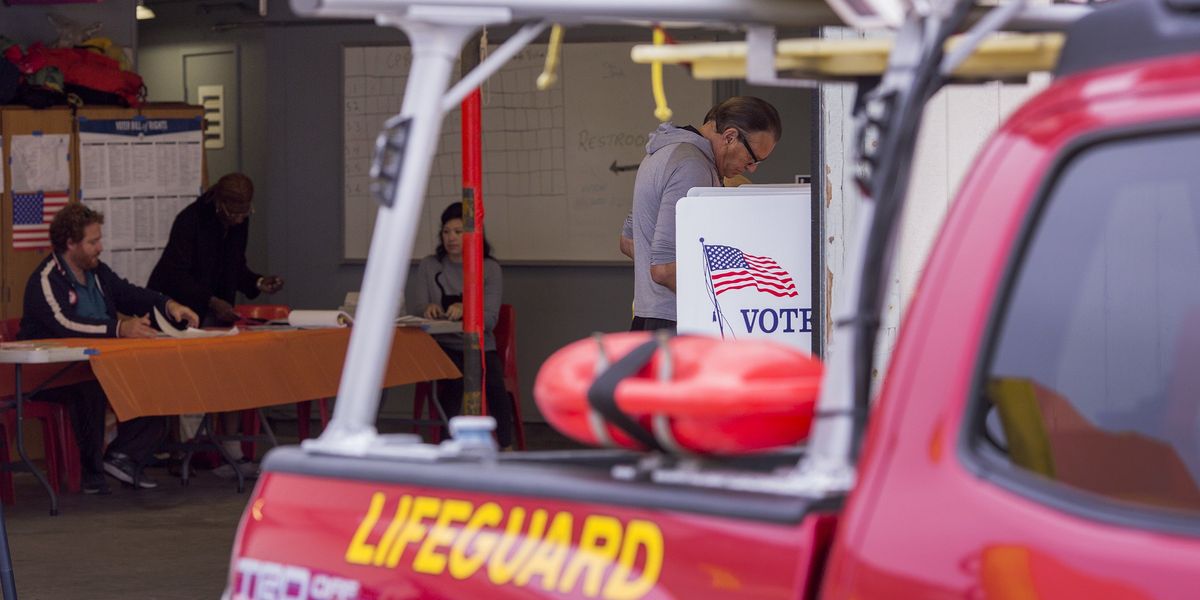 David McNew/Getty Images
California, the biggest and one of the bluest states in the country, is about to enact a bill that will make voter registration less rigidly partisan.

The measure looks likely to be on the books in time to permit many thousands of additional people to vote in the Democratic primary on March 3. California has the biggest trove of delegates in the country, 415 of them — by far the biggest prize of 16 states and territories voting on Super Tuesday.
And it is not the only voting bill drawing headlines in Sacramento this week. A Democratic lawmaker who's been central to several of the state's recent expansions of access to the ballot box proposed making voting mandatory.
---
The registration measure would permit voters to change party preference or residential address within two weeks of an election without having to re-register to vote.
It could be cleared by the Senate as soon as the end of the week, having passed the Assembly, 60-12, on Monday. That overwhelming vote, if echoed on the other side of the capital, signals the Democratic-majority Legislature would override a potential veto. Democratic Gov. Gavin Newsom rejected a similar measure last year on the grounds it could cost too much to implement.
Sign up for The Fulcrum newsletter
The law now makes voters submit a new registration form if they move or want to change party affiliation. No new forms are processed within 15 days of a primary or general election, but people may file provisional applications and then cast provisional ballots at the polls.
Those restrictions mostly restrict turnout in GOP primaries, which are open only to registered Republicans. The state Democratic Party permits crossover voters in primaries if people are willing to wait in line at their polling places for a special crossover ballot. This caused hours-long backups during the 2018 midterm congressional and gubernatorial primaries.
"This will help reduce wait times, the number of provisional ballots cast, and backlogs during the canvass period while maintaining safeguards to ensure accurate voter rolls," the American Civil Liberty Union of California said in endorsing the bill.
But the Peace and Freedom Party of California is lobbying against the measure, fearing it would lead to a loss of membership in such minor parties.
The compulsory voting measure, by state Rep. Marc Levine, would force all registered voters to return ballots in future elections — although they could be left blank or incomplete. Failure to vote would subject people to penalties similar to those for skipping jury duty.
No jurisdiction in the United States has such a requirement, although voting is required in more than a dozen other countries including such functional democracies as Australia and Belgium. And it's unclear this legislation will advance beyond a hearing likely next month.
"Democracy is not a spectator sport — it requires the active participation of all its citizens," Levine said in a statement. "California is a national leader on expanding voting rights to its citizens. Those rights come with a responsibility by registered voters to cast their ballot and make sure that their voice is heard by their government."
Critics argue that mandatory voting violates civil liberties and makes the universe of voters less plugged in on the issues.
California ranked in the mid 30s for turnout in the last two national elections, dispute new laws enacted in hopes of boosting voter participation. Levine helped write several of them.
Counties may now send all their registered voters a ballot in the mail, which may then be returned postage-free. The state recently added itself to the rosters of places with same-day registration and where eligible people are automatically registered when they apply for a driver's license. And the law now requires election officials to contact voters who submit mail-in ballots without signatures so they have a chance to correct the error.