California says yes to voting by parolees, no to voting by teenagers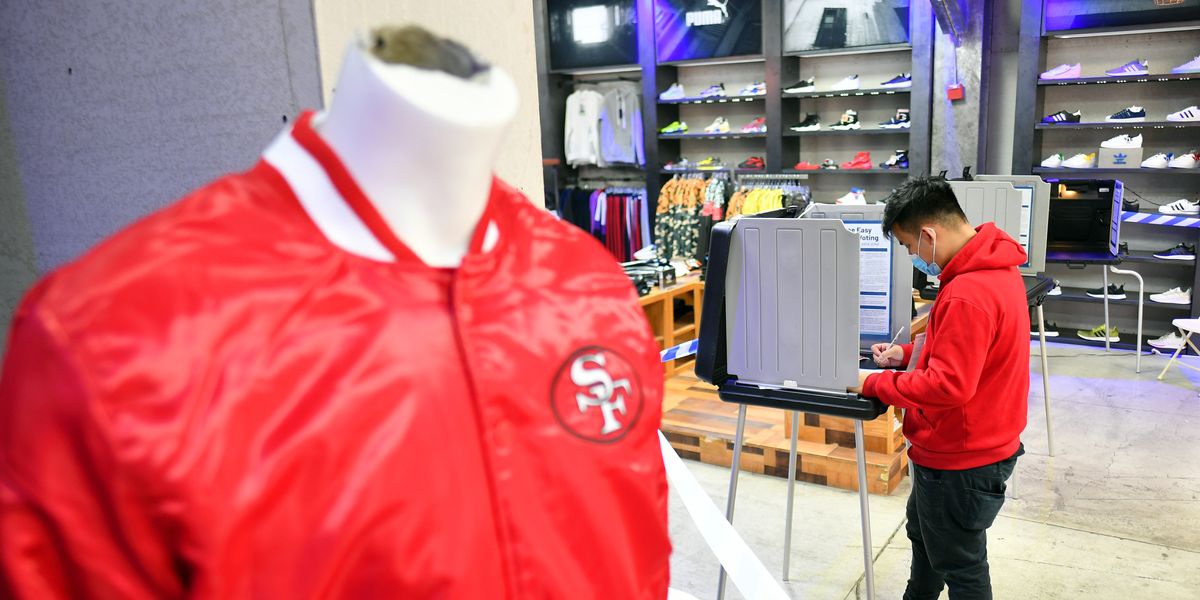 Josh Edelson/Getty Images
Millions of voters out West were asked explicitly this week to stick up for expanded voting rights — and in the main they did so in a series of ballot measures.

In a pair of resounding decisions, Nevadans enshrined 11 voting rights in their state Constitution and Calfornians restored voting rights to nearly 50,000 people who are on parole for felony convictions.
But statewide voters in California rejected the idea of 17-year-olds voting in primaries, while San Francisco shot down a proposal to let 16-year-olds vote in local elections.
---
Here are the details on each of the most important voting rights measures on Tuesday's ballots:
Felons voting
The measure was added to the ballot by the General Assembly this spring, during a period of intense national reckoning about race — especially the impact of the criminal justice system on people of color. It had the approval of 59 percent with about three quarters of the ballots tabulated Thursday morning.
The initiative's supporters included the state Democratic Party and Sen. Kamala Harris, the party's vice presidential candidate and a former California attorney general. The state Republcian Party opposed it.
Improving voting rights for ex-convicts nationwide has become a decade-long cause of civil rights groups, who say democracy is enhanced when political power is given back to people who have paid their debt to society. The campaign has resulted in more than 2 million felons, a group disproportionately Black and Latino, getting more political rights in the past decade. (Republicans, who argue that rewarding violent or repeat offenders is an injustice to their victims, have most notably succeeded in restricting newly restored rights for felons in Florida.)
Sign up for The Fulcrum newsletter
The state estimates that three out of four men released from its prisons these days are Black, Latino or Asian American. "For far too long, Black and brown Californians have been excluded from our democracy," said Taina Vargas-Edmond, who ran the campaign for the referendum. "Voters definitively righted a historic wrong."
California joins 17 states that already allow felons to register upon release from prison. It was one of the first states to restore any of their political rights, allowing felons to vote since 1975 after completing probation and parole. That is too strict by today's standards, ballot measure advocates argued.
Teens voting
Californians rejected a proposal, by a margin of 10 percentage points, that would have added their state to the roster of 18 others (plus D.C.) where 17-year-olds may vote in primaries if they are going to turn 18 by Election Day.
And the adults in the state's iconic bastion of liberalism, San Francisco, narrowly rejected a proposal to allow 16-year-olds to vote in elections for mayor, Board of Supervisors and other municipal posts. The margin was just 4,000 votes out of more than 330,000 cast.
Proponents of lowering the voting age from 18 say doing so would boost civic engagement by establishing the habit of election participation at an earlier age. But opponents say the change would give too much responsibility to youngsters neither mature nor informed enough to make decisions about political issues.
Voting bill of rights
With three-quarters of the expected total vote counted in Nevada on Thursday, a voter bill of rights was garnering 63 percent support.
The state enacted a law 17 years ago guaranteeing Nevadans 11 voting rights and privileges. The ballot measure does not alter that law, but putting the measure in the Constitution makes it much tougher to alter or overturn someday.
The state Constitution will now guarantee that voters will have their ballots recorded accurately, can cast votes without intimidation or coercion, and can get answers to questions regarding voting procedures and see those procedures posted at polling places.