Meet the reformer: David Keating, leader for the right on money in politics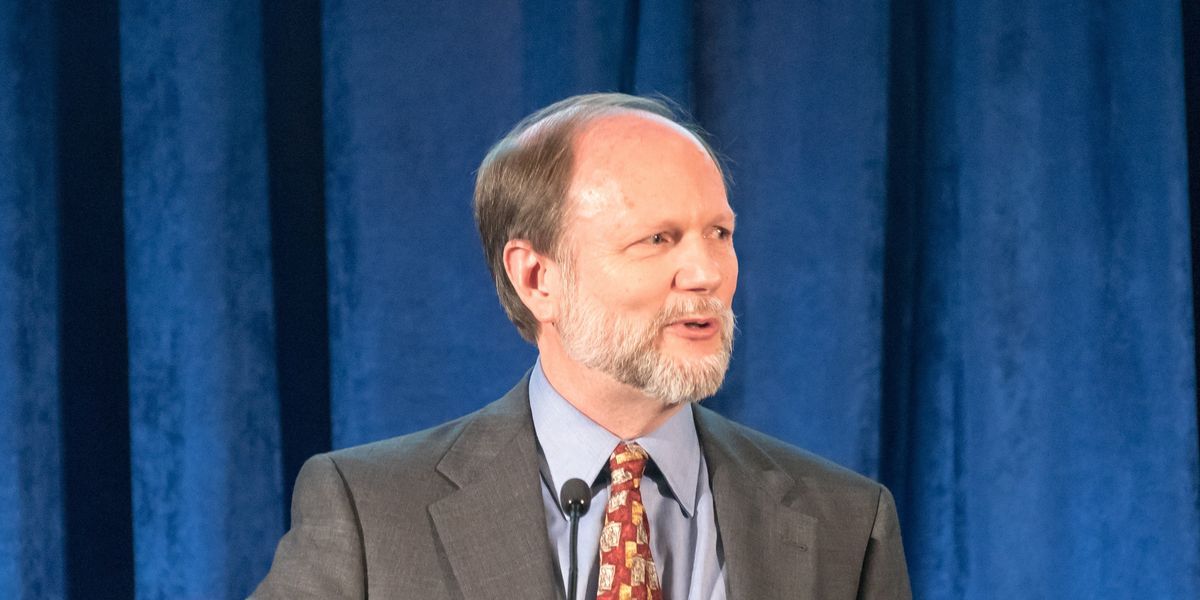 Institute for Free Speech
Closing in on nine years as president of the Institute for Free Speech, David Keating long ago cemented his status as one of the foremost conservative forces in the money-in-politics debate. The nonprofit's aim is to safeguard First Amendment rights, particularly unfettered political speech, and views deregulation of campaign finance as central to that goal. Keating took charge after a similar group he started, SpeechNow.org, won a federal lawsuit to end donation and spending limits on independent political groups — thus creating super PACs. He had top posts at two prominent fiscal conservative organizations, the Club for Growth and the National Taxpayers Union, earlier in a D.C. advocacy career dating to the 1980s. His answers have been edited for length and clarity.

What's democracy's biggest challenge, in 10 words or less?
Stopping government from discouraging dissent.
---
Describe your very first civic engagement.
In high school, I learned about machine politics. My friends who wanted to become summer lifeguards had to be Republicans. I thought that was ridiculous, so I decided to register as an independent. Still am.
What was your biggest professional triumph?
Being appointed in 1996 to the National Commission on Restructuring the IRS, a bipartisan group of tax experts. We surprised many when we reached a broad consensus. Unlike most such reports that gather dust, ours was turned into a bill that became law. It included my recommendations to strengthen taxpayers' rights when interacting with the IRS and to protect innocent people from being forced to pay taxes owed by any tax-cheating former spouses.
Sign up for The Fulcrum newsletter
Many of my most rewarding experiences have come in volunteer work. Ten years ago my SpeechNow won the case allowing independent groups to fundraise freely. This year I became a director of Masks4All and saw 85 percent of the nation adopt mask requirements to fight Covid-19.
And your most disappointing setback?
Failure to advance through Congress a constitutional amendment requiring a balanced federal budget. Two times in the 1990s we came up just one vote short in the Senate. Still, our campaign helped spur the first annual budget surplus in nearly four decades, starting in 1998 and lasting until the Sept. 11 attacks.
How does your identity influence the way you go about your work?
I identify as an independent person. I'm a registered independent in part because I don't trust either party on key issues. Too many people focus too much on "what's best for my team," either red or blue, which affects their ability to think clearly.
To promote and defend independent thought, much of my professional work has been protecting the freedoms to speak, publish, join groups and petition government for redress of grievances. Without these freedoms, we can't obtain the information we need to understand the world or act effectively to make it a better place.
What's the best advice you've ever been given?
Be a lifelong learner.
Create a new flavor for Ben & Jerry's.
Freedom of Peach.
What is your favorite TV show or movie about politics?
"One Flew Over the Cuckoo's Nest," the 1975 Oscar winner for best picture, about rebellion in a mental institution.
What's the last thing you do on your phone at night?
Turn on the bedside clock app.
What is your deepest, darkest secret?
I think Dave Chappelle and Anthony Jeselnik are hilarious. But don't tell my wife.