The Fahey Q&A with Kaitlin LaCasse, protecting Maine elections from big money and foreign interests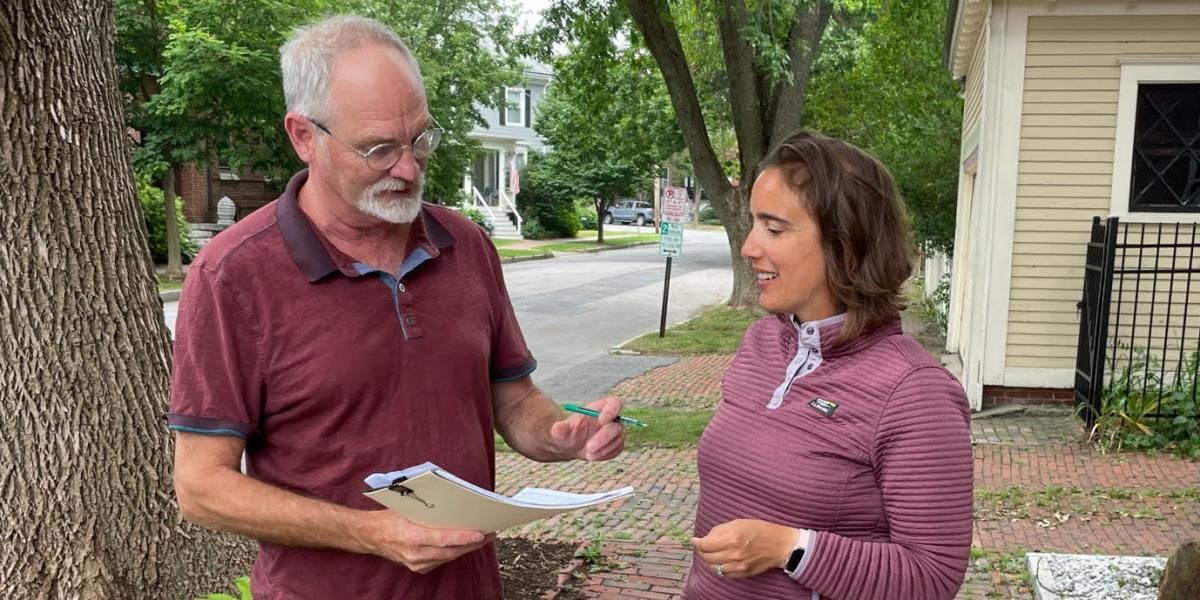 Protect Maine Elections
Since organizing the Voters Not Politicians2018 ballot initiative that put citizens in charge of drawing Michigan's legislative maps, Fahey has been the founding executive director of The People, which is forming statewide networks to promote government accountability. She regularly interviews colleagues in the world of democracy reform for our Opinion section.

Kaitlin LaCasse is campaign manager for Protect Maine Elections. LaCasse, who has been involved in Maine politics for over a decade, is a community leader who cares deeply about the people of her state. She felt compelled to lead this campaign to ensure all Mainers would have an equal voice in their elections.
Our conversation has been edited for clarity and brevity.
Fahey: Tell us about your background. What led you to get involved with Protect Maine Elections?
LaCasse: I've worked on three gubernatorial campaigns and I recently managed Maine's campaign to pass semi-open primary legislation, which was successful in franchising hundreds of thousands of voters. I'm motivated by making sure that all Mainers have their voices heard.
---
Fahey: How will this groundbreaking citizens initiative change the way Mainers vote?
LaCasse: This initiative may not change the way Mainers vote per se, but it will change what information voters receive – and from whom – beforehand. First, it will affirm Maine's support for an anti-corruption amendment to the U.S. Constitution, and require the state to report on bipartisan progress made by our congressional delegation to advance it. The amendment would stop out-of-control spending in our elections and protect the free speech, representation and votes of all Mainers, not just wealthy donors.
Sign up for The Fulcrum newsletter
Second, it will protect Maine elections from undo foreign influence. Currently, foreign-owned corporations can put as much money as they like into our referendum campaigns. Foreign electioneering isn't just a hypothetical here in Maine: Hydro-Quebec, a corporation that's 100 percent owned by the government of Quebec, recently spent $22 million to influence the outcome of an election – more than twice the previous record for spending in a referendum.
Fahey: Will it completely eliminate a foreign entity's ability to donate to a referendum campaign?
LaCasse: Once enacted, the new rules will apply to companies with 50 percent ownership or higher held by a foreign government; subsidiaries with 5 percent or more shares owned, controlled or directed by a foreign government; and companies in which a foreign government directs, dictates, controls or participates in its decision-making process. Under current law, these foreign entities are not allowed to influence our candidate elections, and they should not be permitted to do so in our referendum campaigns either.
Fahey: How can Mainers currently detect when foreign countries are influencing their elections, and how will that change?
LaCasse: Currently, it's incredibly challenging to detect when foreign interests are influencing our elections – you can't detect it unless you're able to figure out who owns the companies making contributions and paying for ads. In the future, additional reporting will be necessary, and donations won't be allowed from companies that fall into the foreign categories we discussed. New public disclosure requirements will be imposed on foreign entities engaging in issue advertising, and this will make it much easier for Mainers to know when that's happening.
Fahey: What stage is the campaign at, and how can people get involved?
LaCasse: We are working to collect the 63,000-plus signatures necessary to get on the ballot, and we've collected more than 50,000 signatures so far. With this momentum, we're well positioned to submit our signatures this fall. If folks would like to get involved, they can volunteer on our website at protectmaineelections.com to help collect signatures.
Fahey: How do you know the people of Maine want these changes?
LaCasse: Polling shows that 73 percent of Maine voters support our constitutional amendment, including majorities of Republicans, Democrats and independent voters. Maine's voter participation and civic engagement are the envy of the nation. We believe in the importance of showing up at town meetings and that billionaire donors shouldn't have an outsized voice in our elections.
Fahey: Do you think this campaign helps strengthen the ideals of democracy?
LaCasse: Absolutely! The ideals of democracy are rooted in every voter having an equal voice, and currently voters don't because of entities dumping vast amounts of money into our political system. By creating a system that puts our voices on a more equal footing it absolutely benefits democracy and allows all of our voices to be heard.
Fahey: What other organizations are supporting your effort?
LaCasse: There's a vast coalition working on this, and it's incredible to work with such a great group of organizations and people! The People (your organization), American Promise, RepresentUs, and End Citizens United are providing significant support that we're very grateful for. We're also working closely with the League of Women Voters of Maine and Maine Citizens for Clean Elections.
Fahey: In thinking about your journey, do you have any advice for citizens who want to do something about an issue?
LaCasse: Don't assume somebody is going to do the work for you. If there's a change you want to see, you need to roll up your sleeves and start working on it. Get others to help; the more people involved the more likely it will be successful. Having a well thought out strategy is important, but energy and enthusiasm go a long way. Also, keep the water warm for people who may not see your reasoning at first. People come at things with different points of view, and if they haven't decided to come on board yet, keep things positive and show them why it's important.
Fahey: If you were speaking with a high school student or a new immigrant to our country, how would you describe what being an American means to you?
LaCasse: Being an American means there are tremendous opportunities to get involved and help shape the system and our country, recognizing that it's easier for some people than for others. So many systemic issues make it challenging, and we have a responsibility to help even the playing field and work to ensure that all Americans have the opportunity to engage. As Americans, we have an obligation to do everything we can to try to change those unfair systems.